Grab teams up with depa and Klasssi launching "GrabAcademy powered by depa"
More than 80 online courses to uplift skills for the merchant-partners, driver-partners, social sellers and the general public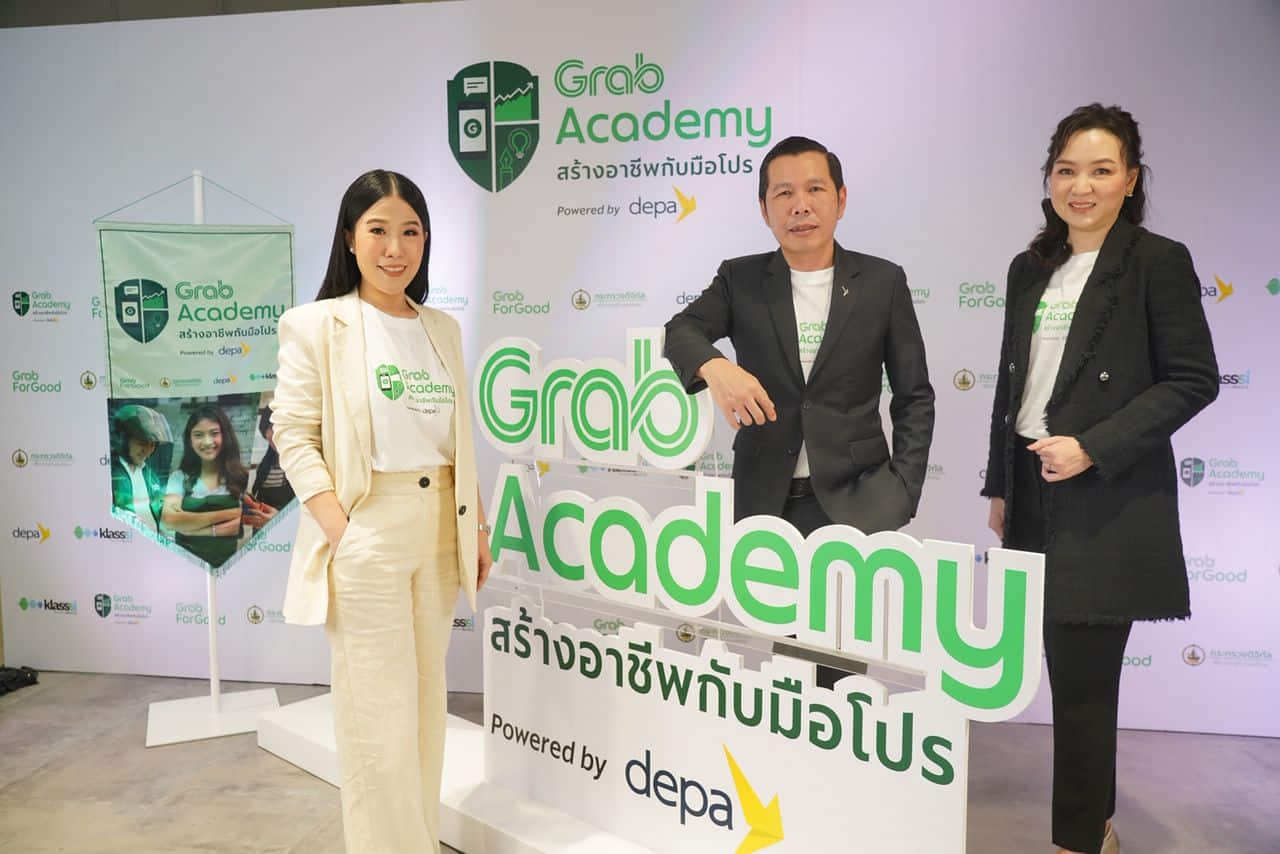 Grab Thailand joins forces with Digital Economy Promotion Agency (depa) and digital knowledge partners Klasssi powered by KBank for the launch of "GrabAcademy powered by depa" online knowledge sharing program. More than 80 online courses are carefully curated with the aim to uplift skills for the merchant-partners, driver-partners, social sellers and the general public from language skill, digital marketing, to business principles and management and strengthen Thai MSME's competitive edge in the digital era.
Chantsuda Thananitayaudom, Country Marketing Head at Grab Thailand said, "Grab has been strongly committed to our 'Grab for Good' mission, which focuses on promoting and improving the quality of life for people throughout Southeast Asia. 'GrabAcademy powered by depa' is another one of the initiatives that we aim to provide the opportunities for Micro, Small & Medium Enterprises, or MSMEs, including our merchant partners, driver-partners, social sellers and the general public to access free knowledge resources and gain the maximum benefits from technology to flourish their businesses. The program features courses that will help MSMEs to learn about online marketing to help boost sales more sustainably, increasing the competitive advantages and capabilities that will get them ready for the digital economy. Through the initiative, Grab has partnered with digital economy development organization like depa and digital knowledge partners like Klasssi powered by KBank to develop over 80 online sale and digital upskilling courses for MSMEs. Expecting more than 15,000 attendees within 2020.
Asst. Prof. Dr. Nuttapon Nimmanphatcharin, President and CEO of depa, which is one of the key supporting organizations for 'GrabAcademy powered by depa' said that at present, E-commerce platform had been an essential operating channel for businesses in the new normal era. The rise of E-commerce has been accelerated due to the Covid-19 pandemic.
"As MSMEs are one of the key drivers of the Thai economy, depa has been very active in building capabilities for the small businesses through collaboration with the private sector like Grab, as well as the civil sector. We want to ensure that Thai businesses and the general public will have the opportunity to access free online resources to become digital citizens to drive Thailand forward to sustainable digital economy and society, which is in line with depa's mission to support the development of digital technology adoption."
In addition to Grab's partnership with depa, the company is also teaming up with digital knowledge partner Klasssi powered by KBank, which is a future learning platform fueled by KASIKORNBANK to promote education technology in various aspects, from crisis readiness for businesses and building new opportunities through customer-centric digital marketing, as well as personal development etc.
Hataiporn Chiemprasert, First Senior Vice President, KASIKORNBANK said, "Klasssi is a future learning platform powered by KBank, whose goal is to create the opportunity to access to learning and enhance capabilities for the society. The platform is established to be in line with the bank's purpose to empower every customer's life and business for all through the offering of knowledge and skill development, which are key drivers to strengthen Thailand's digital economy. Klasssi, an online course platform designed to fit the digital native, enabling them to gain knowledge anytime, anywhere through Klasssi's website and mobile application. The courses feature essential knowledge for present, and skills for the future such as business technology and human skills for market economy, which are KBank's expertise. As you can see from the new-normal era, the consumer behaviour changes faster than ever that makes businesses need to adapt quickly to be able to stay in the customer lifecycle. Klasssi has developed from the demand of a real market economy and is fast adopting new learnings to become the knowledge hub as it believes the pass-on of knowledge will enhance essential skills and potential for entrepreneurs, which help strengthen the knowledge sharing economy more sustainably. Consequently, this has led to the collaboration between Klasssi in 'GrabAcademy powered by depa project'"
'GrabAcademy powered by depa' consists of more than 80 personal skill development and business courses, e.g. language skills, techniques to increase customer base in the digital age, online marketing, e.g. photographing that sells. Content marketing techniques, as well as essential business management, e.g. accounting, tax knowledge, and the development of service mind.
Pakapong Puengkan, founder and owner of Rod Mue Mae northern restaurant, said, "The key of doing business is good planning. We need a short-term and long-term plan so that we can be resilient to the unexpected. Possessing systematic knowledge management will help businesses to develop such a plan, and GrabAcademy is a program that can help with knowledge implementation. As a business owner, we have many responsibilities, from managing the restaurant, operating the back office, as well as taking care of our staffs, as well as develop personal skills, especially technological knowledge. In the age where customer behaviour is constantly changing, we need to be equipped with essential knowledge that helps boost efficiency."
Teerapat Lertsiriprapa, CEO & Owner of Kouen Sushi Bar and a participant in GrabAcademy, said, "As restaurateur and entrepreneur, we need to keep improving and developing skills that are beneficial to the business. Restaurant business today needs to adapt itself to the food delivery platform to gain access to new customers. Hence, online marketing and content are as crucial as new menu creation to suit the needs of modern customers. Kouen is delighted to join GrabAcademy and share our experience with other entrepreneurs."
Warin Tawornpradit, a Grab partner representative, said, "One of the challenges for the workforce today is dealing with the unexpected like the current COVID-19 situation. The pandemic has tremendously affected my income. From a full-time job with overtime pay, it was completely cut off, so I must find a new source of income to make ends meet. I decided to apply Grab, which also gives me time flexibility, as well as additional earnings. After working as Grab partners for a while, I feel that foreign language skill is essential to serve various customers."
Merchant partners, driver-partners, social sellers and interested public who are interested in attending 'GrabAcademy powered by depa'  online courses can go to https://www.grabmerchantth.com/tipsandtrick and https://grabdriverth.com/grabschool-home