CRG joins forces with Grab for major launch 'GrabKitchen by Every Foood'
GrabKitchen by Every Foood brings together many famous restaurants and dishes in a single order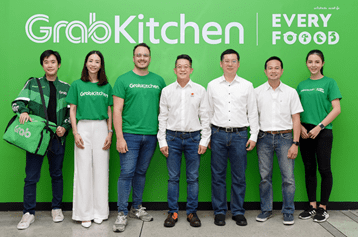 The successful Cloud Kitchen Model is being multiplied through a major partnership between food business leaders CRG and GrabFood. CRG is a prominent restaurant group with over 1,200 outlets, while GrabFood is Thailand's leading food delivery service. Together, they are giving opportunities to access customers with the launch of GrabKitchen by Every Foood
Nath Vongphanich, President of Central Restaurants Group commented that consumers' behavior had altered with ordering food on an app becoming wildly popular, making food delivery an inseparable part of modern life. Using a variety of platforms to order food has only been accelerated by the Covid-19 pandemic, with the result that food delivery services have become a cornerstone for the food business. For this reason, the cooperation between Grab Food and CRG on their Cloud Kitchen, GrabKitchen by Every Foood, is a new alternative for restaurant chains hoping to expand branches, but wanting to control investment. It also increases the spread of a diverse choice of restaurants in various districts, whether downtown, in communities or near offices. Customers also get the convenience of ordering food from many kinds of famous restaurants in a single order. The Cloud Kitchen is a viable solution for both restaurants and customers from every perspective.
Mr. Alejandro Osorio, Country Head of Grab Thailand said that as  consumer behaviour shifts toward digital on-demand services, food delivery is playing an increasingly important role in the lives of both consumers and merchants. Tech savvy consumers expect a growing variety of choices and exciting brands available to them wherever they are, while merchants look to GrabFood as a means of increasing their reach. GrabKitchen presents an opportunity for entrepreneurs and merchant-partners to capture the potential of food delivery by helping them rapidly expand to new locations and accessing new consumers with minimal upfront cost. Through our strength in Data and Analytics, we also empower GrabKitchen merchants with insights and support to help them stay ahead of consumers' evolving needs. In joining forces with CRG, we are reinforcing our goal to drive sustainable growth for merchants in Thailand by leveraging both GrabFood's strength in food delivery and CRG's strength in restaurant business management. With this partnership, we are now in an even stronger position to expand the GrabKitchen business further.
GrabKitchen by Every Foood selects popular and famous restaurants cooking up a range of food, covering any food category customers might want. Also, in a single order, there is no limitation on the number of restaurants. Customers can also be confident that existing promotions such as discounts on food or delivery still apply, making it a very cost-effective way to eat. There are currently five branches: Thonglor, Lad Prao, Pinklao, Sathorn and Nakniwat, with new outlets planned, and the program should be rolled out to most major cities within the second quarter. The target emphasizes coverage to give customers better access in both Bangkok and the provinces.
GrabKitchen by Every Foood brings together many famous restaurants and dishes in a single order with free delivery for the first 3 km. Just apply the code "Free" for both CRG restaurant brands and outlets carefully chosen by Grab such as Jeh Muay Kao Phat Pu Ratchapruk, Khua Kai Dao Thong, The Volcano, Smoked Street Food, Ros Teaw, Salad Factory, Aroi D, Elvis Suki,  Aung Taung Khao Soi, Heng Hoi Thod Chao Le, Shinkan zen, Jok Sam Yan, 9 Kung Ob Pu Ob, Khao Kha Mu Trok Sung Bangrak and Dean and Deluca. Ordering is easy and quick through the Grab application. For more details call 1312.