'9 Goong Ob Puu Ob Suki' implements data to uplift seafood restaurant business in the New Normal era
Max Thanaphon Pornsiripittayatorn,' one of the co-owners aged 35 who will be serving more than just savour, but a spoonful of secret ingredients in implementing data analytics and his aspiring mindset to spice up a successful restaurant business for the first time.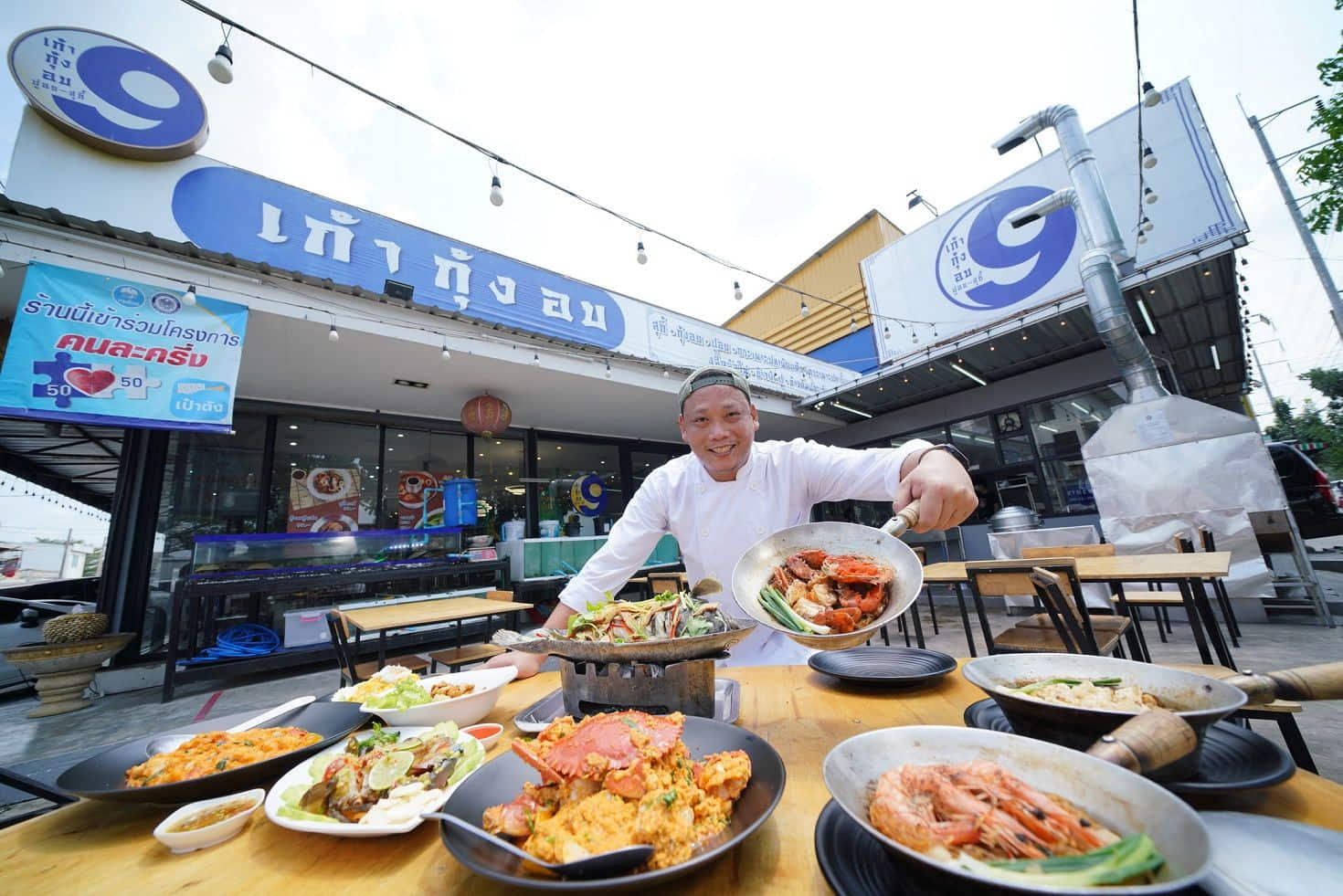 Many might be familiar with '9 Goong Ob Puu Ob Suki' from various food delivery applications or even had a chance to dine in at the restaurant. This time, we would like to introduce 'Max Thanaphon Pornsiripittayatorn,' one of the co-owners aged 35 who will be serving more than just savour, but a spoonful of secret ingredients in implementing data analytics and his aspiring mindset to spice up a successful restaurant business for the first time.
Paving way for '9 Goong Ob Puu Ob Suki'
Max began his journey in the food industry at a young age. He grew up with a restaurant as a family business. Throughout his journey, Max has experienced almost all the roles in running the restaurant business such as being a waiter, dishwasher, or even working at other restaurants. As he grew up, Max wanted to start his own restaurant business but it was not easy at all despite his 10 years in the industry. Opening up a seafood restaurant was quite a challenge as he needs to put all of his determination, while bringing in past experiences without any certifications in business management nor culinary skills. Max's dream was purely driven by his love and passion in food and cooking.
Up until now, it has been 3 years since '9 Goong Ob Puu Ob Suki' was launched by a group of 5 friends from various occupations who surprisingly share the same passion in seafood, including an accountant, a car-rental business owner, and a professional programmer. Despite coming from different fields, they did not see it as an obstacle in cultivating their business together. Instead, their variety even made their restaurant business stronger as each stakeholders can effectively apply their specialised skill sets in managing the restaurant and ultimately, achieving their new business together as one. All of them value the same goal in providing the high-standard service in food quality, taste, cleanliness, as well as freshness in every dish they serve to satisfy all customers. Whoever has a chance to taste '9 Goong Ob Puu Ob Suki' menus will definitely agree that they are heavenly scrumptious just like many have guaranteed.
Utilising data to overcome crises
Certainly, just having a high food quality and savoury meals are no longer enough to keep a restaurant business running in this era, especially during the COVID-19 pandemic. Unavoidably, seafood restaurants are among the severely-affected businesses post-pandemic. "COVID-19 is definitely a game changer in restaurant businesses. This is the very first time in my history that restaurants are not allowed to open for dine-in. 'How would then my restaurant survive if this continues to happen?' All the past crises I have encountered reminded me to keep going and never doing things the same. Everything needs to move forward with new inventions or strategies to better respond to this rapid-changing world," said Max.
Despite facing many challenges, Max never gives up but puts all his efforts to invent new strategies by tackling consumer behaviours in the food delivery trend. '9 Goong Ob Puu Ob Suki' has even expanded its new branches in the form of Cloud Kitchen with Grab Thailand. With Grab, Max and team are better equipped with data analytics to help them analyse the right locations, consumer behaviors in food orderings, as well as monitoring the sales statistics of all their restaurant branches real-time. Max said that "We all agree that our brand should not limit to a traditional physical restaurant. We aim to bring '9 Goong Ob Puu Ob Suki' to meet more of our customers in various outlets. After many searches for the right business model, we have finally found GrabKitchen and joined the platform just a month before the coming of COVID-19 crisis. To our luck, our GrabKitchen branch actually sustained our revenue and helped over 40 lives to survive through the crises. Personally, I have also come to learn the benefits of data in analysing consumer behaviors in a totally different perspective that does not only limit to the implementation in large organisations. I now realise that even a small restaurant like us can utilize consumer behavior data in our business and surprisingly, within just a short period of time."
As Max shared further, "We firstly launched our cloud kitchen at GrabKitchen Vibhavadi which is located in the city area, moving further away from our original branch at  Phutthamonthon Sai 2 to target a new group of customers such as the office employees. The new business set-up was far easier than what we thought. We did not invest in a huge bulk as GrabKitchen actually provides us with a well-rounded system with modern facilities and a full water and fire supply. We all have come to the conclusion that this is the exact solution that modern restaurant businesses should be looking for in this era. Undeniably, the results did not fail to satisfy us at all. We are impressively satisfied with the total sales generated on GrabKitchen branch, which was up to 6 digit per day even during the time of COVID-19. GrabKitchen truly corresponds to the need of young restaurant entrepreneurs like us as we do not prefer to heavily invest in our time and money. What we need is an easy and systemised management with an adequate amount of resources, which will then enable us to devote our time and energy in crafting new food creations effectively. Even better with a set of data to recommend us on the rising trend and menus, as well as marketing tools that will help boost our brand awareness, recognition, and opportunities for business growth."
'Soft Scrambled Eggs with Crabmeat,' a new invention for the urban community
"Once we achieve stable management, we will now have more time to focus on creating new recipes or tackling down on consumer behaviour trends even more in detail. All we have to say is data analytics really plays a huge role in the success of our business. According to the data collected by GrabKitchen, consumers in Bangkok tend to order 'Soft Scrambled Eggs with Rice' among their top menu choices. Given the data insights that customers who order via GrabFood prefer the convenient delivery service that allows them to enjoy a ready-to-eat meal with the same freshness instantly, we have to adjust our menu as serving a big piece of crab's claw would not work best with their preference. Our team immediately assisted on this matter to better respond to the change in consumer behaviours in the New Normal and finally came up with the new signature dish of '9 Goong Ob Puu Ob Suki,' named 'Soft Scrambled Eggs with Spicy Crabmeat and Rice' which is now one of the magnets that attracts new customers today. We would not have come this far without the continuous support and marketing promotions from GrabKitchen," added Max.
Moving fast with a winning heart
From the initial thought in addressing new consumer trends, '9 Goong Ob Puu Ob Suki' today has successfully grown out their business with 5 new GrabKitchen branches in the key urban areas, including Vibhavadi, Thong Lor, and Ladprao just within the 3 years of their official launch. Max said that during the challenging times of COVID-19 crises, his team values GrabKitchen as a true partner for '9 Goong Ob Puu Ob Suki' business who held hands in hands to support their restaurant and every life to survive through the crises together.
Previously, who would have thought that we would now live in the time that seafood restaurants started bringing in data analytics to help manage their business efficiently. Max and '9 Goong Ob Puu Ob Suki' have proved to us that the willingness to learn and the ability to adjust in any circumstances are key to achieve a successful business. "Do not block yourself from any coming opportunities just because of your own unconfidence. Do not be afraid of trying new things because you will never know if you will miss out the right answer you are searching for, just like how I found mine today," concluded Max.