Grab partners with TikTok and AIS SME to launch 'GrabExpress Sellers Club' to support online businesses and drive Thailand's economy towards Thailand 4.0
Grab Thailand today announced the official launch of GrabExpress Sellers Club with TikTok and AIS SME
Club aims to help social sellers to gain better digital skills to grow their business and reduce their operational costs involved to maintain their online stores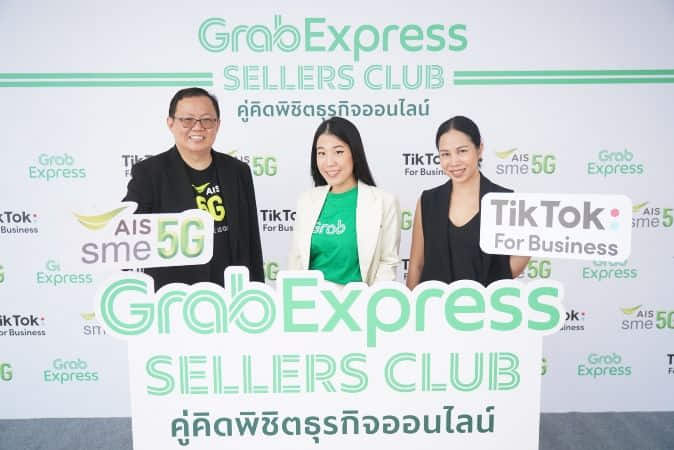 Grab Thailand today announced the official launch of GrabExpress Sellers Club in partnership with TikTok, the world's leading creative short-video platform and AIS SME, Your Trusted Partner for all SME businesses. Created to empower social sellers to capture the opportunities from the rising digital consumption trend, GrabExpress Sellers Club aims to help social sellers to gain better digital skills to grow their business and reduce their operational costs involved to maintain their online stores. Through this, Grab Thailand, TikTok and AIS SME hope to unlock the business potential of these MSMEs and contribute to Thailand 4.0 via a thriving social commerce sector.
Ms. Chantsuda Thananitayaudom, Country Marketing & Partnership Head, Grab Thailand said that "It has been 2 years since Grab launched the on-demand package delivery, GrabExpress, in response to the customers' need for instant parcel delivery services. One of our main target groups include the Social Sellers, which is currently in the rise in accordance to the e-commerce trend in this era. To leverage the efficiency of our parcel delivery service for our valued customers, we initiated the GrabExpress Sellers Club, an exclusive project with special privileges to help unlock the potentials of online merchants, especially among MSMEs for their sustainable business growth. The project truly aligns with Grab Thailand's business direction for 2021 in uplifting digital skills to support Thailand 4.0. We will do this through 3 key areas, including Uplift Digital Literacy, Improve access to Digital Inclusion, and Increase Income Opportunity. We have observed a change in consumer behavior in Social Commerce and its businesses, we therefore initiated this project to better respond to our merchants' needs for an instant parcel delivery, in order to stay at a competitive edge in this arena and help reduce costs for our online merchants. GrabExpress Sellers Club offers special delivery services through GrabExpress, as well as supporting them through online marketing solutions with a rising social platform, TikTok. We also teamed up with AIS SME, a leading network and holistic digital services provider, to support small businesses or SME with special promotions and full-speed internet packages exclusively for online merchants. Currently, we already have over 4,000 stores joining our GrabExpress Seller Club.
Ms. Sirinit Virayasiri, Head of Business Marketing, TikTok, one of the key partners of GrabExpress Sellers Club said that "Thai MSMEs have widely been adopting e-commerce in response to the New Normal ways of life. As the leading platform, TikTok sees the importance of digital businesses and launched our digital marketing solution, 'TikTok For Business,' that comes with a unique solution tailored to support the holistic needs of all business sizes, or 'Full-Funnel Marketing Solution,' to increase Awareness of customers, Engagement between the brand and customers, Consideration, and Conversion to finally make a purchase. Our collaborative effort with Grab Thailand aligns with our values in supporting online merchants to initiate new perspectives towards digital marketing effectively. We provide various digital marketing training courses through our TikTok platform to upskill all merchants, as well as a special package, 'GrabExpress x TikTok,' to enable joining merchants of GrabExpress Sellers Club with a new communicating channel to reach more target audience groups through TikTok For Business."
Mr. Nawachai Kiartkorkuaa, Head of Enterprise Marketing Management Unit, AIS SME said that "AIS SME has been a trusted partner for SMEs with our simple and well-rounded tools that will help support the growth of all SME businesses. We are ready to stand by Thai SMEs and social sellers, and enhance their capabilities by providing solutions that are grounded on the qualified network with expertise and privileges for sustainable business growth, along with our innovative technology and fastest 5G internet network with the most bandwidths in Thailand for an ultimate experience of online businesses. Our collaboration with GrabExpress Sellers Club does not only reflect the importance we value in instant delivery service, but also enables AIS SME to support social sellers in Thailand with our best efforts. We are pleased to offer exclusive benefits such as free Social App with no charge on 4G/3G within the package, fire insurance, JongSabuy service which is an application to enhance convenience and efficiency of customers queuing process, and last but not least, special discounts for mobile devices and tablets for business use."
The GrabExpress Sellers Club offers 3 privileges which are exclusively tailored to support the social sellers, including:
1. Enjoy Grab discounts – Receive up to 50% special discount for an instant parcel delivery service via GrabExpress.
2. Exclusive offers from partners – A special package and advertising consultation by TikTok and a high-speed internet package with special promotion from AIS SME.
3. Support business growth through an exclusive community – Free courses from GrabExpress x Grow with TikTok SME series with a chance to become a GrabExpress Ambassador in each month. Also, a network to share experiences or ideas, and engage in conversations via Facebook Group.
Ms. Pichaya Siripanishpong, the owner of Heartmade by Kigpcn shares that "Our business relies on extra care to deliver the parcels to our customer timely and in a perfect condition. Therefore, we need to carefully select the parcel delivery service that we can trust. As a member of the Club, we can enjoy special benefits such as delivery fee discounts that are exclusively provided for members which is definitely a great cost-saving choice for a short-distance delivery. Moreover, we also had an opportunity to upskill our digital knowledge through various courses for online merchants such as online marketing to help boost sales from GrabAcademy powered by depa. "
Mr. Soravit Viwatsathaporn, the owner of XinXin brand shares further that "GrabExpress Seller Club is truly an impressive initiative that helps support businesses. In addition to an instant parcel delivery service with a reduced cost through special GrabExpress packages, we are now better-equipped with online marketing solutions via TikTok, a rising giant platform of this age that can help gear our business to online marketing channels effectively and increase revenues for our business."
For those who are interested in the 'GrabExpress Sellers Club', a special club for online businesses to support the growth of social sellers with special deals for advertising package and other benefits on TikTok, as well as more privileges from AIS SME on a high-speed internet package with special promotion, can now register via GrabExpress Sellers Club | Grab TH.
#####
About Grab
Grab is the leading super app platform in Southeast Asia, providing everyday services that matter to consumers. Today, the Grab app has been downloaded onto over 214 million mobile devices, giving users access to millions of drivers, merchants, and agents. Grab offers a wide range of on-demand services in the region, including mobility, food, package and grocery delivery services, mobile payments, and financial services across 397 cities in eight countries. For more information, see: http://www.grab.com