Grab Celebrates Thailand's First GrabBaby!
Baby 'Bonus' was born during a GrabCar ride in Bangkok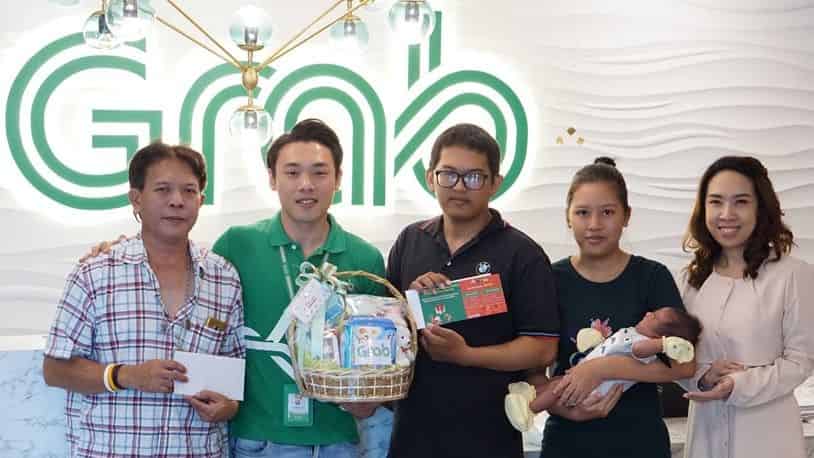 Bangkok, 17 December 2018 – Grab Thailand welcomes its first GrabBaby, born during a GrabCar ride!
Mr. Thanadet Pinpradab picked up two passengers on 15 November 2018, but little did he expect the ride to end with three passengers. Mr. Sopon Kampatee and Ms. Bongkot Denduangpairot became proud parents to a baby boy, nicknamed 'Bonus', in the backseat of Mr. Thanadet's car, as they were travelling from their home in Chatuchak to the Klang hospital in Pom Prap Sattru Phai district in Bangkok.
Baby Bonus' father Mr. Sopon said "That day, we booked a ride through Grab because our house is in a small alley so it's very hard to find a taxi, especially during rush hours. On the way to the hospital, the traffic was terrible, and my wife could not hold the baby any longer."
"Mr. Thanadet tried his best to calm us down; and when the time came, his help was beyond generous. We don't know what would have happened if we didn't work together to get my wife to deliver baby Bonus safely in that car. We truly are more than grateful for his help."
Mr. Thanadet shared that he was nervous, as he had never experienced this before. But he did his best to focus on driving them safely to the hospital, while comforting the parents. He called JS 100 to inform the emergency case and even stayed at the hospital to wait for them to make sure everything was alright.
To celebrate baby Bonus turning one month old, Grab organized a reunion for the passengers and driver at its office in UBC 2.
Grab, represented by Ronald Wong, Head of Transport, presented Mr Sopon and Ms Bongkot with Grab vouchers worth 8,000 baht, flowers, as well as a special Grab onesie for baby Bonus. Mr. Thanadet was also awarded 8,000 baht in credit for his 5-star service.
"We are delighted to see that the baby is in good health, and we offer our heartiest congratulations to Mr. Sopon and Ms. Bongkot on their new addition to the family!" said Mr. Ronald Wong, Grab Thailand's Head of Transport. "As a service provider for all passengers, our drivers are well-trained to ensure every passenger is as comfortable as possible during the car-ride. Part of their training is to be ready for an emergency. We couldn't be more proud of our driver-partner Mr. Thandet, who truly went above and beyond in his service. We are really thankful to him for being so helpful."
During the reunion, baby Bonus looked healthy and happy surrounded by his parents and Grab staff.