Grab joins with TAT to support domestic travel, offering special promotions for visitors to the Thailand Tourism Festival 2019
Special offers to various destinations across the country and joint encouragement to 'Reduce-Reuse-Recycle' to raise awareness of and promote sustainable tourism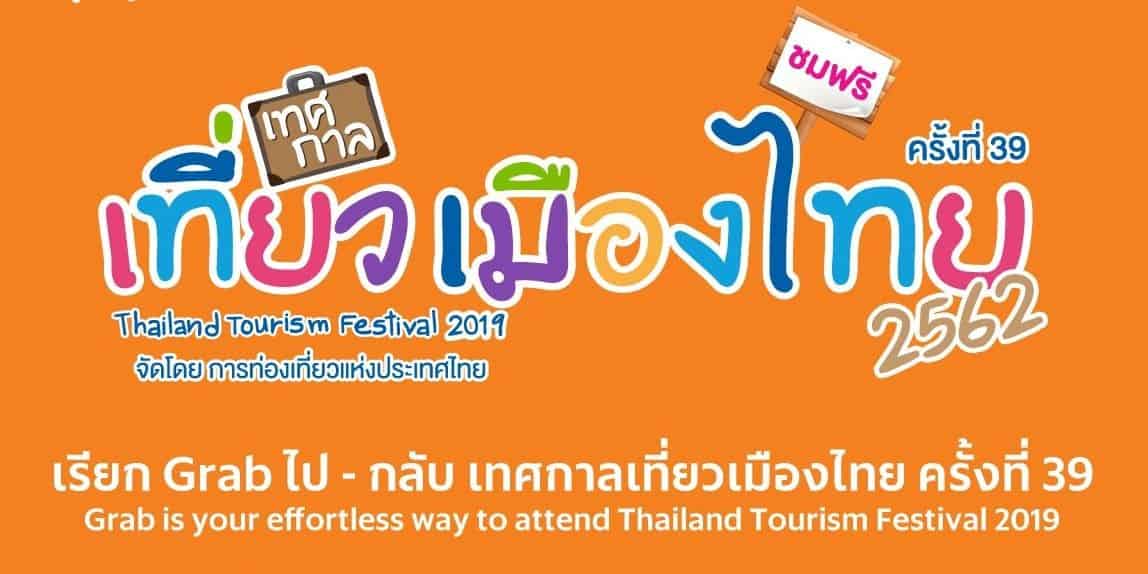 Bangkok, 22 January 2019 – Grab Thailand is joining forces with the Tourism Authority of Thailand (TAT) in continuously promoting domestic tourism at the "39th Thailand Tourism Festival 2019" taking place from 23-27 January 2019 at Lumpini Park, Bangkok. At the festival, which is on the theme environmentally-minded tourism, visitors will get to enjoy 9 different zones of local attractions along with special offers to various destinations across the country. The Thailand Tourism Festival 2019 also encourages exhibitors and visitors to 'Reduce-Reuse-Recycle' to raise awareness of and promote sustainable tourism.
To provide the utmost convenience to those visiting the Thailand Tourism Festival 2019, Grab is offering special promotions throughout the event. Visitors can book JustGrab, GrabCar, GrabCar Plus and GrabBike(Win) services by using the promo code "TTF50" (5 rides per day) for new users or "TTF" (2 rides per day to or from Lumpini Park) for regular users and receive up to 50% discount (maximum 60 THB per ride). Visitors can also stop by Grab's booth at Zone 2 "Tiew Thai Sood Koom" for more information.
In addition to its collaboration towards fostering sustainable and environmentally friendly travel through various campaigns, Grab Thailand is also supporting the Tourism Authority of Thailand in boosting competitiveness, distributing income and encouraging tourism amongst local communities. This is in tandem with the 2019 tourism goal that aims to move Thailand's travel and tourism competitiveness up in the world rankings to 33rd place (from 34th place) while pushing tourism revenue to a level where it is contributing a minimum of 20% to Thailand's GDP. Grab also shares a collective goal with the Tourism Authority of Thailand to improve the livelihoods of local communities and sustainably support increased income by stimulating tourism in emerging destinations and driving Thai economic growth. The continued partnership follows on from the 'Grab Xi' campaign, which received a lot of attention from both local and foreign tourists.