Grab celebrates GrabBike (Win)'s success as an additional 2,000 new motorcycle taxi drivers join its current fleet
Following the enthusiasm from the first wave, Grab is extending its GrabBike (Win) driver acquisition campaign to benefit more interested motorcycle taxi drivers
This huge influx of new GrabBike (Win) driver-partners goes to show the confidence they have in Grab to improve their daily livelihoods and increase their income opportunities
As Grab becomes an everyday superapp, GrabBike (Win) driver-partners can now earn more by delivering food and parcels, on top of taking rides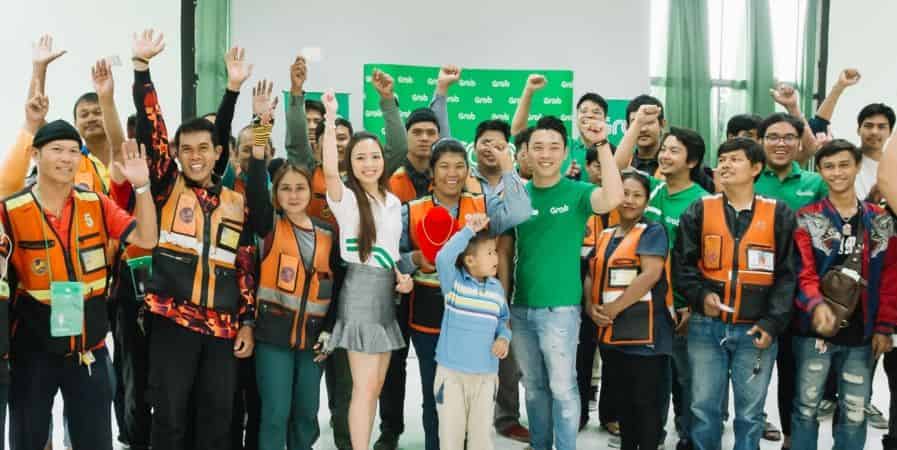 Bangkok 26 September 2018 – Grab Thailand, Southeast Asia's #1 Online-to-Offline (O2O) platform, has announced the success of its GrabBike (Win) driver acquisition campaign that invited motorcycle taxi drivers to join Grab on its platform as driver-partners. During the campaign which ran between May – August 2018, Grab welcomed more than 2,000 new motorcycle taxi drivers onboard its current GrabBike (Win) fleet. Following the positive and enthusiastic response, the company is extending the campaign to benefit even more interested motorcycle taxi drivers.
Tarin Thaniyavarn, Country Head of Grab Thailand, said: "Grab is aligned with the government's guidelines to regulate motorcycle taxis. The government has announced on 31 May 2018 that they are  supportive of motorcycle taxi drivers' registration on ride-sharing platforms We've launched a campaign to welcome motorcycle taxi drivers to join Grab as driver-partners, in which they can provide passenger services with 'GrabBike (Win)' and earn extra income with delivery services 'GrabExpress (Bike)' and 'GrabFood'. During the campaign period from May – August 2018, an additional 2,000 motorcycle taxi drivers has joined our fleet".
In addition to providing attractive income packages, Grab is also committed to improving the livelihoods of motorcycle taxi drivers in line with the Thailand 4.0 agenda. Grab's driver welfare initiatives include the 1-million-baht education sponsorship program for the children of our driver-partners, health insurance, motorcycle insurance, mobile phone installment plan, special deals and offers from Grab's leading business partners as well as through social impact activities such as the provision of anti-pollution masks in Bangkok's CBD area. Additionally, Grab is the only ride-hailing platform in the industry to offer personal accident insurance that covers both drivers and passengers on top of the Compulsory Motor Insurance.
Interested motorcycle taxi drivers are eligible for attractive offers when they sign up as Grab driver-partners. The package includes a 700 THB bonus credit upon completing 7 rides in 7 days of service. They can also join a referral program under which they will receive 800 THB for each successful motorcycle taxi driver referral, up to a maximum of 8,500 THB.  
"As the only ride-hailing application whose services extend across 16 provinces of Thailand, Grab also boasts the largest supply of on-demand services that cover many types of vehicles to suit different needs. Apart from being the Superapp that answers consumers' everyday essential needs, Grab offers a wide range of services for our driver-partners, especially motorcycle taxi drivers, to earn extra income. Aside from their daily passenger rides during rush hours, they can also deliver documents, parcels and food during off-peak hours.
Thailand is Grab's largest market for GrabFood. Since its launch in January 2018, GrabFood completed delivery orders have grown phenomenally by 20 times. GrabExpress delivery ordershave doubled since its launch in July 2018. Our strong growth for these new services highlights the huge potential for motorcycle taxi drivers to earn more as Grab driver-partners," Tarin concluded.
Motorcycle taxi drivers interested in registering as Grab driver-partners can learn more at http://www.grabdriverth.com/.