Grab Thailand celebrates sixth anniversary with more than 320 million bookings, strengthening its commitment to drive Thailand forward
Achieved strong user demand from both Thais and foreign tourists of more than 320 million bookings across ride-hailing, food and parcel delivery over the past 6 years
Created better income-earning opportunities for hundreds of thousands of driver-partners, enabling them to better their livelihoods and contribute to the growth of Thai economy
Committed to using technology as a force of good to enhance the quality of life of all Thais, in partnership with the Thai government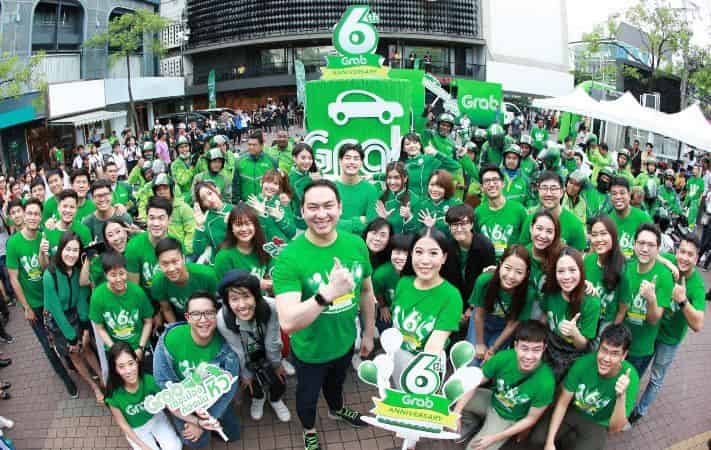 BANGKOK, 8th July 2019 – Grab, the leading super app in Southeast Asia, celebrated its sixth anniversary in Thailand today, highlighting the strong economic and social impact it has brought to the country and Thais. Over the past six years, Grab has achieved strong user demand of more than 320 million bookings across 16 provinces and 18 cities in Thailand, thanks to the popularity of on-demand ride-hailing, food and parcel delivery services amongst Thai users and foreign tourists. As a result of this strong demand, hundreds of thousands of dedicated and hardworking Thai driver and delivery partners have earned higher-than-minimum-wage incomes, enjoyed better livelihoods and contributed to the growth of Thai economy. Many merchant-partners, from street food hawkers to established food chains, have also seen their business revenues grow significantly, from having a digital shopfront on GrabFood.
Grab has now become the everyday super app of all Thais, benefitting not only passengers and driver-partners, but also consumers, delivery-partners and merchant-partners. Today, from the moment they wake up, consumers can book a GrabCar to get to work, order their favourite menus for lunch via GrabFood to eat in the comfort of their office and deliver gifts to their loved ones through GrabExpress.
"Grab has been warmly welcomed in Thailand. As we celebrate our 6th anniversary in Thailand today, what matters most is how Grab has translated its business growth into meaningful social impact for everyone in Thailand. When we started our ride-hailing service in 2013, we wanted to solve the fundamental problem of getting both Thais and tourists from point-to-point in the most hassle free and safest way. Today, we are extremely thankful that Thai consumers increasingly count on Grab as their everyday super app to bring about greater convenience to their daily lives," said Tarin Thaniyavarn, Country Head of Grab Thailand. "Today's massive celebration is our way of conveying our deepest appreciation to everyone who has believed in Grab and we will continue to strengthen our commitment to use technology as a force of good to enhance the quality of life of all Thais."
Grab's Best 6 ways of contributing to the growth of Thailand
Grab has contributed to the socio-economic growth of Thailand over the past six years, in close collaboration with the Thai government and local partners. The following depicts Grab's Best 6, showing the impact that Grab has made to people's lives in meaningful ways:
Proud to be Thai: Grab is Thai in every way! As a Thai registered company, along with Thai investors, Thai employees and Thai partners, Grab is fully invested into growing Thailand's 4.0 and giving all Thais equal opportunity to be part of the digital economy. Grab has been and will continue to encourage local traditional merchants to set up a digital shopfront to grow their food business, enable Thai people to earn better incomes or supplement their existing income through ride-hailing or food and parcel delivery, and use technology to solve fundamental local problems such as congestion and pollution. To achieve this, we have partnered with various government agencies such as the Office of Transport and Traffic Policy and Planning (OTP), Ministry of Transportation and the Digital Economy Promotion Agency (DEPA) to drive smart mobility initiatives.
Make everyone feel at home: Up to 1 in 3 of our passengers are tourists visiting Thailand. From 2017 till to date, Grab has served more than 5 million international tourists, contributing to the growth of tourism economy in Thailand. These tourists came from various countries including China, Malaysia, Singapore, South Korea and Indonesia, and Grab has made their commuting experience in Thailand more convenient and safer. Language is no longer a barrier for tourists, as they can use GrabChat that simultaneously translates text in the language they are most familiar with to Thai for Grab's driver-partners, easing communication. Grab has also partnered with the Tourism Authority of Thailand to transform data into insights that can help the government better serve the travel needs of tourists.
Outserve consumers: Throughout the 6 years, along with consumers, Grab driver-partners have travelled 1.2 billion kilometers, which means one can go from the northernmost to the southernmost of Thailand for 700 thousand times! The trust placed by consumers in Grab as an everyday super app to serve their daily essential needs is Grab's most prized accomplishment – Grab's single most loyal consumers completed 7,000 rides, ordered 670 meals and delivered 2,500 parcels!
Create better income opportunities for our driver–partners: Today, Grab has hundreds of thousands of driver-partners earning an income on the platform to support their families. Grab's driver-partners have grown financially and provided new income-earning opportunities for themselves and their loved ones by being open to ride on the digital economy.
Help merchant–partners grow business revenue and improve operations: Merchant-partners, from local traditional street food hawkers to established food chains, have seen their business revenue grown significantly and operations become more efficient after joining GrabFood. During the most recent GrabFood Mega Sale Festival from 17 May to 2 June, Grab's participating merchant-partners on average grew their business revenue by 4 times, while the revenue of champion merchant-partners grew by up to 50 times. Grab has also partnered with the Department of Business Development of the Ministry of Commerce to digitally transform local Thai SELECT food merchants and help extend their consumer reach online via GrabFood.
Supporting our community: Grab sees ourselves as part of the local Thai community, and wants to play a part in giving back to the Thai society that the company belongs to. Through social impact activities such as GrabRunning, Grab has donated 400,000 baht to Ramathibodi Foundation. Through GrabFood for Good, Grab has donated 960,000 baht by providing lunch to tens of thousands of underprivileged children. Through the annual Grab the Future scholarship program, Grab has contributed 3 million baht to 600 top Grab driver-partners' children to fund their education.
A taste of what's next
As Grab continues to grow its super app ecosystem to benefit more and more consumers and partners, cashless payments will play a big part in making everyone's daily transactions even more seamless and convenient. To drive the growth of Thailand's cashless economy, Grab has partnered with Kasikorn Bank to bring more cashless payments and financial services solutions to all Thais. Soon, Thai consumers will be able to use a GrabPay by K Bank mobile wallet powered by Kbank, to not only pay for Grab services, but also at offline merchants.
"Moving beyond our sixth anniversary, Grab will never stop innovating. We will continually think of new ways to make daily lives easier and solve any pain points that our consumers and partners may face. Thailand as a whole will grow faster and further if we work together, hence we will continue to collaborate closely with the Thai government and local companies to realise a common 4.0 vision for the country. We will continue to expand our service ecosystem, including cashless payments and financial services, to bring more critical daily essential services to the people of Thailand. We hope to expand our investment and Online-to-Offline service offerings to more cities and provinces and enable more and more Thais consumers and partners to be able to enjoy the convenience of on-demand ride-hailing, food delivery, logistics and cashless payments. We also want to help the government in driving more tourism to these less-visited cities and provinces by making commute more convenient," said Tarin.
Grab 6th anniversary special activities and promotions
To show our appreciation to all consumers for their continued support, from 8 – 24 July, Grab will offer up to 60% discount off all Grab services including rides, food and delivery orders for new users with the 'NEW6BDAY' promo code. For existing users, they can enjoy special discounts with the '6BDAY' promo code.* GrabFood users can get up to 60% discount off more than 666 deals. Many other exciting rewards worth more than 17 million baht are also available. Users can also use 50 GrabReward points to redeem a chance to spin a wheel of fortune and win prizes including a trip to Hong Kong, a Huawei P30 smartphone and many more.
For more information, please visit https://www.grab.com/th/blog/wof_tc/ and Grab Thailand's Facebook page GrabTH
 * Terms and conditions as designated by the company.