Grab collaborates with leading partners to launch "Grab Heng Heng Heng; the More You Ride, the More You Get" campaign, offering prizes total worth more than 100 MB*
Continue to strengthen its partnership strategy by joining hands with top leading brands to provide newest promotions and more rewards to fulfill customers' daily lifestyle needs
Welcome Chinese New Year with big celebration campaign, "Grab Heng Heng Heng; The More You Ride, The More You Get", offering prizes total worth more than 100MB* to reward customers with various privileges including chances to win grand prizes such as Toyota car and Honda motorbikes for every Grab's service used during 4 - 10 February 2019
Leap forward further with double growth from all services combined in 2018 and fast achievement in reaching 3 billion ride milestones in SEA recently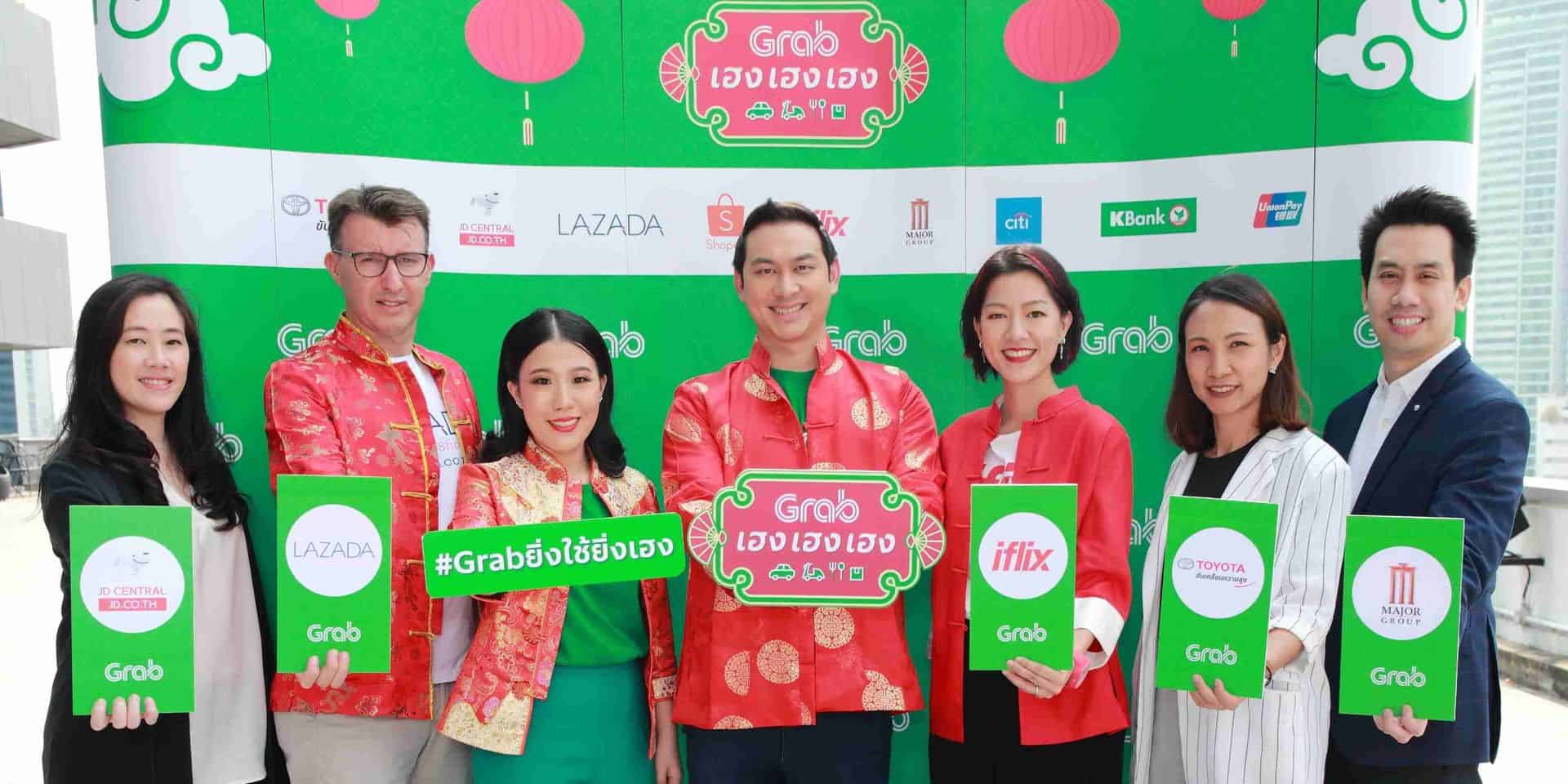 Bangkok, 30th January 2019 – Grab celebrates its leaping achievement as leading Online-to-Offline (O2O) platform in Thailand that has grown more than double in all services combined in previous year by joining hands with strategic partners to launch an extravagant Chinese New Year campaign, "Grab Heng Heng Heng – The More You Ride, The More You Get", offering prizes total worth more than 100MB*. All Grab users are eligible to won mega prizes and privileges from every use of Grab's services between 4 -10 February 2019. The movement highlights Grab's strong partnership strategy, which unites strategic partners of various top leading brands in e-commerce, motoring, entertainment, and banking industries.  There'll also be more investment in enhancing communications through both online and offline channels.
Tarin Thaniyavarn, Country Head of Grab Thailand said. "Grab business still continues to grow rapidly and strongly following our achievement of double growth in all services combined last year. Our growth flagship service is GrabFood, of which more than 3 million orders were served during Jan – Dec 2018. Second is GrabExpress which grew x2 within only 6 months after the launch (Jul – Dec 2018). Moreover, Grab recently celebrated its 3 billion rides milestone across Southeast Asia. This third billionth took us only 5-months to achieve, which is considered a very short period as we had just celebrated the second billionth in the second half of last year."
"In 2019, Grab will continue its strategic partnership strategy in order to build stronger growth, expand user base and become a leading O2O platform that answers consumer's daily lifestyle needs. Therefore, the company has launched the latest campaign; "Grab Heng Heng Heng – The More You Ride, The More You Get", offering prizes total worth more than 100MB* by joining hands with leading partners such as JD Central, Lazada, Shopee, iflix, and Major Group, as well as credit and debit cards like Citi, Kbank, UOB, and UnionPay. This campaign features 3-chunk promotions which offer chances to win big rewards and grand prizes from our partners like Toyota Motor and AP Honda such as Toyota Yaris Ativ S Plus and Honda SuperCup motorcycles (2018). A package tour with round-trip air tickets to Japan is also offered. This is to express the million gratitude towards our Thai customers who have always supported us. By working closely with our new and existing partners, we can offer better promotions, more services and reach a wider customer base, and emphasize our leadership position as daily "SuperApp" that responds to users' daily needs," Tarin added.
Under "Grab Heng Heng Heng – The More You Ride, The More You Get", offering prizes total worth more than 100MB* campaign, the consumer who uses Grab services including transportation services, food or express delivery services during 4 – 10 February, will receive following 3 chunks of luck including chances to win grand prizes like auto cars and motorcycles, for every ride and every service.
1st Heng Grab Heng Heng Heng – Ride and Get: Once customer use any service from Grab, they will receive a special 'Ang Pao' voucher, consisting of discount and privileges from JD Central, Lazada, Shopee, i-Flix, and Major Group
2nd Heng Grab Heng Heng Heng – The Top Frequent Users: For top frequent users of Grab's rides and/or services, they will get a chance to win grand prizes such as a Toyota Yaris Ative SPlus and Honda SuperCup (2018) – 5 motorbikes in total. There are also interesting prizes such as a package tour to Japan with round-trip air tickets for two and 1,000 one-year iflix VIP subscriptions for the lucky users.
3rd Heng Grab Heng Heng Heng – x12 GrabRewards*: Customer who paid the services via credit or debit cards like Citi, KBank, UOB or Union Pay will get more rewards up to 12 times* during this campaign period.
Plenty of luck is coming in "Grab – Mun- Mun", where everyone can turn the wheel of fortune to receive a daily highlight special discount voucher from Grab through a widget on the application. Moreover, customer may also get a surprise Ang Pao voucher from Grab driver-partners during this Chinese New Year, 4 – 10 February 2019
"Grab Heng Heng Heng – The More You Ride, The More You Get", offering prizes total worth more than 100MB* campaign is just the beginning of our great and amazing marketing campaign this year.  We started with the Chinese New Year season because it is a period we see higher spending, eating and shopping behavior among consumers. Therefore, it is a great opportunity for Grab as a leading application that answer diverse needs of consumers.  Grab together with our partners jointly invested heavily in this campaign, both for the prizes and communications to build awareness through Grab's own channels and through online, offline and out of home media. We are also amplifying Grab's services via our Brand Ambassadors BNK48 to expand reach to the Millennial target. In addition, "Grab Heng Heng Heng" troop parade will visit Yaowarat and main office building around Bangkok to give away "Grab AngPao" to customers. Grab believes that this campaign will spark the attention of the market and help us expand new user bases by giving them the access to products, services and new experiences provided by both Grab and our partners," Tarin concluded.
For more information and promotion details, please visit our Facebook page GrabTH http://grb.to/hengfb or http://grb.to/hengx3
*Terms and conditions as designated by the company.