Grab Launches 'Cheer Thai Grab It All Out' Campaign enabling Thais to support the Thailand National Team to the fullest
Grab supports football fans in cheering on the Thailand National Team at the 47th King's Cup Championship with the 'Cheer Thai Grab It All Out' campaign by providing safe and convenient journey as well as delicious meals to cheer the matches.
Grab users will also have once-in-a-lifetime experience to win a Football tutorial session with professional Thai football coach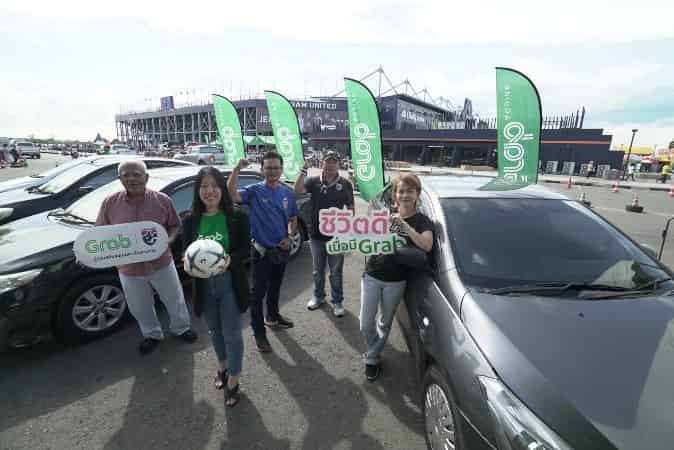 Bangkok, 11 June 2019 – Grab Thailand, the leading super app in Southeast Asia, unites Thai football enthusiasts through the launch of the 'Cheer Thai Grab It All Out' campaign, enabling them to put their all into cheering on the Thailand National Team during the 2019 King's Cup Football Championship from 5 – 8 June, 2019. The annual King's Cup is the biggest international football championship hosted by Thailand and so Grab is taking this opportunity to support Thais in cheering on the Thailand National Team with the aim of pushing Thai footballers to the global level while improving the livelihoods of driver-partners and allowing football fans to spend quality time together.
At the beginning of 2019, Grab announced its official sponsorship of the Thailand National Football Team to bring Thais together and provide football fans nationwide with safe and convenient  transportation to matches as well as on-demand food delivery. The 'Cheer Thai Grab It All Out' campaign for the 2019 King's Cup underlines Grab's continued commitment to giving back to the Thai people and developing Thailand sustainably.
Mr. Tarin Thaniyavarn, Country Head of Grab Thailand said: "The Thailand National Football Team is our nation's pride. Over the years, football has gained popularity nationwide and attracted many fans. As the leading Super App that caters to people's everyday needs, Grab is committed to accommodating Thai football supporters to cheer for their favorite team by offering  a convenient, comfortable and reliable solution and bringing everyone closer to what matters to them. Through the 'Cheer Thai Grab It All Out' campaign, Grab will allow everyone to come together as one and spend quality time while also responding to their transportation and food delivery needs during the football championship period. This campaign will not only respond to what football fans want, but will also provide income opportunities for local driver-partners and enhance their livelihoods in line with the company's mission. Ultimately, this campaign will create a strong sense of unity in which Grab, driver-partners, and football fans will become part of the movement to push the Thailand National Team towards success at the international level."
Grab offers a variety of services that allow football fans to enjoy long-awaited matches to the fullest wherever and however they want and to cherish these sensational football moments.
Head straight to the stadium with JustGrab: No worries about finding a parking spot. Take JustGrab, then you and your friends can enjoy the league right at the venue.
Catch the game on time with GrabBike: GrabBike is ready to rush you to the appointed location in time to watch the match without worries about traffic.
Satisfy your tummy during the match with GrabFood: Don't worry that a heavy workload prevent you from having dinner, as GrabFood will satisfy your hunger as you enjoy the game on screen.
Chantsuda Thananitayaudom, Country Marketing Head of Grab Thailand, said: "Buriram is a fast growing market with an ever increasing demand for convenience and comfort. By rolling out the "Cheer Thai Grab It All Out" Campaign, Grab hopes to expand our user base in the province and cater to the everyday needs of existing and potential customers, enabling them to cheer for the Thai National Football team to the fullest. Following this initiative, Grab is also looking to expand Grab's variety of services beyond ride-hailing to Buriram to accommodate every step of the users' day to day activities.
On top of that, Grab will arrange the Grab Football Clinic, a-1-day football tutorial session by Football Association of Thailand ,  with professional Thai football coach. Simply redeem 750 GrabRewards points to join this special activity.
More information of the promotion and activities under 'Cheer Thai "Grab It All Out" campaign can be found at https://www.facebook.com/grabth. To become Grab's driver-partner, please find additional information and apply online via https://grabdriverth.com/ .