GrabFood celebrates 4 million orders in first 4 months of 2019
Underlines #1 market position in Thailand for online food delivery platforms
GrabFood to expand to six more cities in Thailand in 2019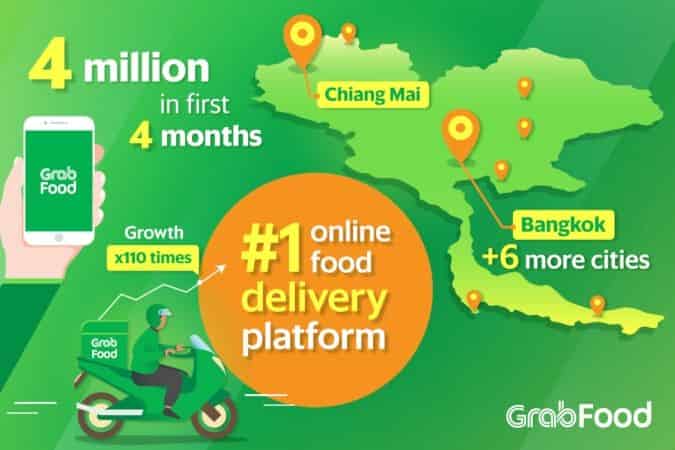 BANGKOK, 30 April 2019 – Grab, the leading everyday super app in Southeast Asia, today announced that GrabFood, its on-demand food delivery business, achieved over 4 million orders in the first 4 months of 2019, surpassing the 3 million orders achieved in 2018. GrabFood became the market leader in food delivery in October 2018, only 8 months after its official launch in February 2018.
According to market research done by Kantar in February 2019, GrabFood is Thai consumers' #1 online food delivery platform. 44% of consumers voted GrabFood as the most often used brand in Thailand, saying it was the online food delivery platform they used the most often.
Off the back of a strong year of growth in Bangkok and Chiang Mai, GrabFood will expand to at least six more cities across Thailand in 2019 and bring the convenience of food delivery to even more Thai consumers. Grab's partnership with Central Group, Thailand's largest omnichannel retail conglomerate, will accelerate this expansion, allowing GrabFood to quickly expand its restaurant network in the targeted cities.
In April, we achieved 1 million orders in 3 weeks. GrabFood has been growing exponentially, enabling us to, in less than one year, overtake competitors who have been in Thailand for years. This is only possible with the strong support of our delivery-partners and merchant-partners. We will work even harder to provide better income opportunities for delivery-partners, and to help merchant-partners grow their businesses," said Tarin Thaniyavarn, Country Head of Grab Thailand.
Benefits of GrabFood to Thai consumers
More delivery-partners to enable faster deliveries: GrabFood delivery-partners earn up to 35% more in monthly income, hence more partners are signing up with GrabFood. The number of GrabFood delivery-partners grew 55x from January 2018 to April 2019.
More merchant-partners to offer more food choices to consumers: The number of merchant-partners on GrabFood grew 250x from January 2018 to April 2019. Since joining GrabFood, merchant-partners record up to 4x increase in monthly revenues, thanks to Grab's large user base.
Tarin added, "From national and international chains to small F&B businesses, GrabFood will offer the most food choices and consumers' favourite F&B brands in every city. This is why we're #1 and also the fastest-growing on-demand food delivery service in Thailand today."
GrabFood provides food delivery from chain restaurants such as Bon Chon, Pepper Lunch, Tenya, Ootoya, After You, Auntie Anne's, KOI Thé , Dakasi, Kamu, as well as street food such as Jae Fai, Pad Thai Pratuphee, Nai Peng Racha Kuay Teaw Kai, Jae Kiang, Rung Reung Pork Noodle, Wattanapanich Beef Noodle, Ko Ang Kao Mun Kai Pratunam.
GrabFood has the largest regional presence and is the only food delivery service with operations in six major Southeast Asian countries: Indonesia, Malaysia, Philippines, Singapore, Thailand, and Vietnam. GrabFood is set to be the #1 food delivery service in Southeast Asia in 2019.
For more GrabFood information and special promotions, please follow @GrabFoodTH on Facebook.