Hey, kamu yang lagi baca blog ini. Apakah kamu pecinta seafood dengan olahan modern? Biasanya kalau udah pengen seafood kamu melipir kemana demi melampiaskan hasratmu itu? Hampir semua restoran seafood harganya selangit, padahal belum tentu makanannya lezat dan berkelas. Gak jarang deh kejadian yang namanya udah bayar mahal tapi gak puas. Habis makan gak bahagia, malah sedih karena merasa rugi. Pernah ngalamin situasi kayak gini? Atau jangan-jangan walaupun pengen, kamu hanya pendam saja. Gak berani melampiaskan hasrat makan seafood karena kasihan dengan dompet yang bakal jebol?
Cobain deh kali ini melipir ke Fish Streat selama minggu ini di GrabFoodID. Karena GrabFoodID lagi ngadain promo spesial Fish Streat, paket Hemat Berdua mulai dari 40rb-an saja! Biar lebih enak hunting makanan berkelas harga kaki limanya, coba cek tiga menu favorit Fish Streat dibawah ini ya. Biar sensasi makannya lebih lahap dan poll!
Fish and chips
Fish and Chips yang disajikan di sini porsinya cukup besar loh, GrabFoodie. Ikan dori fillet sebagai menu utamanya dibaluti dengan tepung dan digoreng crispy. Walau deep fried, tapi ikan didalamnya tetap terjaga kelembutannya. Menu ini juga dilengkapi dengan saus carbonara atau tartar, cocok banget buat ikan yang lembut teksturnya. Selain itu, Fish Streat juga membebaskan pilihannya kepada pelanggan untuk pilihan karbonya. Bisa pilih french fries atau curry rice, itu semua tergantung selera kamu.
Seafood Platter
Untuk kamu yang menyukai segala macam seafood, bisa pesen Seafood Platter. Menu ini menjadi menu yang paling diincer para pecinta seafood loh! Di menu ini kamu bisa dapetin berbagai macam seafood seperti udang, ikan, cumi dan kerang hijau yang disajikan barengan dalam satu piring. Makin nikmat lagi karena dilengkapi dengan butter sauce dengan perasaan jeruk lemon yang semakin menambah kesegaran seafoodmu. Menu ini juga sama, ngebebasin kamu untuk mesen French fries ataupun curry rice sebagai makanan karbo penambah nikmatnya seafoodmu.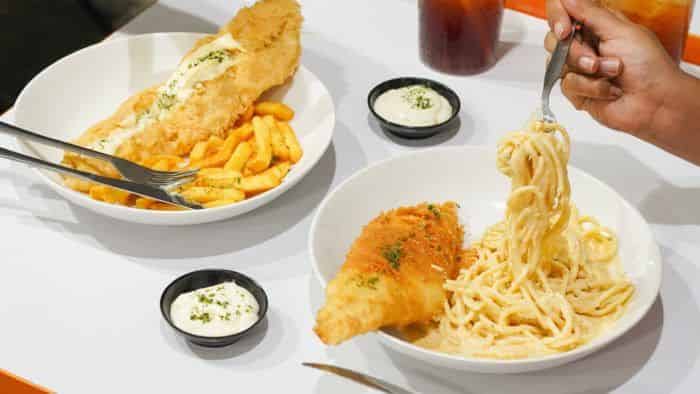 Marinara Sauced Pasta
Nah kalau menu yang ini, Marinara Sauced Pasta juga mengangkat ikan dori fillet sebagai menu utama. Bedanya, menu ini dilengkapi dengan pasta yang gurih nan lezat. Seperti namanya, makanan ini dihidangkan identik dengan bumbunya. Baik ikan dan pastanya, semua rasanya pedas, asam dan gurih, karena dilumurin marinara sauced yang cocok banget buat kamu pecinta pedas, dan gak terlalu suka makan makanan creamy. Hanya melalui GrabFoodID, kamu bisa menikmati makanan berkelas ini tanpa takut kantong jebol.
Jadi sudah tahu kan menu apa saja yang biasanya diincar orang di Fish Streat? Sekarang giliran kamu nyobain makanannya, dan rasakan kelezatan makanan berkelas dengan harga kaki lima ini. Dengan promo "GRABFISH" kamu bisa melampiaskan hasrat makan seafoodmu tanpa mahal di gerai Fish Streat mana saja.  Apalagi si #JuaraCepat nganternya gak pakai lama. Yuk ajak partner makan mu sekarang dan rayakan kebahagiaan nikmatnya seafood berkelas bersama-sama. Promo ini berlangsung hingga 5 Mei 2019. S&k berlaku.