Grab Ventures Ignite to adjust its programme timeline to focus effort on supporting local startups and community during the COVID-19 pandemic
Due to the COVID-19 pandemic, Grab extends Grab Ventures Ignite application deadline until end of June, 2020 to create additional opportunities and support for Vietnamese startups to join the programme.
During this period, Grab Ventures Ignite will introduce targeted advisory initiatives for Vietnamese founders to support their immediate COVID-19 recovery plans.
With this decision, Grab will also further focus on implementing COVID-19 prevention and support measures for its driver, merchant-partners and the community.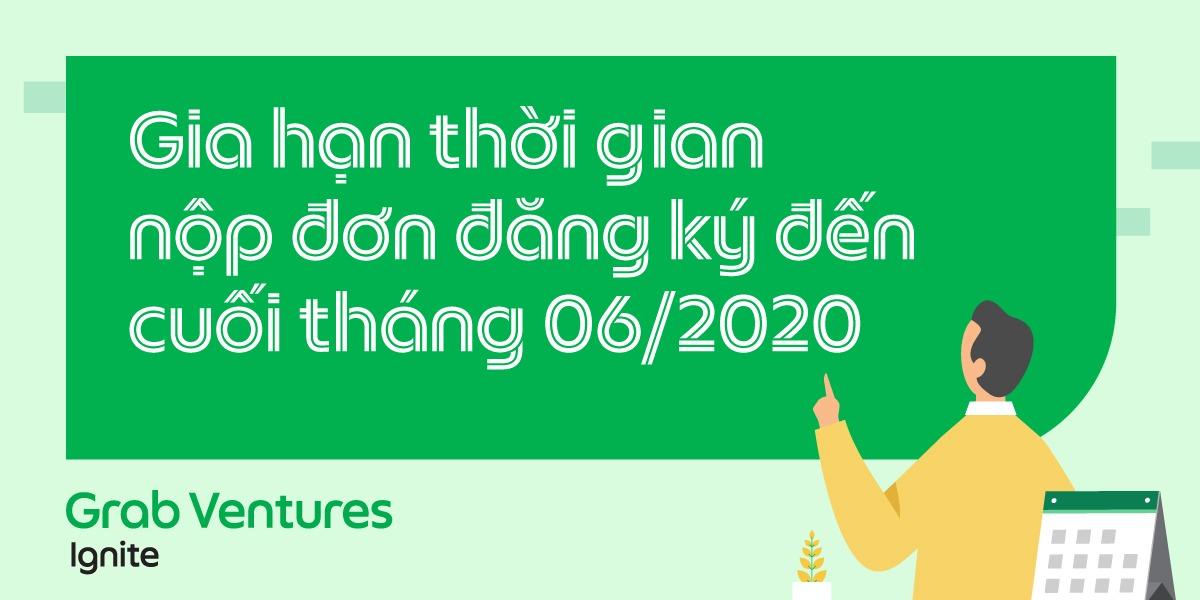 Vietnam, April 03, 2020 – Grab, Southeast Asia's leading super app, announced today to extend the application deadline for Grab Ventures Ignite, an accelerator programme for early-stage startups in Vietnam, until end of June, 2020 to focus its support to Vietnamese startup ecosystem and community in light of the COVID-19 pandemic. The programme is expected to officially kick-off by August, 2020. 
The COVID-19 pandemic has caused severe impact and anxiety to various socio-economic areas including Vietnam's startup ecosystem. As the government has kicked off a series of swift initiatives and actions such as disencouraging non-essential movements and implementing nationwide social distancing, there is a need for more measures to support startup communities and the larger community. As such, the postponement offers Vietnamese startups who are struggling with the COVID-19 additional opportunities to participate in Grab Ventures Ignite. Startups will also have more time to prepare for their applications to the programme, whilst laser their focus on tactical saving moves to get through these trying times. 
Aiming at better supporting startups, Grab Ventures Ignite will host virtual interactive sessions focusing on topics to alleviate the impact of COVID-19, and invite founders to virtual chats with Grab Ventures team and its partners. These sessions will take place in order to equip the startup community, especially those who are affected by the COVID-19 pandemic, with timely knowledge and experience to ward off the damages and ride through this crisis period. 
The timeline adjustment also allows Grab to focus on implementing ongoing and additional measures to support its driver and merchant-partner community, as well as join hands with the Government to mitigate the COVID-19 emerging impacts. 
In this spirit, Grab Vietnam has recently announced its partners relief package of VND 70 billion along with a series of prevention and support measures for its driver, merchant-partners and the community during the pandemic. Since the COVID-19 began to penetrate Vietnam, Grab has pioneered in launching the contactless delivery for GrabFood service and piloting GrabMart and GrabAssistant services, which are in line with the Government's recommendation to limit close contact and encourage online shopping. In addition, Grab has also implemented a wide range of safety measures for its customers, driver and merchant partners across the country. Please visit https://www.grab.com/vn/en/safety/covid-19/ for more information.
In February 2020, Grab launched Grab Ventures Ignite as part of its Grab for Good development roadmap in Vietnam which aims to create greater social and economic benefits for the country through technology. Grab Ventures Ignite is in strategic partnership with Vietnam National Innovation Center (under Ministry of Planning and Investment) and in association with Singapore's Infocomm Media Development Authority (IMDA), Gobi Partners, Toong, YKVN, and Amazon Web Services. The accelerator program is exclusively designed to build capability for early stage startups in Vietnam through world-class workshops, mentorship, peer learning and market immersions with an excess total of US$1 million in investments and in-kind prizes from Grab and its programme partners.
For more information about Grab Ventures Ignite, please visit https://ventures.grab.com.