GrabMart unveils Quick Commerce shopper insights Leveraging the "Habitual Marketing" approach and highlighting 24-hour service in the second half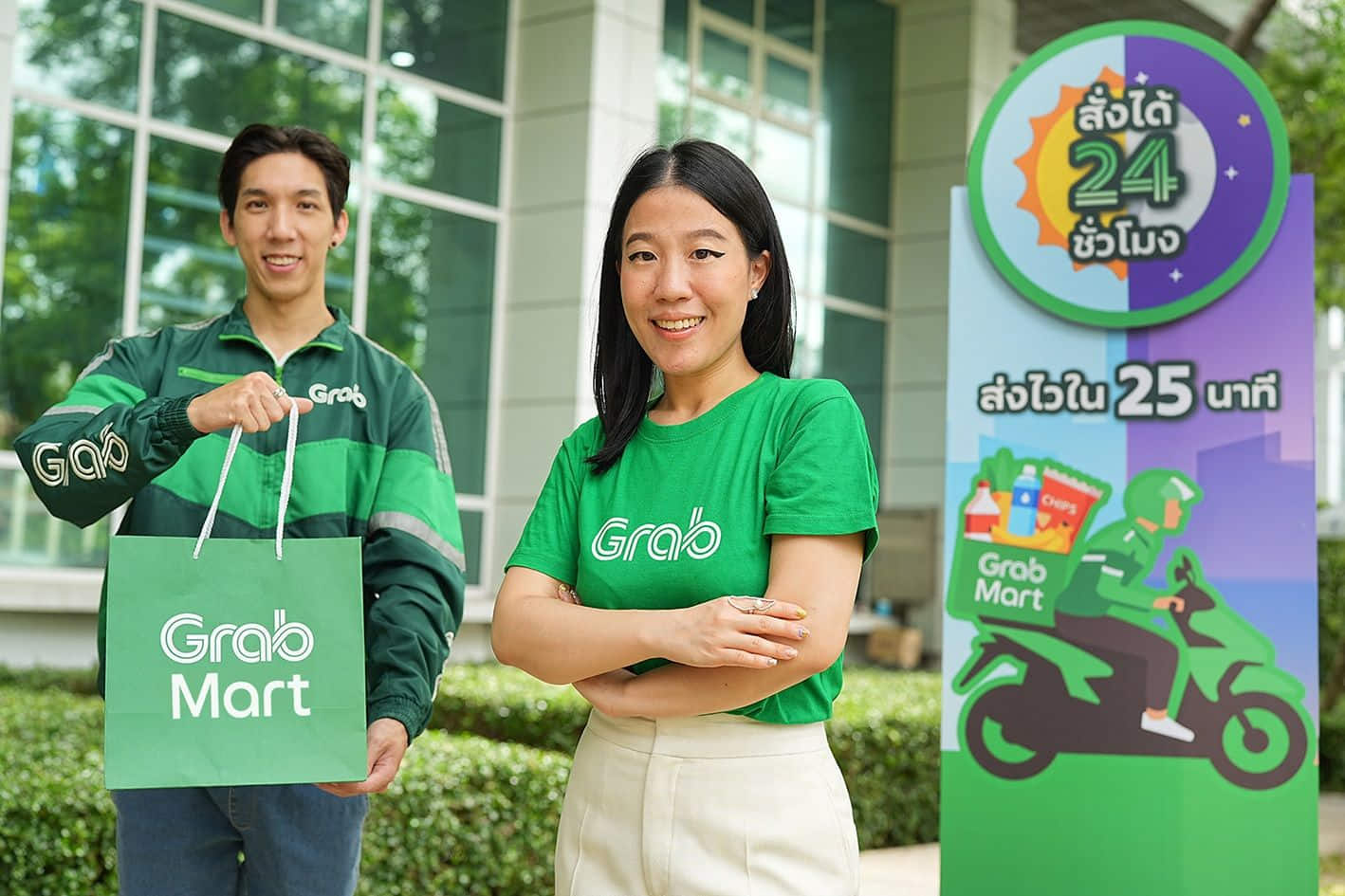 Grab Thailand has unveiled insights into the shopping behaviors of GrabMart users across four distinct periods of the day. These insights highlight that fresh food, perishable goods, and household products are the top-selling items during the daytime, whereas essential products such as condoms, sanitary napkins, and drinking water gain popularity during the night. In the second half, Grab will emphasize the "Habitual Marketing" approach, with the aim of promoting product categories that align with the preferences and behaviors of its heavy users, including professional housewives and busy Gen Y individuals. The brand will underscore its strength as an on-demand platform, providing a 24-hour delivery service with a guaranteed delivery time of just 25 minutes.
Chantsuda Thananitayaudom, Senior Director – Commercial & Marketing, Grab Thailand, states, "The overall retail business continues to experience growth this year, driven by increased economic activities and post-COVID recovery. Projections indicate that Thailand's retail industry will contribute approximately THB 3.7 trillion1, with an anticipated growth rate of 10% in 2023. Notably, the e-Commerce market is set to expand by 10.5%, reaching a value of up to THB 8.2 billion. This trajectory aligns with the Quick Commerce market, which remains popular due to evolving consumer behavior. Modern consumers are increasingly opting for on-demand platforms like GrabMart to make purchases. This shift is evident in the sustained growth of GrabMart purchases, particularly in the fresh vegetables and fruits category. In the second quarter, this category witnessed a growth of over 10% compared to the previous quarter."
"In the past, GrabMart adopted the 'Moment Marketing' approach to stimulate demand during festive seasons or special occasions. This involved utilizing discounts and promotions to boost sales and spur impulse purchases. Moving forward, we will place a strong focus on our core users including housewives and moms who frequently rely on GrabMart for groceries and household essentials, along with the Gen Y singles who lead independent lives and have limited time for shopping. We will utilize the 'Habitual Marketing' approach, aiming to encourage these user groups to establish repeat purchases and cultivate purchasing key items as part of their routine."
Based on the shopping behavior of GrabMart2 users throughout the day, distinct purchasing patterns have been identified, which can be categorized into four different groups.
Fresh Start Morning

(between 5 – 9 a.m.)

During the early morning, the best-selling items encompass

eggs, whole milk, UHT milk, and canned coffee

. These products are commonly used as breakfast items or for preparing quick dishes. Additionally,

fresh flowers and garlands

witness strong sales, with a surge of up to 20% compared to regular periods. This trend is particularly noticeable among women or housewives who seek to pay respect to monks or offer gifts to others before the start of their workday.

Each day, GrabMart sees an average purchase of around 36,000 eggs and up to 18,000 liters of fresh milk.
Daytime Cooking

(between 9 a.m. – 4 p.m.)

Throughout the daytime, orders for

fresh produce and cooking ingredients

surge by 25% compared to other times of the day. The top 5 best-selling products comprise fresh

vegetables, fruits, pork, chicken, and seasoning ingredients.

Among these, the 3 most frequently prepared dishes by housewives are steak, suki, and fried rice.

Another product category demonstrating robust sales during the daytime, notably between 11 a.m. and 4 p.m., involves

consumer goods such as tissue paper, laundry detergent, fabric softener, and household products.

Sales in this category are 15% higher than during other periods.

Each day,, the average quantity of

meat products purchased for cooking (including pork, chicken, beef, and seafood) through GrabMart adds up to 4 tons, accompanied by over 4,100 kilograms worth of vegetables and fruits.
Evening Celebrations

(between 4 – 10 p.m.)

Users tend to purchase

products for parties or celebrations

in the evening. The best-selling items during this period are

ice, soda, soft drinks, and snacks.

Snack sales are 30% higher than at other times, especially between 4 p.m. and 6 p.m. 

Additionally,

pet products like dog food and cat food

sell best between 6 p.m. and 8 p.m., which is 42% higher than any other time. 

Each day, the average purchase of snack products on GrabMart is as high as 12,800 packs, along with more than 17,000 cans or bottles of soft drinks.
Overnight In Need

(between 10 p.m. – 5 a.m.)
During the night, users seek

essential and indispensable products

, with the top 5 best-selling items being

condoms and lubricants, sanitary napkins, contact lens solutions, drinking water, and energy drinks. 

Each day, the average purchase of condoms on GrabMart adds up to 1,500 packets, accompanied by more than 1,120 sanitary napkin sales.
"Alongside the wide variety of products and the extensive network of merchant-partners on the platform, the provision of round-the-clock service with a 25-minute delivery time, even during the night, stands out as one of GrabMart's key strengths, contributing to our position as a front-runner in the quick-commerce market. We will persist in enhancing our services to cater to the evolving needs of our customers,"  added Chantsuda.
1 Reference from "Industry Insight: Retail business in 2023" by Economic Intelligent Center, Siam Commercial Bank (SCB EIC)
2 Shopping behavior via GrabMart in the first half of 2023