KASIKORNBANK and Grab join hands to move Thailand towards a digital future
Partnership introduces GrabPay by KBank, a co-branded mobile wallet, and financial solutions in Thailand.
KBank makes a $50 million strategic investment in Grab, its first in an international company with a core business outside of Thailand.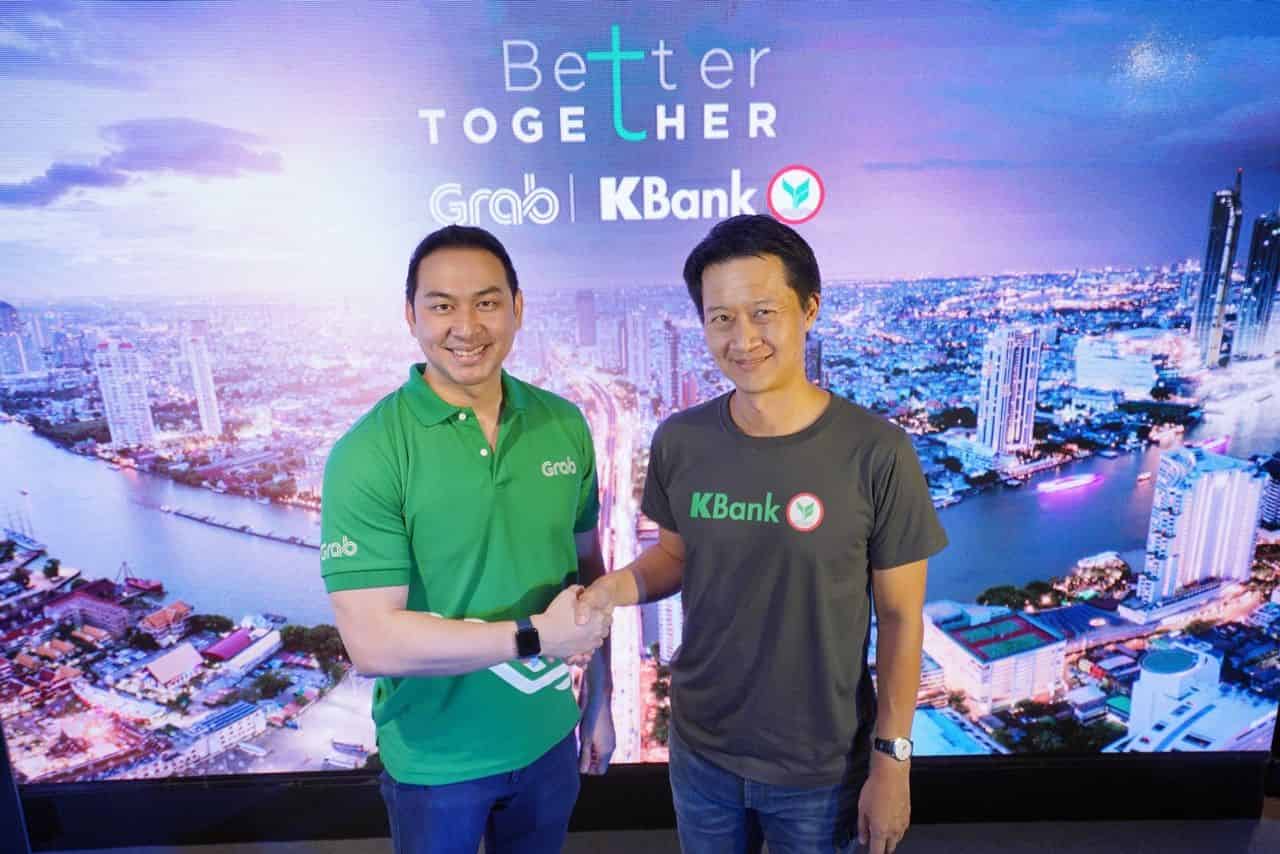 Bangkok, Thailand, 8 November 2018 – KASIKORNBANK (KBank), Thailand's leading financial conglomerate, and Grab, Southeast Asia's leading online-to-offline (O2O) platform, today announced a strategic partnership with the aim to empower a 'Digital Lifestyle Ecosystem' that will transform the Grab experience for Grab's users, driver-partners, merchants and agents, by leveraging KBank's expertise in digital banking. The partners will launch a portfolio of seamless on-demand services, including GrabPay by KBank, a co-branded mobile wallet, as well as a suite of other financial solutions which are planned to be launched in 2019. The partnership comes with a $50 million strategic investment from KBank in Grab, and is part of Grab's ongoing fundraising round.
Tarin Thaniyavarn, Country Head of Grab Thailand, commented, "We're honoured to join hands with KASIKORNBANK, who share our mission of lifting more of Thailand into the digital economy through innovation. With our new mobile wallet, we want to give more Thais access to digital payments, which are safer and more convenient than cash. This also advances our ambition to build an Everyday Super App to serve the daily needs of our consumers."
Patchara Samalapa, President, KASIKORNBANK said, "It is KBank's Global Strategic Direction to expand into AEC+3 markets where digital technology capabilities will be enhanced via digital channels and mobile solutions.  'Better Together'is KBank's commitment to work closely with strategic partners who are the best-in-class in their sectors by complementing and fulfilling each other's strengths seamlessly in the pursuit of offering 'everyday use' services for customers."
"Our partnership with Grab opens up new opportunities to innovate in a rapidly evolving industry and growth region.  We are excited to team up with Grab to transform the customer experience in this 'Digital Lifestyle Ecosystem' for Grab's users, driver-partners, and merchants as well as enhance the delivery of digital services and mobility for millions of users who rely on Grab for safe and affordable transport, food and package delivery, mobile payments, and financial services.  KBank has bold ambitions of becoming the digital bank of choice in the region. Our co-branded mobile wallet and strategic investment in Grab enables us to bring Grab's scale to our merchant and consumer network in Thailand. This is the first time KBank(through Beacon VC) has made a venture capital investment in an international company with core business outside Thailand, calling to attention the size of the opportunity Grab's ASEAN-wide user base offers, even to leading financial institutions like KBank. This deal is also the highest stage VC investment by a Thai investor to date. We look forward to developing innovative financial products together with Grab, which will put KBank in a position to tap into the rapidly growing digital economy across the region."
The agreement will see both parties collaborate on a co-branded mobile wallet and financial solutions:
GrabPay by KBank – Mobile wallet in Grab app which will allow Grab customers to pay for transport and delivery services, transfer funds to friends and family, purchase products and services online, and make QR-code payments in restaurants and shops across Thailand. Thanks to PromptPay, Thailand's national e-payments scheme, all QR-enabled merchants in Thailand will be able to immediately accept 'GrabPay by KBank' upon activation.
Integration between K PLUS and Grab Application –This will enable users to benefit from seamless services across the KBank and Grab ecosystem, starting 2019.
Offering KBank and Grab products to stakeholders in KBank and Grab ecosystem – KBank and Grab will also work together to jointly offer products to their customer base, including KBank loans to help Grab's drivers access funds, as well as giving KBank SME customers access to Grab for Business to improve corporate transport expense management as well as increase brand awareness and engagement through Grab's advertising solutions.
"In 2018, Grab Financial has cemented itself as Southeast Asia's leading fintech platform, both in terms of Monthly Active Users (MAU) and Total Payments Volume (TPV). This partnership makes Grab Financial the first mobile payments platform to launch e-money-licensed payments services across ASEAN-6 and underlines the strength of our partnership-based strategy. By opening up our platform, we have attracted many of the leading players in the financial services industry and driven exponential growth for our business. ," said Reuben Lai, Senior Managing Director, Grab Financial.