Grab appoints BNK48 as its first Brand Ambassadors in Thailand
Thailand's most popular girl group will showcase how Grab is becoming an Everyday Super App serving the everyday needs of all Thais
Grab will also introduce new features as part of its Better Everyday commitment to provide safer, seamless and more rewarding ride experiences for both passengers and drivers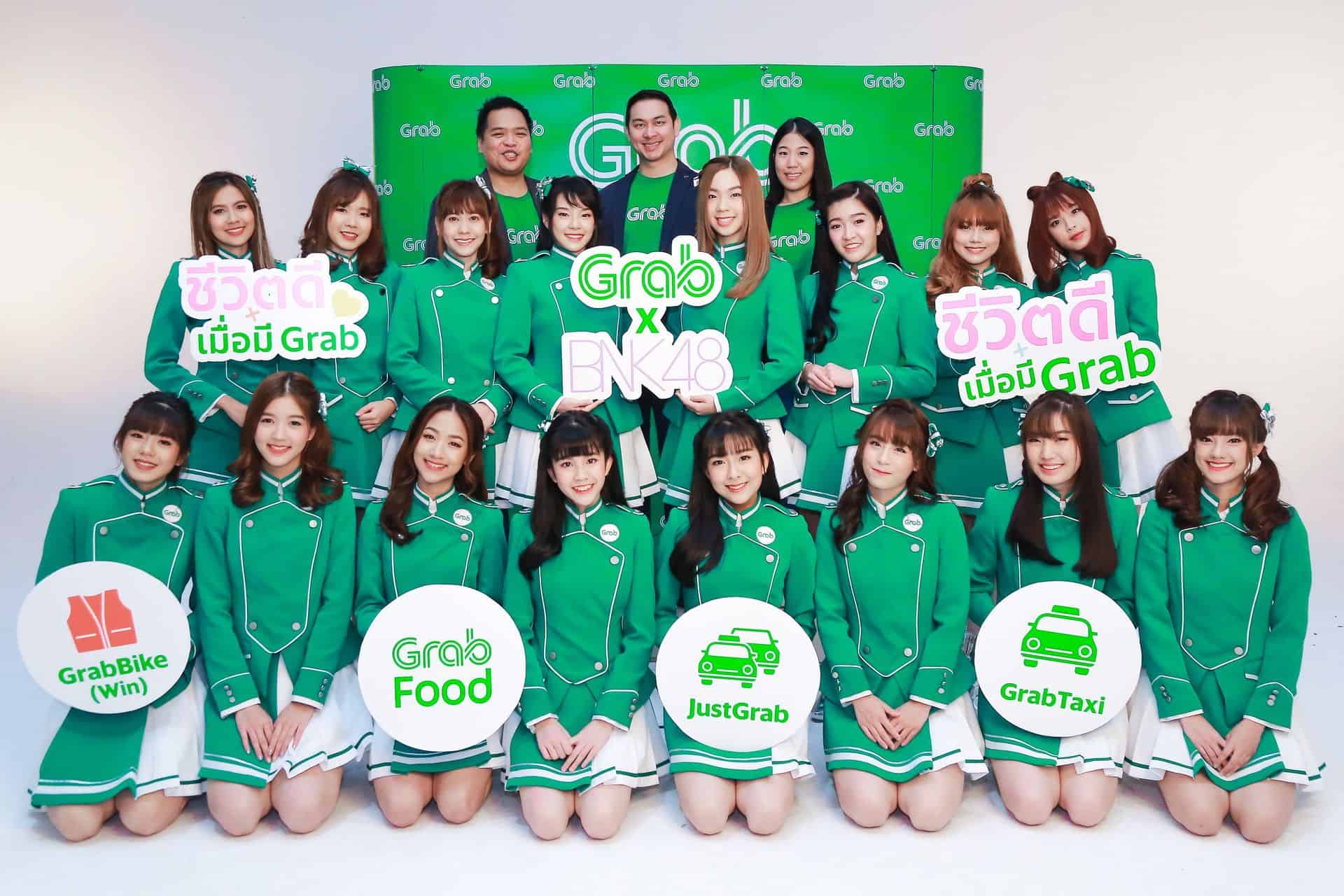 Bangkok 21st November 2018 – Grab, Southeast Asia's leading online-to-offline (O2O) platform, has appointed BNK48 as its first ever Brand Ambassadors in Thailand. Celebrated idol girl group BNK48 is currently the hottest pop phenomenon in Thailand, and has helped reignite enthusiasm and passion towards the local music scene. BNK48 will represent Grab across a series of marketing initiatives including social media and brand awareness events, showcasing how Grab makes everyday better as Thailand's Everyday App.
Cherprang Areekul, Captain of BNK48 said: "We're excited to represent Grab, who to us and many Thais is truly a smart and reliable everyday companion. Whether we need a safe way to get around or just want to order some food after a long day of events or practice, we can do it all through Grab. As a group of young girls, we love that Grab puts safety first, and we also enjoy the many food, travel and entertainment rewards we can find under GrabRewards. Above all, we respect Grab as a brand that is always trying to improve to give customers a better experience."
Since establishing its roots in Thailand 5 years ago, Grab has grown beyond providing safe, affordable and convenient transport options, to also offering fast and reliable food as well as parcel delivery services through GrabFood and GrabExpress respectively. Grab has also made everyday more rewarding for its millions of users with exclusive benefits and privileges through its GrabRewards program.
Tarin Thaniyavarn, Country Head of Grab Thailand, said: "We're thrilled to choose BNK48, who we see as embodying the same dynamism, optimism and never-give-up spirit that Grab has. Both Grab and BNK48 are young, and our journeys to where we are today have not been easy, yet we continue to push forward to be better everyday for our fans and users. We are confident that BNK48 will be great ambassadors to show how Grab adds value to everyday life."
Better Everyday
'Better Everyday' is Grab's commitment to finding new ways to improve and be better, every single day. Recent enhancements that Grab has rolled out to make rides safer, more seamless and more rewarding for both passengers and drivers include:
Change Destination: For added flexibility, Grab now gives passengers the option to change their destination or drop-off point while still in transit.
Cancel Anytime: For passengers who realized they keyed in the wrong destination after clicking 'book', or changed their mind, they can now cancel their booking during the driver-search phase with no penalty or charges incurred.
GrabChat Voice: In addition to texting and sending photos, passengers and drivers can now communicate with each other through voice messages, which are safer for drivers and convenient for passengers.
Recommended Entrances and Pick-up Points: With so many large buildings in Thailand with multiple entrances, it can sometimes be hard for drivers and passengers to find each other. Grab has now made it more convenient for passengers to pick a recommended location that is accurate to where they are, especially in busy areas or at places with multiple entrances.
Compensation for Cancellation or No-Shows: If a passenger cancels the ride late or does not show up, Grab will compensate drivers for travelling to that pick-up point.
Grab will also continue to enhance benefits provided to drivers through its Grab Driver Benefits program which already provides benefits such as health insurance, fuel discounts and maintenance services.
"Grab is deeply grateful for the support we have received from the community in Thailand for the past 5 years. We recognize that there are many ways that Grab can improve, and 'Better Everyday' is our promise to our users, driver-partners and merchants that we will keep trying to make the Grab experience better for all. We will keep earning the right to serve them," added Tarin.
Grab x BNK48 marketing activities and promotions
Under the Grab x BNK48 partnership, Grab will roll out an extensive out-of-home and digital campaign through various media channels including online advertisements and billboards featuring BNK48, who will be highlighting the versatility of Grab's services for everyday use. Grab users can also look forward to special Daily Deals with promo codes tailored to different members of BNK48. These promo codes can be used across various Grab services. As thank you fans who use Grab services, Grab will also be hosting an exclusive Grab x BNK48 party, which will be held in Q1 2019.