Grab Becomes an Official Supporter of Thailand National Football Team and Launches "Cheer Thai with Grab" Campaign
Grab officially supports Thai National Football Team by providing football fans with safe and convenient journeys as well as delicious meals to cheer the football matches, allowing all Thais to come together happily and harmoniously to support Thai national football team
Grab officially supports Thai National Football Team by providing football fans with safe and convenient journeys as well as delicious meals to cheer the football matches, allowing all Thais to come together happily and harmoniously to support Thai national football team
The move also aligns with Grab's commitment in enhancing livelihoods and creating more income opportunities for local people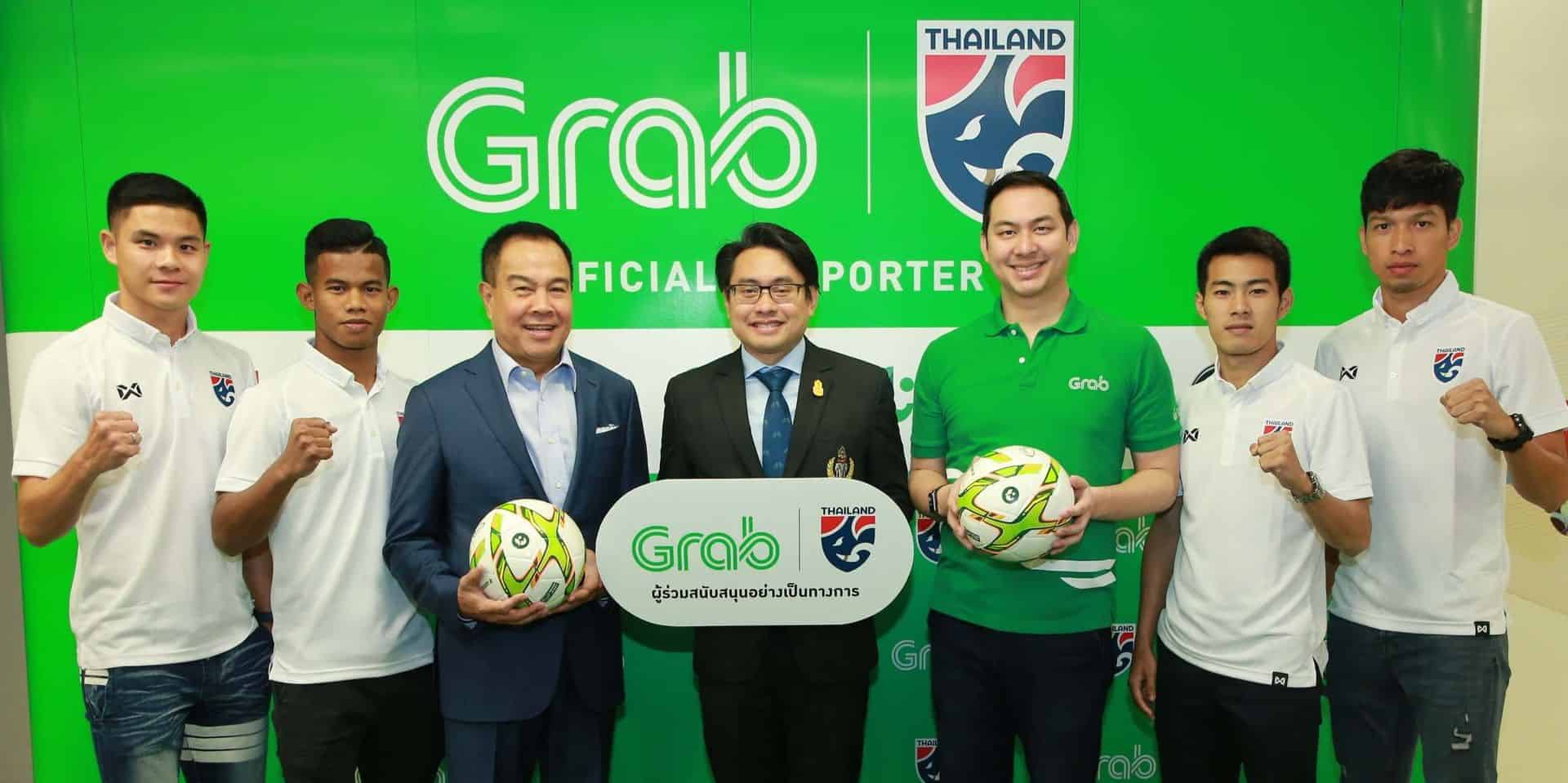 Bangkok, 21 February 2019 – Grab, the leading super app, announced its official sponsorship for the Thailand National Football Team along with the launch of "Cheer Thai with Grab" campaign to harmonize Thais as one and provide football fans nationwide with safe and convenient transportation to the football matches such as Thai League, FA Cup and League Cup. The move aims to strengthen the company's position as the leading super app that answers users' everyday needs. This sponsorship will also further Grab Thailand's commitment to enhance livelihoods and provide more income opportunities for the locals by creating jobs and promoting tourism.
The press conference was opened with a remark by Dr. Kongsak Yodmanee, Governor of the Sports Authority of Thailand: "Football is a sport that is gaining popularity more and more among both Thais and foreigners. Not only Thailand National Football Team has performed well in national and international leagues, but our local football clubs have organized football matches nationwide. Football can help boost and increase economic activities including tourism as a significant number of football fans often travel to the provinces where the matches are organized.  Making the availability of public utilities is therefore crucial. The use of the ride-hailing application to cater to the growing transportation demand is one of the key strategies to promote the organization of sport events as well as to sustainably develop the local economy and tourism."
Pol. Gen. Somyot Pumpanmuang, President of the Football Association of Thailand said: "Realizing the Thailand National Football Team represents the pride the country, every footballer is dedicated to work hard for every match with the goal to bring victory and fame to Thailand, along with happiness and pride to their fans. However, in order to reach the goal of becoming Asia's leading football team, we still need support and cooperation from various partners. The Football Association of Thailand is glad to have a strong partner like Grab Thailand as an official supporter of the Thailand National Football team and also for leading matches like Thai league, FA Cup and League Cup. This partnership will encourage our footballers to improve their performance and football fans can travel to the football more safely and conveniently. We are confident that Grab's support to the team will help accelerating Thailand's football industry."
Mr. Tarin Thaniyavarn, Country Head of Grab Thailand said: "Grab is delighted to become an official supporter of Thailand National Football Team and contribute to Thailand's football industry. We value every footballer's ambition and strong determination to bring victory to the team and to the Thai people. Grab also shares the same determination in improving our services to better respond to users' everyday needs and to bring the best experiences to our users. We also see football as a sport that has gained popularity nationwide and attracted a large number of fans. Through the use of Grab application, more of them will be able to travel across provinces to see the matches they want in a safer and more convenient way. They can also enjoy the game more with delicious food from GrabFood which is available in Bangkok and now in Chiang Mai. Furthermore, Grab will help boost the local economic activities by creating jobs and promoting tourism. The locals will have more income by being Grab's driver-partners and welcome more football fans who visit their provinces without having to worry about transportation."
"On the top of that, Grab also launches 'Cheer Thai with Grab' campaign, which aims to deliver happiness and harmonize all Thais as one to cheer for our national team by offering ride discount via the Grab application. Football fans can enjoy fun activities at our booth as well as on Facebook to receive additional special prizes such as special souvenirs for football fans, football match tickets and autographed football jerseys, etc. In addition, we will arrange special activities for our driver-partners such as football leagues with Grab's trophies and prize money for grab. The winning teams will have a once-in-a-lifetime experience to compete at a national professional stadium. Furthermore, a free football clinic will be opened to children of driver partners. Those who are interested in becoming our driver-partners in Bangkok, or other provinces where the competitions are held such as Chiang Rai, Chiang Mai, Chonburi, Khon Kaen, Nakhon Ratchasima and Buriram can ask for more information at Grab booth on the day of the event or apply online. The campaign allows us to take a part in supporting nationwide popular sport and boosting the economy while creating more income opportunities for the locals. All these reflect our continued commitment to giving back to Thai people and developing Thailand sustainably," concluded Mr. Tarin.
Football fans, who go to the football matches organized at the provinces where Grab operates, can fill in promo code 'CHEERTHAI' to get 50% discount (Maximum Bt.50 / 2 times a day) for JustGrab and GrabCar ride from and to the stadium on the day of the match. More information of the promotion and activities under 'Cheer Thai with Grab' campaign can be found at https://www.facebook.com/grabth, https://www.facebook.com/changsuek/ and https://www.facebook.com/Thaileague1Official/ . To become Grab's driver-partner, please find additional information and apply online via https://grabdriverth.com/ .