Grab, PNP-HPG strengthen Road Safety Commitment with PNP's first Shooting Simulator
Grab continues to strengthen its commitment towards a safer and better experience by sustaining its partnership with PNP-HPG through a shooting simulator. The Grab-PNP-HPG Trooper's Shooting Simulator aims to update the proficiency and capabilities of PNP-HPG law enforcers and effectively enforce road safety and security along the major thoroughfares in the Philippines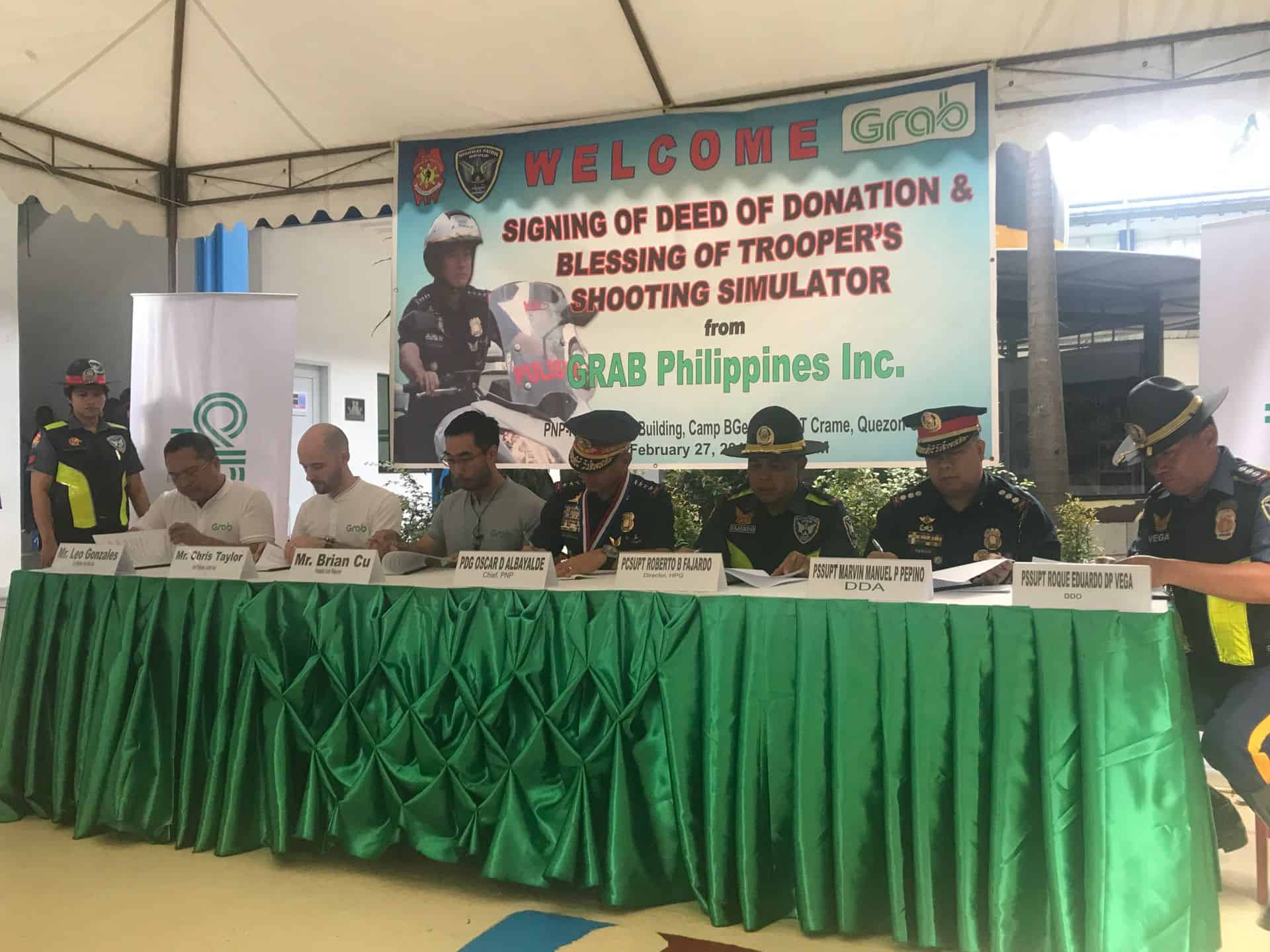 (L-R) Leo Gonzales (Head of Public Affairs, Grab PH), Chris Taylor (Grab PH), Brian Cu (President, Grab PH), PDG Oscar Albayalde (Chief, PNP), PCSupt Roberto Fajardo (Director, HPG), PSSupt Marvin Manuel Pepino (DDA), PSSupt Roque Eduardo Vega (DDO)
PHILIPPINES, February 27, 2019 – In its commitment to provide a better and safer everyday experience for its users, Grab, the leading super app in Southeast Asia and the only everyday app in the Philippines, sustains its partnership with the Philippine National Police – Highway Patrol Group (PNP-HPG) by launching the PNP's first Trooper's Shooting Simulator.
With the need to continuously enhance the proficiency and capabilities of our  law enforcers, the shooting simulator aims to provide up-to-date training on how PNP-HPG Troopers can effectively enforce road safety and security along the major thoroughfares in the Philippines.
The shooting simulator will provide the PNP-HPG personnel with a sense of split-second life or death judgement on the use of force when responding to real and imminent threats that can not be provided by training from normal shooting ranges.
The facility shall be open to other PNP units and the inclusion of a Video Editor and Scenario Maker shall ensure that the HPG may create training scenarios based on prevailing modus operandi used by criminals and threat groups.
"We are always thankful for the trust that our users and driver-partners have given us over the years, and we at Grab do not take this responsibility lightly. As we continue to grow and expand our services, there is a need for us to constantly set a high bar for transportation safety standards in the TNVS industry," Grab Philippines President Brian Cu said
"Today, we sustain that commitment with the PNP-HPG as we unveil the Trooper's Shooting Simulator to keep our roads safe and free from violent crimes such as carnapping and robbery," he added. .
In the Philippines, drivers and passengers of transport network companies fall victims to robbery, assault, and carnapping. Equipping PNP-HPG Troopers with the right training and equipment will help curb these incidents from happening. This will not only benefit the users of the Grab platform but will also be extended to other road users.
Cu also said, the shooting simulator is "Grab's way of thanking the men and women in uniform who selflessly put their lives on the line each day to maintain peace and order."
This strengthened collaboration with the PNP-HPG is an extension of Grab's Safer Everyday commitment, an initiative launched last year to bring preventable incidents on the Grab platform down to zero. Grab also launched its Safer Everyday technology roadmap with industry-leading safety products, and trained its driver-partners on defensive driving and first aid skills.
Last year's initiative also saw Grab partnering with several government offices, including the PNP-HPG, to operationalise safety processes and standards for drug prevention, accident, and criminal response for the TNVS industry.
The continued partnership between Grab and the PNP-HPG, in particular, allows for the timely exchange of information related to criminal acts to prevent occurences on Grab's platform. The PNP-HPG likewise provides technical support and response in anti-criminal act operations.
"As an everyday super app, Grab is promoting the development of smart cities by driving digital and financial inclusion that will help serve the daily essential needs of Filipinos better. Our goal is to help the government in creating these cities and having safer roads will help us achieve that goal sooner," Cu said.