Grab Unveils 'Safer Everyday Tech Roadmap' to Raise Transport Safety Standards
Grab executives and government officials and partners officially launch the Safer Everyday campaign, committing to further improve the road safety and prevent accident and crime in TNVS through new innovations and technology. (L-R) Grab Regional Head of Safety and Security […]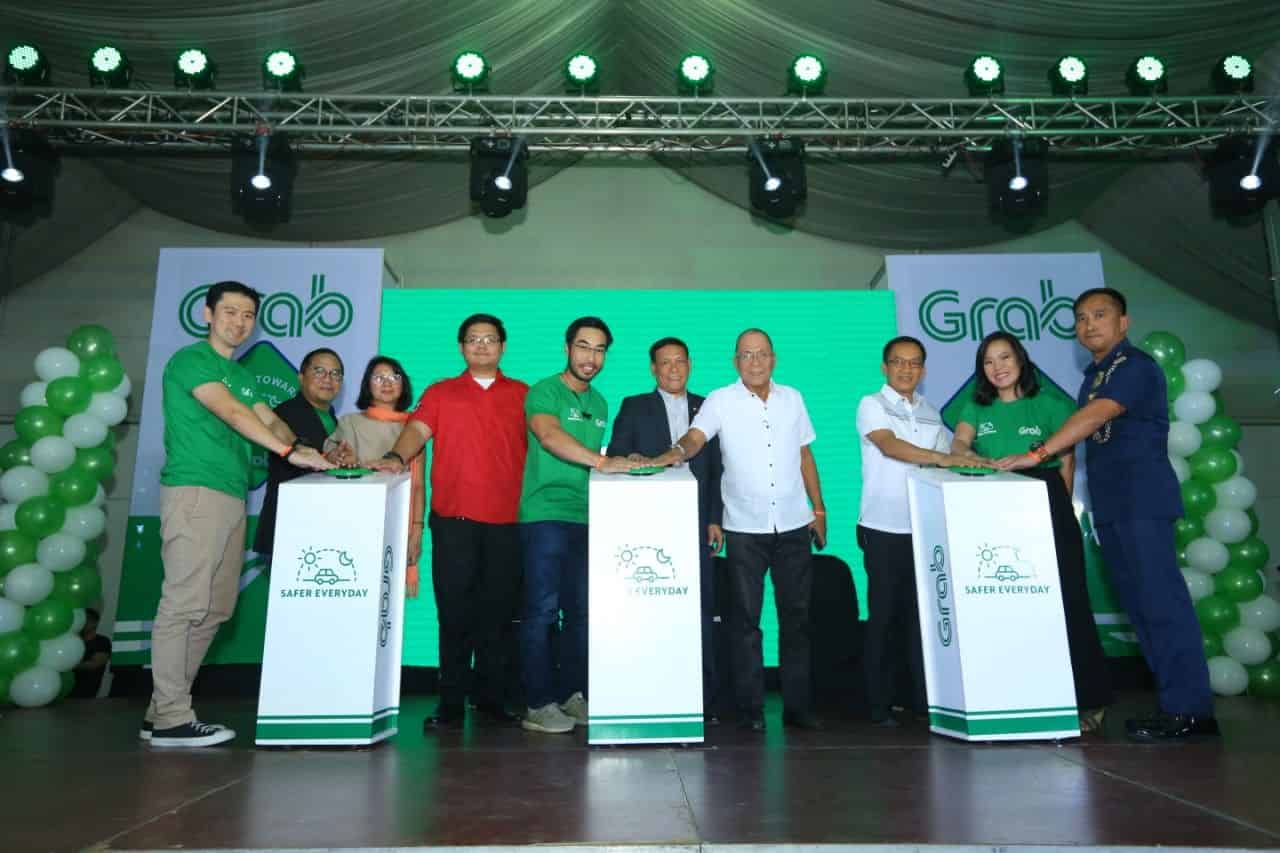 Grab executives and government officials and partners officially launch the Safer Everyday campaign, committing to further improve the road safety and prevent accident and crime in TNVS through new innovations and technology. (L-R) Grab Regional Head of Safety and Security Nicholas Chng, Grab Head of Public Affairs Leo Gonzales, UN Women Charisse Jordan, Philippines Red Cross Safety Services Manager Von Ryan Ong, Grab Country Head Brian Cu, Department of Transportation B/Gen. and Asec for Mobility and Infrastructure; OIC for Special Concerns and IACT Head Secretariat Manuel S. Gonzales, MMDA USec. and Deputy Chairman Frisco S. San Juan, PDEA Incoming Deputy Dir General Col. Ricardo Santiago (Ret), Chief Supt Roberto Fajardo of the PNP Highway Patrol Group
Safer Everyday Tech Roadmap comprises product enhancements that aim to eliminate preventable incidents, encourage safer user habits and drive long-term changes in road behaviour

Grab partners with government agencies across Southeast Asia to address each country's top transport safety concern

Will double investment in safety measures in 2019

Grab Philippines to tackle accident and crime prevention in TNVS 
Philippines, 22 October 2018 — Grab, the leading Online-to-Offline (O2O) mobile platform in Southeast Asia, today unveiled its 'Safer Everyday Tech Roadmap', comprising product enhancements that aim to raise transport safety standards for the industry. This includes measures specifically aimed at changing user safety habits – such as driver fatigue monitoring and telematics reports for drivers to learn their driving patterns and identify how to drive more safely – to drive long-term road behaviour change and reduce the chance of incidents. As part of its 'Safer Everyday Tech Roadmap', Grab will double its investments in safety measures by end of 2019.
Tan Hooi Ling, Co-founder, Grab said, "The Safer Everyday Tech Roadmap is an extension of Grab's current efforts in Southeast Asia, where we are the only major player to invest in foundations like a 24/7 customer support centre, number masking, and stringent driver background checks and verification. We're not going to compromise on our users' safety, and that's why even as Grab has grown much larger, safety remains a core part of our DNA and it was an easy decision to double our investment into safety next year."
As a result, Grab's incident rates have decreased by 40% over the last year since Q3 2017.
Partnering with governments to support local safety priorities
Grab has also partnered with government agencies across Southeast Asia to develop tailored, localised initiatives that address their top safety concerns. Southeast Asia contributes a disproportionately high 25% of worldwide road traffic fatalities, and the public and private sector can drive more impact and engage more people by working together.
In Cambodia and Myanmar, the focus is on road safety education and more driver training for the more informal, localised three-wheel driver community. Grab will work with the Ministry of Public Works and Transport in Cambodia and the police in Myanmar.

Grab Philippines will work with Philippine National Police, Land Transportation Franchising and Regulatory Board (LTFRB) and Drug Enforcement Agency to tackle crime and accident prevention in the transport industry, and train more drivers to assist as emergency first responders for accidents on the roads.

In Singapore, Grab drivers will have access to a more holistic health care programme with the Health Promotion Board, to face their unique challenges as they sit and drive for long hours.

In Thailand, Grab will work to raise awareness and prevent violence against women and young girls as they commute in the city, in support of a United Nations' campaign to end violence against women.
Tan Hooi Ling said, "We're committed to working with governments in every country that we're in to support them in their safety priorities, so expect more to come after today's partnership announcements."
Safer Everyday Tech Roadmap
Tan Hooi Ling said, "I am glad to say we've raised the bar for safety standards of the overall transport industry in the region. The Safer Everyday Tech Roadmap represents the next phase in strengthening the safety of the Grab platform. Our goal is to bring to zero the number of incidents that are completely preventable, and as far as possible, reduce the number of road accidents. Key to achieving our goal is to make it easy for users to make an actual change to their road behaviour habits."
She added, "We know the bigger we get, the more responsibility we have to put in place the right framework and measures to deliver a safer everyday for our driver-partners, and passengers and their loved ones."
The product enhancements in the roadmap are guided by four safety principles:
Know who you ride with

:  More transparency and peace of mind for everyone through authentication for both passengers and drivers, as well as more rigorous driver background checks that include criminal records and inspections on dormant driver accounts.

Get help when you need it:

The Share My Ride and Emergency SOS features currently available on the passenger app will be extended to drivers where they can share their live location with loved ones.

Build new and safer habits

: Grab's analytical tools allow the app to help drivers understand how they drive and where they can improve. The driver fatigue monitoring system will send reminders based on how long a driver has been active without rest in between trips. Drivers also regularly receive telematics reports on their driving patterns like speeding, acceleration, and braking, and more parameters will be added over time. Since the rollout of telematics, there has been a 50% reduction in speeding incidents and 20% reduction in hard braking and sudden acceleration, which are potential causes of road accidents.

Protected at every touchpoint:

Safety on the Grab platform is comprehensive, with robust app fraud detection, secure transaction mechanism, and data protection.
Accident and Crime Prevention in Transport Network Vehicle Services
In 2017, the Metro Manila Development Authority (MMDA) reported 434 fatalities and 19,374 injuries in road accidents. Other crimes such as robbery, carnapping, and assault are also common risks in public transportation in Metro Manila.
Safety has always been Grab's priority. Aligned with the Department of Transportation's vision to reduce road accident death rate by at least 20% by 2020, Grab has collaborated with the Philippine Drug Enforcement Agency (PDEA), Land Transportation Franchising and Regulatory Board (LTFRB) and Philippine National Police – Highway Patrol Group (PNP-HPG) to strengthen safety processes and standards for drug prevention, and accident & criminal response.
Drug Prevention

.  Grab, together with PDEA and LTFRB will synchronize their efforts to interdict and prevent the delivery of packages containing illegal drugs. The partnership also aims to identify and report timely intelligence information for anti-drug operations as well as keep a drug-free workplace in TNCs. PDEA will take the lead role in conducting over-all investigation, arrest, and filing of drug cases and will support Grab and LTFRB in conducting training and seminars for drug prevention relevant to R.A 9165 Dangerous Drug Acts.

Accident and Criminal Response. In partnership with the PNP-HPG, Grab will conduct road safety, anti-carnapping, anti-highway robbery and other anti-criminal seminars and training under the Grab Academy roadmap. Grab will also provide PNP-HPG with information related to criminal acts that may happen within the platform. PNP-HPG will also provide technical support and response in anti-criminal act operations
Grab's #SaferEveryday campaign is also aligned with LTFRB's mandate to tackle safety and security in TNVS.
"Safety in the TNVS industry should be a collaborative effort between transport network companies, government agencies, driver-partners, and passengers. We are delighted to have everyone's support and commitment today in providing a safer everyday for our fellow Filipinos," said Brian Cu, Grab Philippines' Country Head. "Our passengers and driver-partners deserve a safer ride-sharing industry. We are humbled to raise the bar for safety in TNVS," added Cu.
Grab will also form a pool of First Responders from its driver-partner community to immediately address accidents. Grab vehicles will also be equipped with first aid kits and safety training guides.
Grab's Safer Everyday is a regional campaign which aims to drive local safety initiatives across the eight countries where Grab operates. More information on Grab's commitments and goals under the Safer Everyday Tech Roadmap can be found here: https://www.grab.com/safety
***