Social Impact & SafetyConsumers & Drivers
Grab Honours its Top Driver-Partners in Safety and Performance
Appreciation event held in Yangon for 900 Grab driver-partners to recognise their commitment towards delivering high standards of service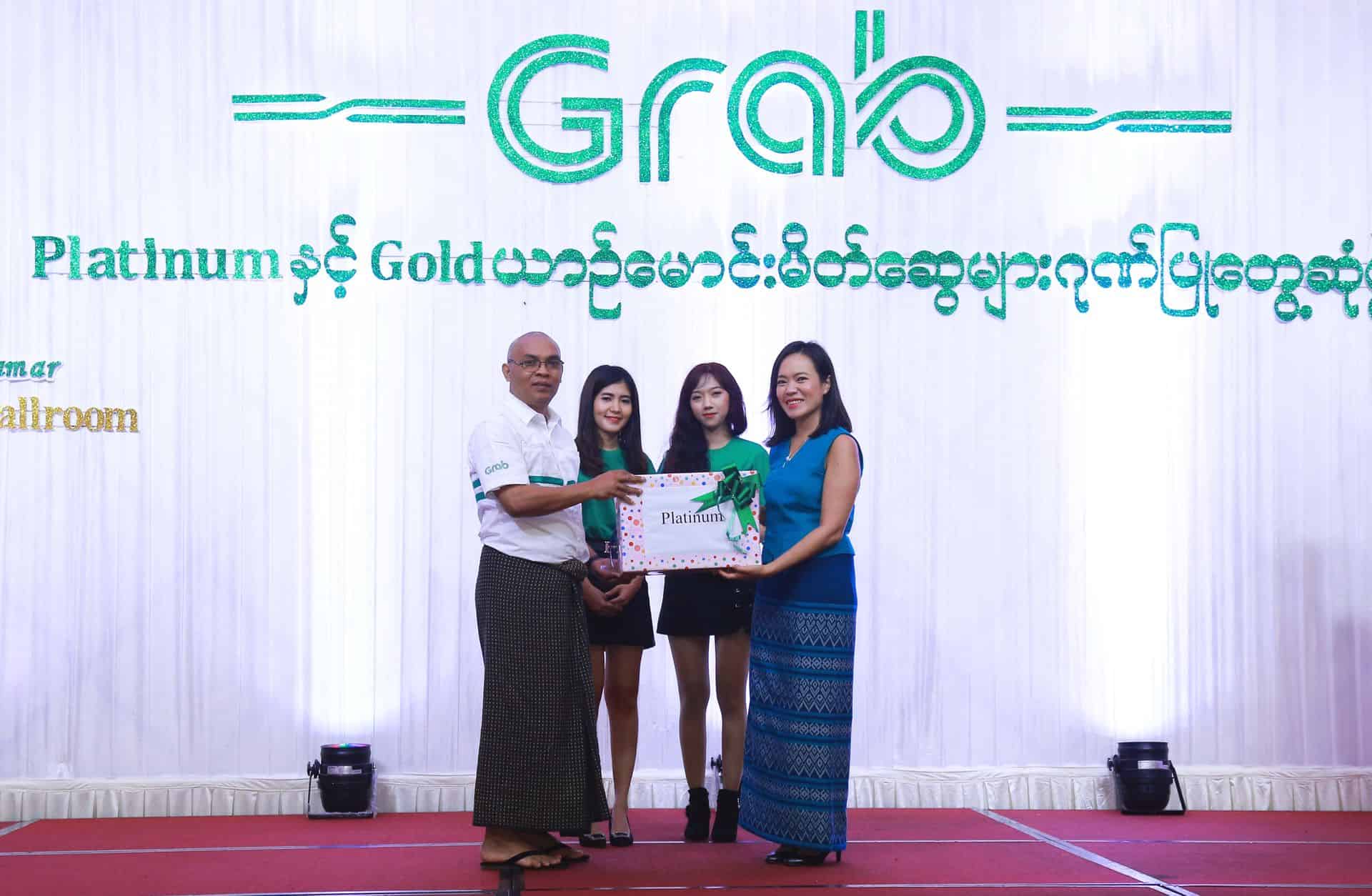 Yangon, Myanmar, 23 June 2019 – Grab, the leading Online to Offline (O2O) platform in Southeast Asia and Myanmar, held an appreciation event today to recognise the efforts of its top-performing driver-partners. Held at Gandamar Grand Ballroom located within the Gandamar Wholesale compound in Mayangone Township, the event was attended by 900 Grab driver-partners who achieved Platinum, Gold and Silver Tier status for consistently achieving their ride targets and providing excellent customer service.
Among the thousands of Grab driver-partners in Yangon, Grab recognised the top drivers in road safety and who provided 5-star customer service. Awards were also given to driver-partners who achieved significant results, including 36 drivers who sustained the Platinum Tier status for 11 consecutive months and 10 drivers who sustained the Gold Tier status for the past four months. Each driver-partner is assigned a tier status according to weekly rides completed, feedback ratings from passengers and a clean road safety record, with Platinum as the highest tier, followed by Gold and Silver.
Cindy Toh, Country Head, Grab Myanmar, says, "We attribute our success and growth in Myanmar to our driver-partners who tirelessly serve thousands of passengers daily. This event is a way to not only celebrate their achievements and show our appreciation for their efforts, but more importantly, it brings the community together to share best practices. We have a robust programme to bring tangible benefits to improve the lives of our driver-partners. This includes new features launched in response to feedback received, safety initiatives, access to financial services, a rewards scheme and regular training sessions."
The appreciation event included a panel session involving senior Grab driver-partners, known as 'Car Sayar Gyi', who discussed a number of topics centred on achieving future success. This included tips on how to become a Grab Platinum driver-partner to earn more income opportunities, how to deliver better customer service and ensure safe rides as well as how to make the most of Grab's support resources.
"It is always wonderful to be in a gathering with my fellow driver-partners. Today, we discussed our experiences and how we can do more to improve our professionalism and in doing so, our incomes to support our families. I shared to fellow driver-partners that when a Platinum driver-partner achieves the ride targets for five consecutive months and more, she/he will earn more incentives. Achieving Platinum status means Grab only receives five percent commission from completed rides. This is a significant benefit for us drivers as we need not drive around looking for passengers or haggling on fares," said U Tint Wai, a senior Grab driver-partner who participated in the panel session.
In Yangon, Grab has the largest driver-partner base among all ride-hailing providers and on average, the company registers several hundred new driver-partners each month. This not only means shorter wait-times for passengers, but it is also reflects Grab's commitment to create opportunities to improve the livelihoods of thousands of driver-partners. On average, Grab driver-partners reported a 300 percent increase in earnings by partnering with Grab.
"We are committed to improving the driver-partner experience by listening to their pain points, ensuring their safety, keeping them happy and engaged and helping them to grow their business. Caring for the needs of our driver-partners is a huge undertaking and I'm extremely proud of our Partner Care team who work behind-the-scenes daily to assist driver-partners with their requests. In addition to managing inspections of vehicle safety conditions, registrations and license, our team also shares best practices for effective customer service," added Cindy.
"It is an honour for me to receive an award today in front of my peers. I spend most of my time on the road alone serving passengers and it's really unexpected to be recognized like this! This is a special day for me and my family and I will have a place to display this award from Grab in my home. I hope to continue doing my best and to achieve more success with Grab," said Ko Aung Kyaw Moe, a driver-partner who sustained the Gold Tier status for the past four months.
To cap off the appreciation event, Grab awarded 50 lucky draw prizes to driver-partners which included electronic appliances such as microwaves, rice cookers, electric pans, electric kettles, blenders and hair dryers. The event was also supported by Yoma Bank which offered cash loans to the Platinum, Gold and Silver Tier Grab driver-partners.
For more information about Grab Myanmar, visit https://www.grab.com/mm/blog/grabtaxicallygn/  andwww.facebook.com/GrabMM.