Grab officially launches on-demand food delivery service GrabFood in Hanoi
With no minimum order required, consumers can order from the wide selection of cuisines available, enjoying the convenience of having their favourite food delivered fast, right to their doorsteps within 25 minutes on average
Build an interconnected ecosystem on Grab app, benefitting not only passengers and driver-partners but also merchant-partners and delivery-partners
Reaffirm Grab's commitment to invest in Vietnam for the long term, with the strategy of becoming an everyday super app for consumers' most essential daily services using Grab's technology and platform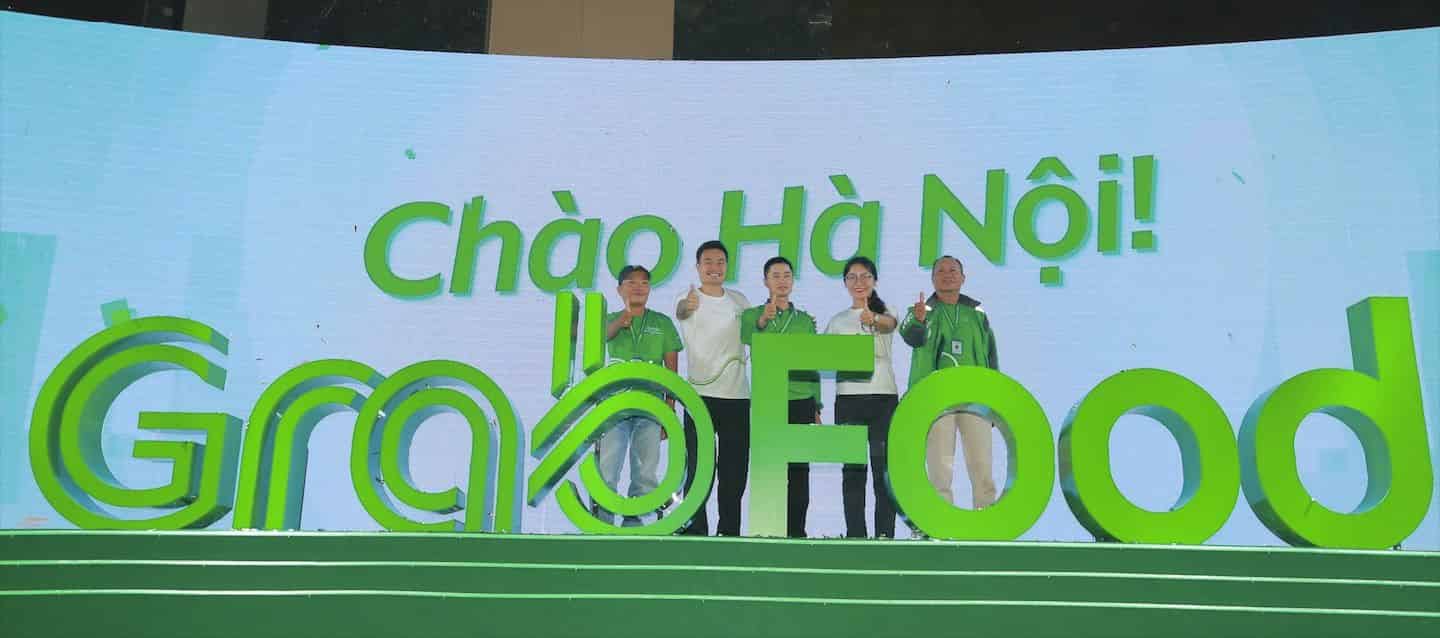 Hanoi, 02 October 2018 — Grab, Southeast Asia's leading O2O mobile platform, today officially launched its on-demand food delivery service GrabFood in Hanoi. This not only marks an important milestone in Grab's journey towards becoming the leading everyday superapp that offers Vietnamese and Southeast Asian consumers the most essential daily services, but also reaffirms its commitment for long-term investment in Vietnam market as a technology company. With the official launch of GrabFood, Hanoi has become the second city in Vietnam to receive the wide range of Grab's consumer services, including on-demand transport (GrabTaxi, GrabCar, GrabBike), parcel delivery (GrabExpress), and food delivery (GrabFood) through one mobile app.
"GrabFood is a natural extension of our transport offerings. Vietnamese consumers are excited to try new things, and will choose a food delivery platform that offers the most dependable service providing the widest range of food offerings with best value-for-money and fastest speed of delivery. GrabFood meets these needs of consumers, while at the same time, enables better income and revenue opportunities for our delivery and merchant partners in Ho Chi Minh City and Hanoi, especially those with shops or stalls located in more remote areas", said Jerry Lim, Country Head of Grab in Vietnam.
Since its launch in the Vietnam market, GrabFood has received positive feedback from consumers, driver-partners and merchant-partners:
At Ho Chi Minh City: GrabFood was beta tested on May 10, 2018 and officially launched in June, 2018. It has since achieved impressive month-on-month growth. In September 2018, delivery orders of GrabFood grew by 2.3 times compared to the previous month.

At Hanoi: GrabFood was beta tested on September 5, 2018. After less than a month, the number of merchant-partners increased 8 times.

Average delivery time of every GrabFood order in Ho Chi Minh City and Hanoi is only up to 25 minutes.

In September 2018, average monthly income of GrabBike driver-partners in HCMC and Hanoi grew 20% compared to the previous month, thanks to additional income opportunities from delivering food and parcels, on top of taking rides.
With the official launch in Hanoi, GrabFood has also introduced attractive promotional programs such as "Happy Snack Time" from 2pm to 5pm, Tuesday to Friday. Hanoian consumers can now have a taste of the most famous local delights such as Dinh Liet snail, Lake Side's sweet and sour salad, Huyen alley's rib congee, and Tam Thuong fried rolls – all delivered quickly and directly to consumers' homes or offices with just a few taps. "With no minimum order required, consumers can order from the wide selection of cuisines available, enjoying the convenience of having their favourite food delivered fast, right to their doorsteps within 25 minutes on average. Additionally, with the program named 'Newest creation from your favorite local merchants' in cooperation with strategic partners, customers in both Ho Chi Minh City and Hanoi can enjoy food and beverage selections exclusively available on the GrabFood platform, for example, Tam bao doan vien and Uyen uong vong nguyet from Gong Cha", said Demi Yu, Regional Head of GrabFood Thailand, Malaysia, Vietnam and the Philippines.
When making a GrabFood order, the app will automatically detect consumers' location to make more personalised recommendations of restaurants nearby.

Consumers can track real-time location of the driver partner within the app.

Consumers can use GrabChat to communicate with driver-partners on any food preferences they might have, for example, non-spicy, or leave a note for driver partners upon checkout.

Consumers pay by cash on delivery, and there is no minimum order value to fulfill so they can order all kinds of food, from large restaurant chains to small mom-and-pop stalls. We are also working on enabling cashless option for more seamless payment directly to merchant partners.

Soon, with a dedicated merchant partner app, merchants can update information on opening hours and availability of dishes within the app, for example, if they intend to close shop earlier on a particular day or if they have run out of a particular dish. Consumers will have visibility of latest updates from merchant partners before they make their order.
"GrabFood is the next major step in our path towards becoming an everyday super app that meets the daily essential needs of consumers. Our interconnected and interlinked services enable us to build an ecosystem that benefits not only our customers and driver-partners, but also  our merchant-partners and delivery-partners. Currently, 2 out of 10 Vietnamese are using Grab's services every month. As a technology platform, Grab is committed to long-term investment in Vietnam, thereby improving the quality of living by better serving the Vietnamese and driving Vietnam towards the digital economy." – Jerry Lim added.
Grab is one of the most frequently used O2O mobile platforms in Southeast Asia, providing everyday services that matter most to consumers. Today, the Grab app has been downloaded into over 109 million mobile devices, giving passengers access to over 8 million micro-entrepreneurs. Grab offers the widest range of on-demand transport services in the region, in addition to food and package delivery services. Grab's food delivery service, GrabFood, is the only food delivery company operating across Malaysia, Singapore, Vietnam, Indonesia, Philippines and Thailand. Grab Financial increases access to cashless services for millions of Grab customers across Southeast Asia, and connects the underserved and unbanked population to financial services.