GrabPackage
Enjoy guaranteed savings up to 50% off on your favourite Grab services when you subscribe to these monthly plans!
The Plans
How to Purchase
From the Grab app
Launch Grab App and tap "Subscriptions"

View the plans and their benefits in the catalogue. Then, choose a package.

Tap "Get This Plan" to start purchasing process for your package, and you're all set to start using your GrabPackage!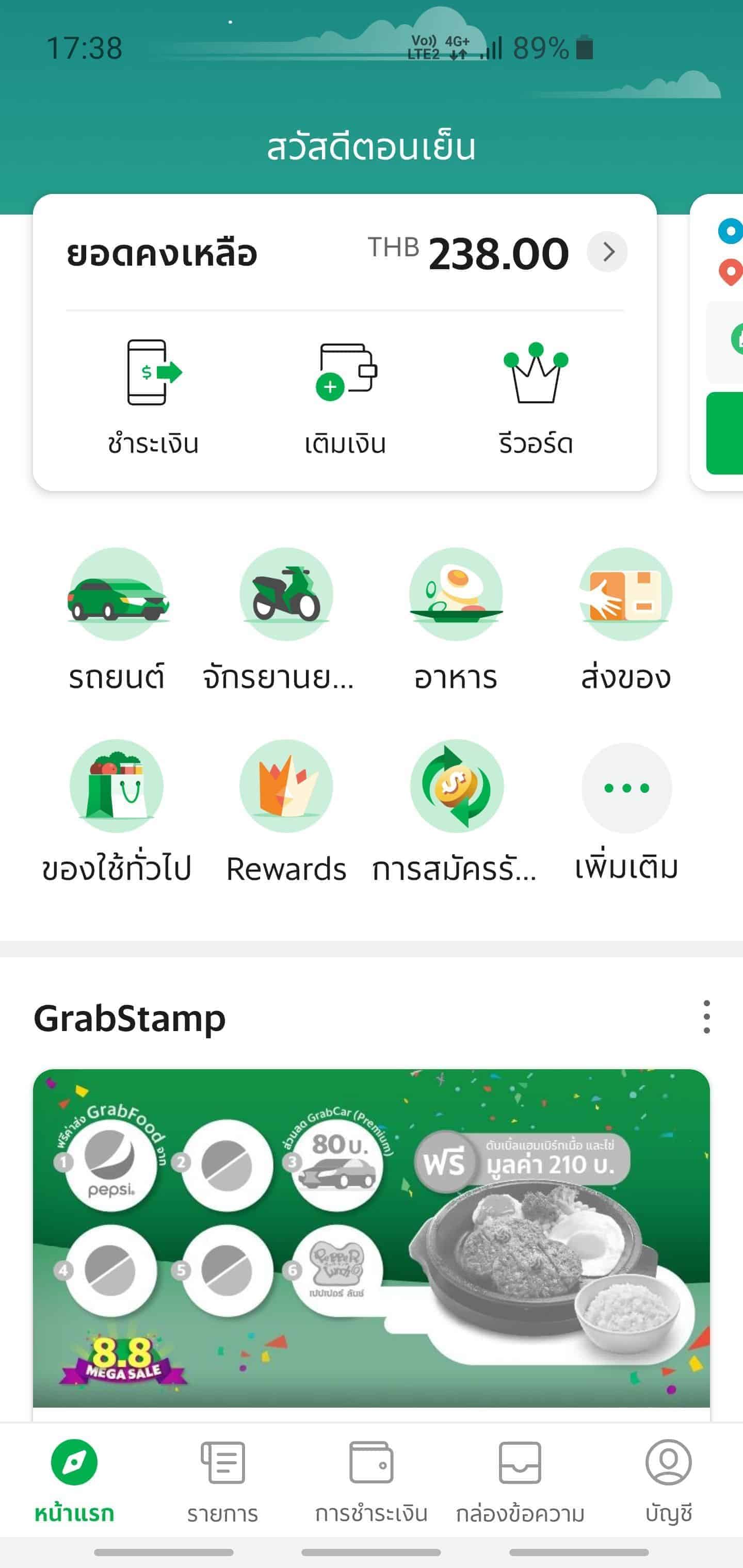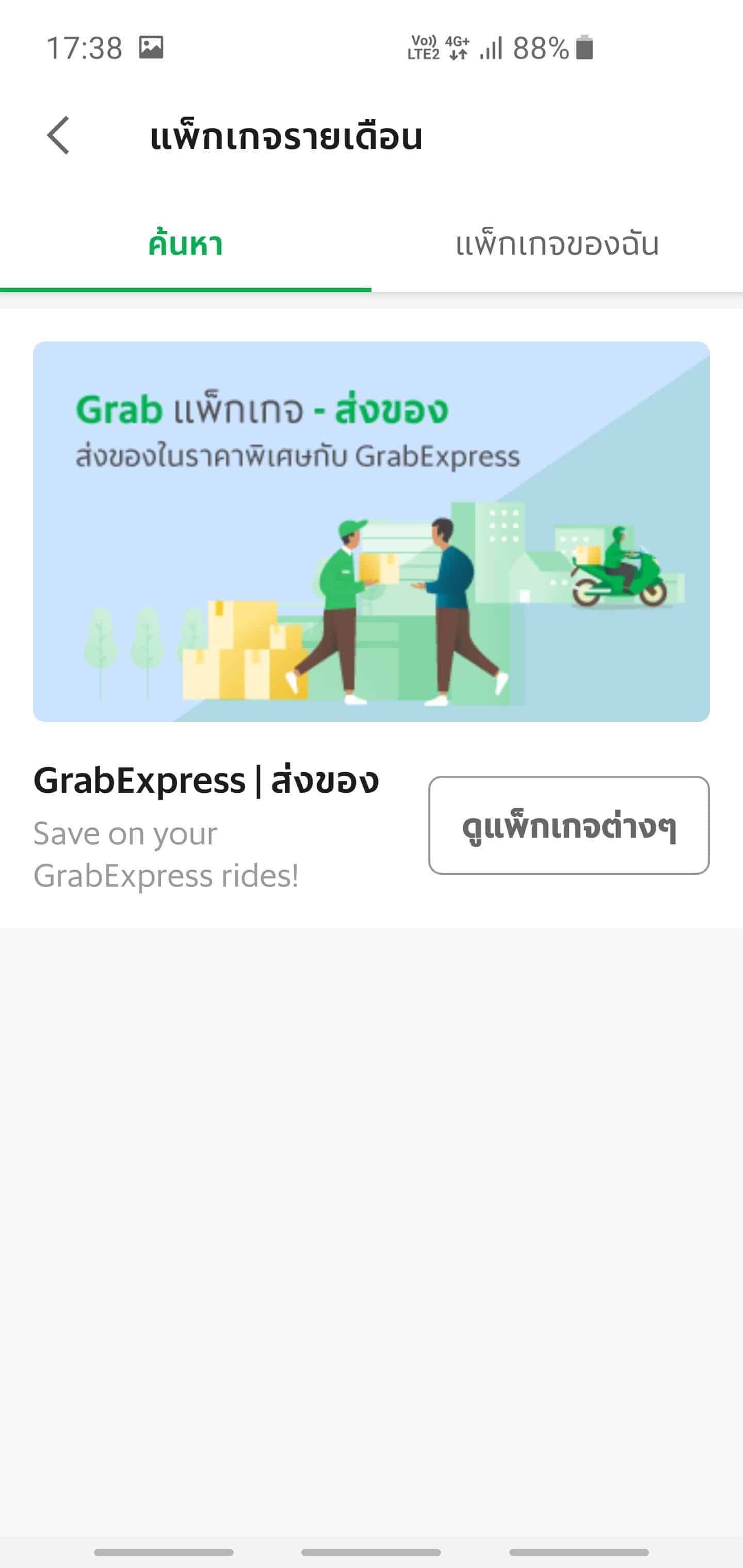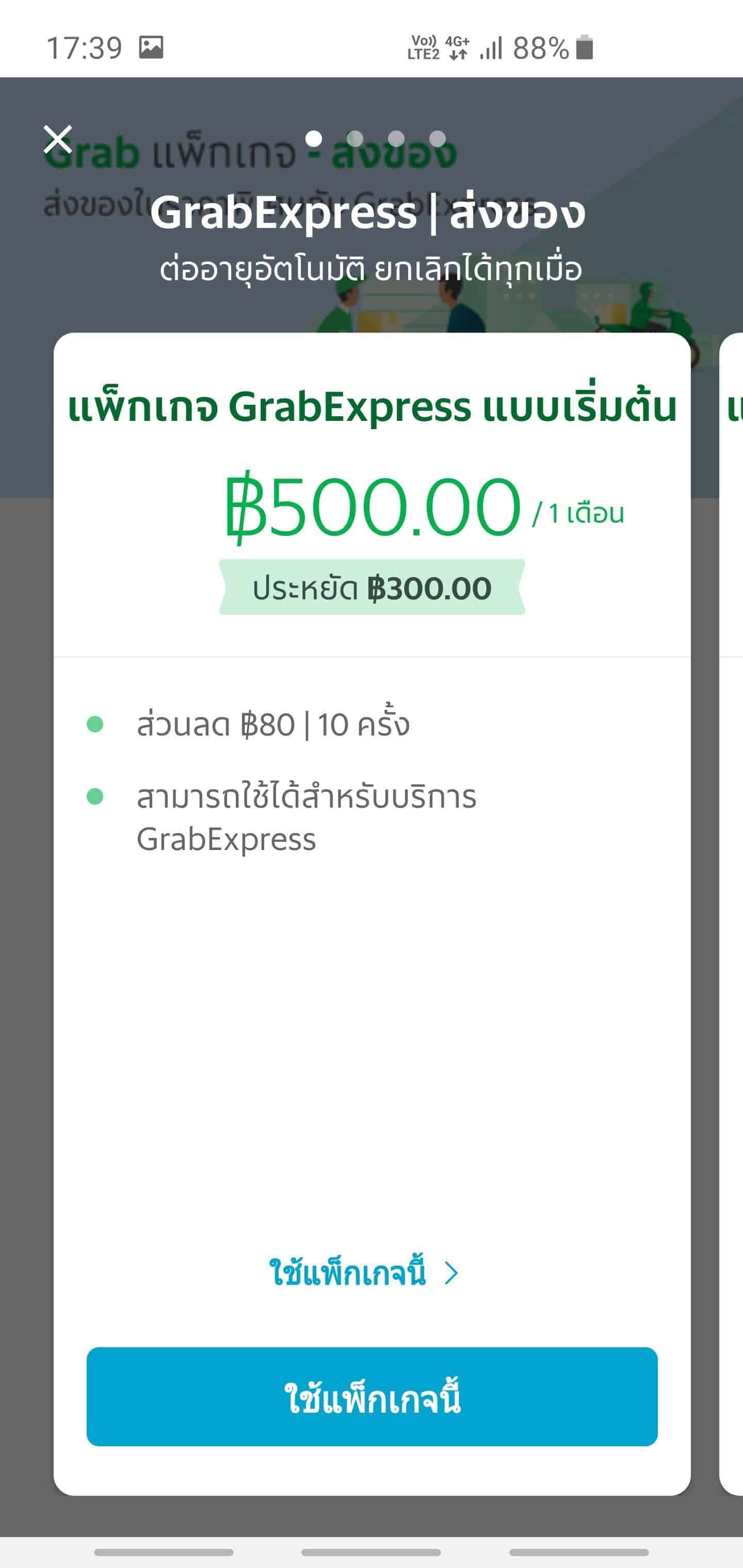 Are these subscription plans open and unlimited to all users?
We are in the process of developing and designing new plans to better serve your travel needs. Each subscription plan launched will have a limited number of sign-up available. Once a plan is fully subscribed, they will no longer be listed in the app.
Why do I see different plans from my friends?
As every customer has different usage habits, Grab creates different Subscription Plans (offerings) for different customers. That means the plans you get might differ from time to time when compared to your friends and family.
Can I subscribe to multiple plans?
There are currently 1 type of plan offered in Thailand – GrabExpress Plans. However, you may subscribe to one of each plans (if it is available).
Example 1:

If you have a GrabExpress Package, you can purchase a Commute Package.

Example 2:

If you have a

Lite

GrabExpress Package, you will not be able to purchase a

Standard

GrabExpress Package. Cancel your plan and wait for the next billing cycle to change over to the

Standard

GrabExpress Package.
How often will my plans be automatically renewed?
Plans will be auto-renewed every month, and charges will be deducted from your GrabPay Wallet balance on each billing date (You may refer to 'My Plans' under Subscriptions to view your plan's next billing date). As no notifications will be given, you are strongly advised to monitor your billing cycle.

If you have insufficient balance, your plan will not be auto-renewed. Grab will send a top-up reminder to you 2 days before the next billing date, and your plan will be placed "On Hold" for up to 48 hours. During this time, you may top up your balance and manually renew your plan in your app. Our system will attempt another renewal at the end of this 48 hours "On Hold" status. If that fails, your plan will expire and you will need to re-subscribe to it (subject to availability).

If you do not wish to keep your plan, please remember to cancel them before your next billing date.
Do I earn GrabRewards points when I purchase a plan?
Points will not be awarded when you purchase any plan. To learn how to earn points, please visit this page.
How do I cancel my plan?
Cancel your plan at any time → go to "My Plans" and select "View" and click on "Cancel Plan".

Cancellations will take effect on the next billing date. You may continue using your vouchers until the date of expiry, even after cancelling your plan.
I purchased the wrong subscription plan. Can I get a refund?
Plans are non-refundable as per the terms and conditions. If you wish to unsubscribe, remember to "Cancel Plan" before the next billing date.
I've used up all my vouchers, can I purchase another one of the same plan?
Each plan is designed to be used over one calendar month. Once you have used up all your vouchers, please wait for the next month to get a new set of vouchers. Alternatively, you can sign up for other plans to maximise your savings on Grab transactions every month!
How can I manage my current plans?
To manage your current plans, head over to "Subscriptions" and click on "My Plans" to see each individual subscription.

Details such as your

monthly charges

, and your

next billing date

may be found there.
Will Grab make changes to the plans I'm currently subscribed to?
We reserve the right to make any changes to your plan at any point in time. However, prior to making any changes to your plan, users will be notified 2 months prior through in-app notification, as well as email (only those who have not unsubscribed from Grab communications will be able to receive our emails).

Please note that all subscription plans are of limited availability and once they are fully subscribed, they will no longer be available on the Grab app (for subscription and re-subscription). Do ensure that you have sufficient GrabPay Wallet balance before your plan's next billing date to avoid losing your plans.