As you progress up the tier by using Grab as your everyday app, you'll start to enjoy more benefits and privileges.
8 Apr – 12 May
GrabRewards Platinum and Gold giveaway:
Huawei P30 Pro Giveaway!
Use 100 GrabRewards points to redeem a chance to win Huaweei P30 Pro! You can redeem as many times as you want to increase your chance.
*Grab reserves the right to change the events and deals at its own discretion.
Be Rewarded when you Grab more.

Member

Silver

Gold

Platinum
Member
Silver
Gold
Platinum
How do I earn GrabRewards points?
Refer to the tables below and don't forget, you can earn more points simply by using GrabPay!
JustGrab / GrabTaxi / GrabCar / GrabCar+ / GrabXL / GrabRent / GrabBike/ GrabExpress
Where to access GrabRewards?
Step 1

Select "GrabRewards" from the menu in your Grab app.

Step 2

Choose your preferred Reward category or browse through special deals.

Step 3

View Rewards based on the category you have selected.

Step 4

Purchase Rewards instantly using your GrabRewards points.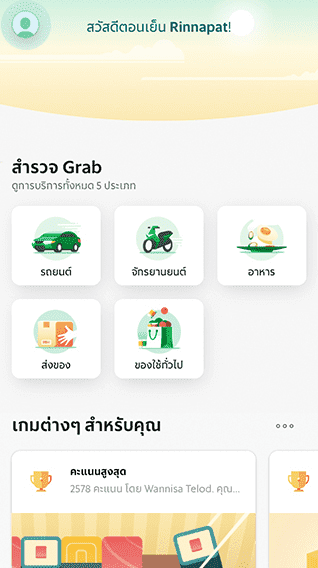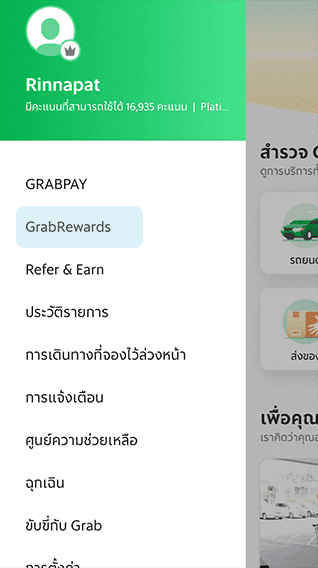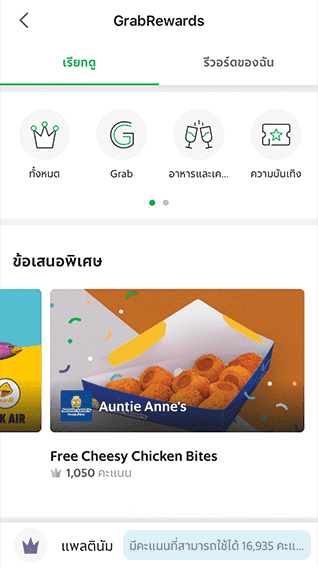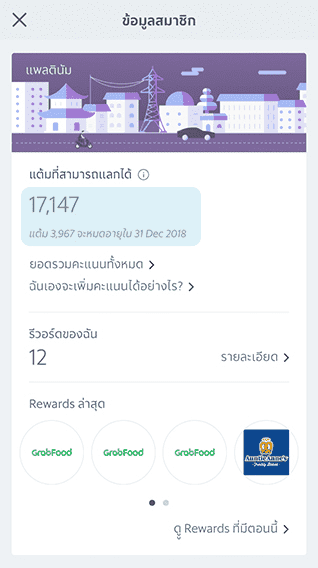 ทุกคะแนนมีค่า
อย่าปล่อยให้คะแนนที่คุณสะสมมาต้องสูญเปล่า รีบเอาคะแนนมาแลก
ข้อเสนอสุดพิเศษจากร้านค้าต่างๆก่อนหมดอายุ รีบหน่อย!
โปรดรับทราบไว้ว่าคะแนนที่ไม่ได้ใช้จะหมดอายุในระยะเวลาของ
Reward แต่ละรอบ ตามแผนผังที่กำหนด

Check your points' expiry dates
There are 2 expiry dates a year, one in June and the other in December.
Make a quick check to see how many of your points will expire before those key dates.
Step 1

Tap on 'GrabRewards'

Step 2

Tap here to see your membership info.

Step 3

Your point balance and your expiring points will be shown here.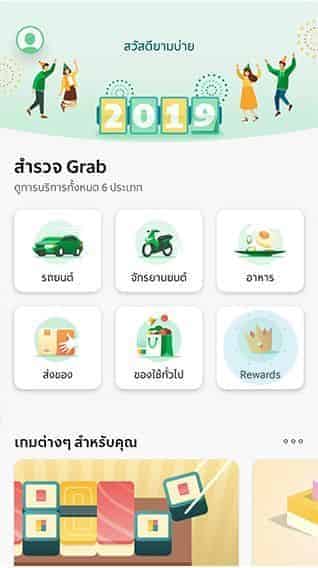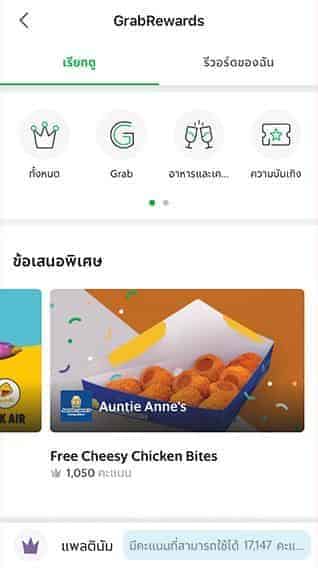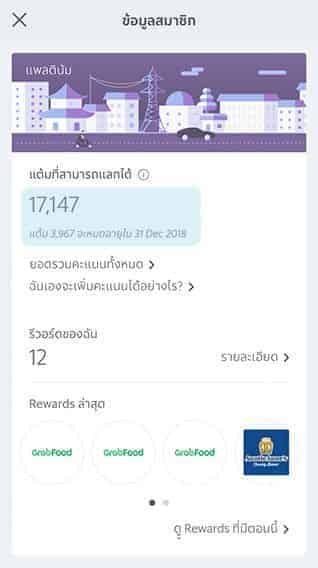 What can I redeem my points for?
You can redeem your points for exciting deals and discounts listed in our in-app GrabRewards catalog. There are two kinds of rewards you can choose from:
Partner Rewards: Deals related to dining, shopping and entertainment
Ride Rewards: Fare discounts on your Grab rides
How do I redeem my points?
Head over to the GrabRewards catalog in your Grab app to browse through the various rewards on offer.
Step 1: Tap on the icon at the top left corner of your Grab home screen and select "GrabRewards" from the side menu
Step 2: Choose your preferred rewards category to explore available rewards. Select "Grab" if you're looking for Ride Rewards
Step 3: Tap on "Purchase" once you find a reward you like
Step 4: Your reward will be added to your "My Rewards" list, and can be used anytime before its expiry date.
Can I earn points when I ride with Grab outside of my home country?
Yes! You are eligible to earn GrabRewards Points for all Grab rides taken across Southeast Asia*. Points earned outside your home country will be awarded based on the points earn rate in the country you are visiting.
Can I earn points on promo rides?
Yes! However, please note that points will be awarded based on the non-discounted portion of the fare.
For example, if your fare was THB 150 and you had applied a "THB 50 off" promo code or Ride Reward, you would only earn GrabRewards points for THB 150 – THB 50 = THB 100.
What if I decide to terminate my GrabRewards membership?
We'd be really sad to see you go! At the same time, you would lose your GrabRewards points, your existing tier status (Silver, Gold, Platinum) and all associated tier privileges. If you do decide to opt-back in at a later date, we will not be able to restore your previous GrabRewards points balance.
Do tolls, fees and surcharges contribute to my points?
No, GrabRewards points will not be awarded for tolls, fees and other surcharges.
Will I lose my current Silver, Gold or Platinum tier?
Tier 'downgrades' happen when you don't earn enough points to maintain the tier.
Refer to the chart. For example, if you earn enough points to achieve Platinum tier in Reward Period 1 (1 Jan – 30 Jun), you will continue to maintain Platinum status until the end of Reward Period 2 (31 Dec).
Scenario 1: If you continue to earn enough points for Platinum in Reward Period 2 (1 Jul – 31 Dec), you will maintain your tier in the next period starting 1 Jan.
Scenario 2: If you do not earn enough points for Platinum in Reward Period 2 (1 Jul – 31 Dec), your tier will be downgraded to match your points earning in Reward Period 2.
When you lose a tier status, you also lose all privileges that come with it.
Could my tier be 'downgraded' a few levels down?
This would depend on how often you use Grab.
Here's another example. Let's say, your current tier is Platinum. You will stay on Platinum from 1 Jan- 30 June (Reward Period 1). However, if you take 0 rides during that Reward Period, your Platinum tier would be 'downgraded' to the basic 'Member' tier. That's why you need to take more rides to earn a certain amount of points to stay on your current tier.