Introducing New! GrabPet, Bring your lovely pets around anywhere, anytime
💚 Grab proudly presents new service that will make your travel with pets
more comfortable, anywhere an anytime  
   🐶🐱🐰🦔🐹🐢🐠
If you would like to travel, chill out, shop or grooming with your lovely pet around BKK area,
you can book GrabPet now.
GrabPet is a ride-hailing service for passengers traveling with pets. We offers both on-demand and advance booking service to anyplace in Bangkok and vicinity area. Starting at 95 Baht for normal GrabPet and 145 Baht for GrabPet XL.
GrabPet is pet-friendly ride with
✔️All GrabPet driver-partners are trained to handle and transport with pets.
✔️Equip with in-car seat cover
✔️Have hygiene practices that keep every single ride safe and clean
✔️Pet in-car accident compensation – automatically insured to compensate for all pets onboard
GrabPet has 2 Types of vehicles available
Car Model
Passenger
 

GrabPet

Pets: S and M size that height

less than 41 cm.

, no more than 2 pets
passengers: no more than 2 people

GrabPet XL

Large SUV for L size pet that

height over 41 cm

, no more than 1 pet or no more than 2 S and M size pets,
passengers: no more than 2 people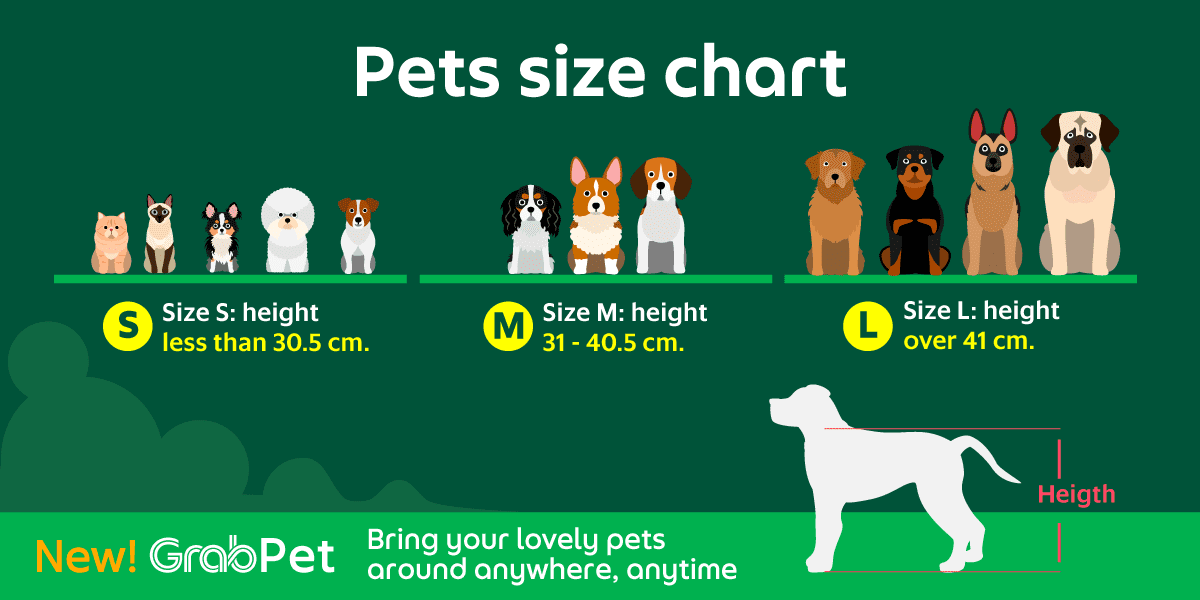 Permitted pets and transportation methods  
Eligible Pets
Transportation methods
Dogs

Leashed or crated

(if dogs are aggressive such as Pit Bull and Rottweiler, they must be muzzled.)

Cats, Rabbits, Guinea Pigs, Hamsters, Gerbils, Chinchillas, Hedgehogs, Squirrels
Crated
Fish, Turtles, Crabs, Frogs

In a closed container
*Ineligible pets for GrabPet & GrabPet XL: Other pets which are not stated in the above table such as birds and snakes.
GrabPet Transportation Policies 
Every GrabPet ride has to accompanied by at least 1 adult during the commute.
Dogs must be leashed or put in a create along the GrabPet ride.
Small pets like cats, rabbits, guinea pigs, hamsters, gerbils, chinchillas, hedgehogs and squirrels must be created along the GrabPet ride.
Fish, turtles, crabs and frogs must be in a closed container along the GrabPet ride.
Your pets must be treated against parasites, ticks, and fleas before the ride
Transportation of pets for commercial purposes or unauthorized trading of pets is not permitted.
If your pets soil the vehicle, the driver-partners will need to send their cars for cleaning. Per Grab's standard policy, please be considerate and compensate the driver-partners accordingly as this affects their earnings. Exchange contact details with your driver-partner and make the necessary arrangements to pay for the cleaning fee.
DAX may cancel the booking without penalty if pet shows signs of aggression or PAX don't adhere to the policies.
For more details of Pet in-car accident compensation, please contact our Help Center  >>Click<<
Bring your lovely pets around anywhere, anytime
Book now!
Terms and conditions apply.