Consumers & DriversTech & Product
Grocery, Bills Payment, Food, Parcel and More: GrabPay Doubles Down on Cashless Services to Promote Safer Payments
April 22, 2020, Manila, Philippines – Grab, the leading super app in Southeast Asia, pushes for safer payments with GrabPay as it doubles down on more cashless services that will enable Filipinos to keep up with their daily expenses in […]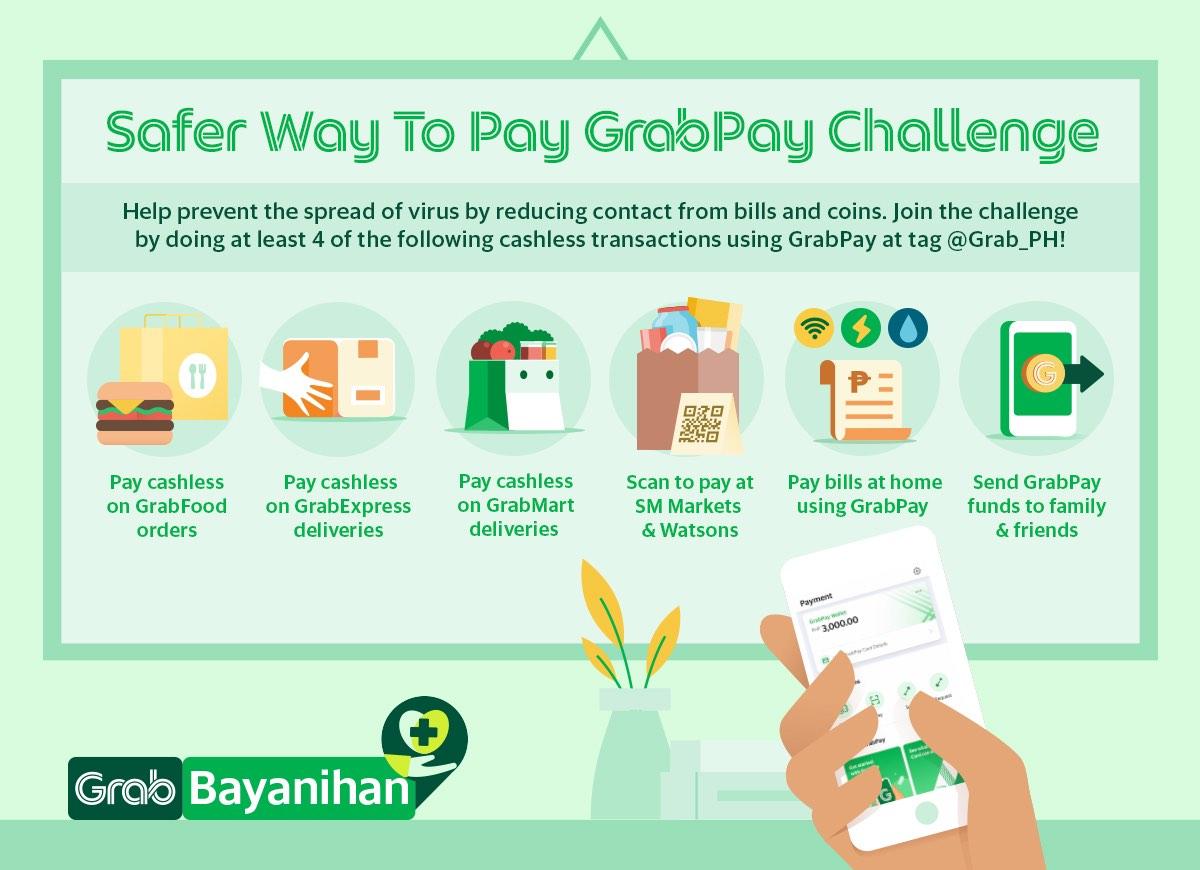 April 22, 2020, Manila, Philippines – Grab, the leading super app in Southeast Asia, pushes for safer payments with GrabPay as it doubles down on more cashless services that will enable Filipinos to keep up with their daily expenses in a secured manner. Initially rolled out in the Philippines in 2016, GrabPay is a built-in mobile wallet within the Grab app that powers its everyday services and provides convenient and secure cashless payments.  
With heightened awareness on hygiene and security brought about by the current situation of COVID-19 in the Philippines, consumers are continuously looking for ways to pay for their transactions the safest way possible — one of which is through cashless payments. 
To help Filipinos go through the pandemic, Grab is expanding its ecosystem with new services that are powered by GrabPay to allow users to get their daily essential needs and keep up with their transactions while still avoiding contact with cash and observing proper distancing protocols. Today, GrabPay can now be used to:
Get grocery items delivered straight to the doorstep with GrabMart.

GrabMart is an on-demand grocery delivery service that aims to make shopping for basic necessities easier despite the enhanced community quarantine in the Philippines. With GrabPay, users can purchase grocery items, personal care products, and soon, even medicines, from specialty stores and well-known retail partners such as Robinsons Supermarket, Great Deals Ecommerce Corporation, FamilyMart, Starbucks,  ASSI Fresh Plaza, Fetch! Naturals, Freshmart and more. GrabPay users can avail of the following exclusive promotions for GrabMart, until supplies last.

                                                                                       
Pay bills within the Grab app – To support social distancing measures, Grab is eliminating the need to travel and queue up in payment centres. Grab has enabled payment for bills providers such as utility, telco, internet, cable TV, government agencies, etc. using their GrabPay balance.  Supported billers include Meralco, Manila Water, Maynilad, Sky Cable, Destiny Cable, Cignal TV, Cable Link, PLDT, Smart, Sun Cellular, Smart Bro, Globe, SSS, DFA, NBI, PhilHealth, Unicef, VECO, Metro Water, Auto Sweep,Pag-ibig Fund, MMDA and more. To know more about bills payment, click the Bills tile in the Grab app or visit https://www.grab.com/ph/bills/
Pay for food and parcel delivery.   Grab encourages users to adopt a full contactless delivery of GrabFood orders and GrabExpress deliveries using cashless payment via GrabPay. Aside from a contactless delivery service that was implemented on all deliveries made in the Grab app, cashless payments eliminate the need to handle cash or make direct contact with merchant-partners and delivery-partners, thereby ensuring safety and proper distancing.
Send GrabPay to family and friends. Family members and friends can easily transfer funds to their loved ones using their GrabPay wallet. In the Payments tab, users can easily transfer funds by clicking on the Send button, choosing the number of the recipient and inputting the value of the desired amount. Transferred funds can be used by the recipient for services within the Grab app.
Pay for items in partner establishments such as SM and Watsons. If really unavoidable to go out for grocery and medicine runs, users can still opt for a contactless and cashless payment using GrabPay's scan-to-pay service. Users just need to click on the Payment tab and choose the 'Pay' button to scan the QR code in the checkout counter. GrabPay users shopping at SM establishments and can use the GrabPay Green Lane for faster checkout.
"We are navigating through unprecedented times and we are seeing a huge shift towards digital payments to minimise the spread of the virus. As a technology company that serves the everyday needs of our consumers, we have stepped up our cashless solutions to help our fellow Filipinos get more things done from the comfort of their homes, all within one GrabPay wallet," said Jonny Bates, Head of GrabPay Philippines. 
GrabPay uses a secured technology with a 24/7 fraud detection engine that encrypts and protects personal information and payment transactions. GrabPay also allows users to monitor their transactions in a near real-time manner. Users can also get up to 50% more GrabRewards points vs credit/debit cards for every transaction, thereby making the most out of their spend in the Grab app and still the most rewarding way to pay. 
To cash in to the GrabPay wallet, users can choose from a variety of cash-in channels including convenience stores and business centers such as 7Eleven, SM Business Center, Cebuana Lhuiller, and more. They can also instantly cash-in using their debit and credit cards, online banking, top-up via Grab driver, etc. For users who haven't activated GraPay yet, they can simply follow the Bangko Sentral Ng Pilipinas (BSP)-mandated basic Know-Your-Customer (KYC) verification policy by submitting correct personal information such as full legal name, number of a valid government ID and more. To know more, visit: https://www.grab.com/ph/pay/.
###