Enhanced GrabRewards Offers More Fun, Flexibility and Greater Selection of Benefits
- Largest loyalty programme in Southeast Asia gamified to further engage users - Grab users can now keep their GrabRewards points from expiring - New range of attractive products and services now available for redemption - Grab users can now earn points from more everyday services including GrabFood and GrabExpress

Largest loyalty programme in Southeast Asia gamified to further engage users
Grab users can now keep their GrabRewards points from expiring
New range of attractive products and services now available for redemption 
Philippines, 1 July 2019 — Grab, the leading super app in Southeast Asia, today announced enhancements to its GrabRewards programme to offer more fun, flexibility and greater selection of rewards. In-line with its commitment to provide Grab users with more value and convenience, the enhancements will allow them to earn more GrabRewards points from everyday services beyond transport, win more perks from exciting in-app Challenges, and enjoy their GrabRewards points without expiry. The accumulated points can be used to redeem from an expanded catalogue of attractive products and services.  
"Our consumers can now be rewarded even for their smallest daily transactions in the Grab app.  As the leading everyday super app in the Philippines, we want to enhance their GrabRewards experience further – beyond points, rewards and benefits – and make it more fun and engaging. The new in-app Challenges is designed like a game – as users interact with Challenges, they will enjoy benefits that go beyond the actual amount they spend on Grab's services and also gain a better understanding of our various services and the convenience the services bring to their daily lives," said Brian Cu, President of Grab Philippines. "The revamped GrabRewards programme is created with consumers' feedback in mind. We will continue to explore different ways to introduce more exclusive experiences on GrabRewards for our users. 
Effective from 1 July, Grab's enhanced GrabRewards programme will feature the following new initiatives: 
New ways to earn points: Starting August 1, 2019, 

Grab users can earn GrabRewards points from their food and delivery transactions. Talk about everyday Grab experience made more rewarding.

Fun Challenges for more rewards and bonuses: Challenges have never been easier. Designed to suit every individual's lifestyle preferences, Grab users can choose to complete in-app challenges, which is a series of tasks, within a time period across different services from transport, food and parcel delivery to e-payments. It is an all-new, refreshing and intuitive way for users to unlock amazing rewards and bonuses such as Grab vouchers, bonus GrabRewards points, and partner rewards.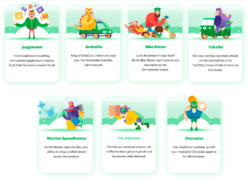 Non-expiring GrabRewards Points:

Grab users will no longer have to worry about perishing GrabReward points. Points earned from January 1, 2019 will never expire as long as users make a

single transport, food or parcel delivery or payment transaction

every

three months.

New Attractive Products and Services for Redemption:

With points that may never expire, continual accumulation of GrabReward points enables users to redeem an expanded catalogue of exclusive offers ranging from

consumer electronics like Apple Airpods, Apple Watch Series 4 GPS 44mm, Nintendo Switch, retail items like Ray Ban Shades and more. 
GrabRewards is the largest loyalty programme in Southeast Asia that rewards users for everyday transactions. Users can now earn GrabRewards points across all Grab services, including transport, delivery (food and parcel), mobile payments and more. With four distinct levels – Member, Silver, Gold and Platinum – users can progress up the membership tiers by using the Grab app daily, in order to enjoy more entitlements including accelerated earn of points, discounted rewards, monthly vouchers and priority allocation. 
For more information on GrabRewards, please visit https://www.grab.com/ph/grabrewards/.