Grab sets 2025 goals to use tech for good in Southeast Asia
[L – R] Neneng Goenadi, Managing Director, Grab Indonesia; Anthony Tan, CEO and Co-founder, Grab; Sri Mulyani, Minister of Finance of the Republic of Indonesia; Hooi Ling Tan, Co-founder, Grab JAKARTA, Indonesia  – 24 September, 2019 – Grab, Southeast Asia's […]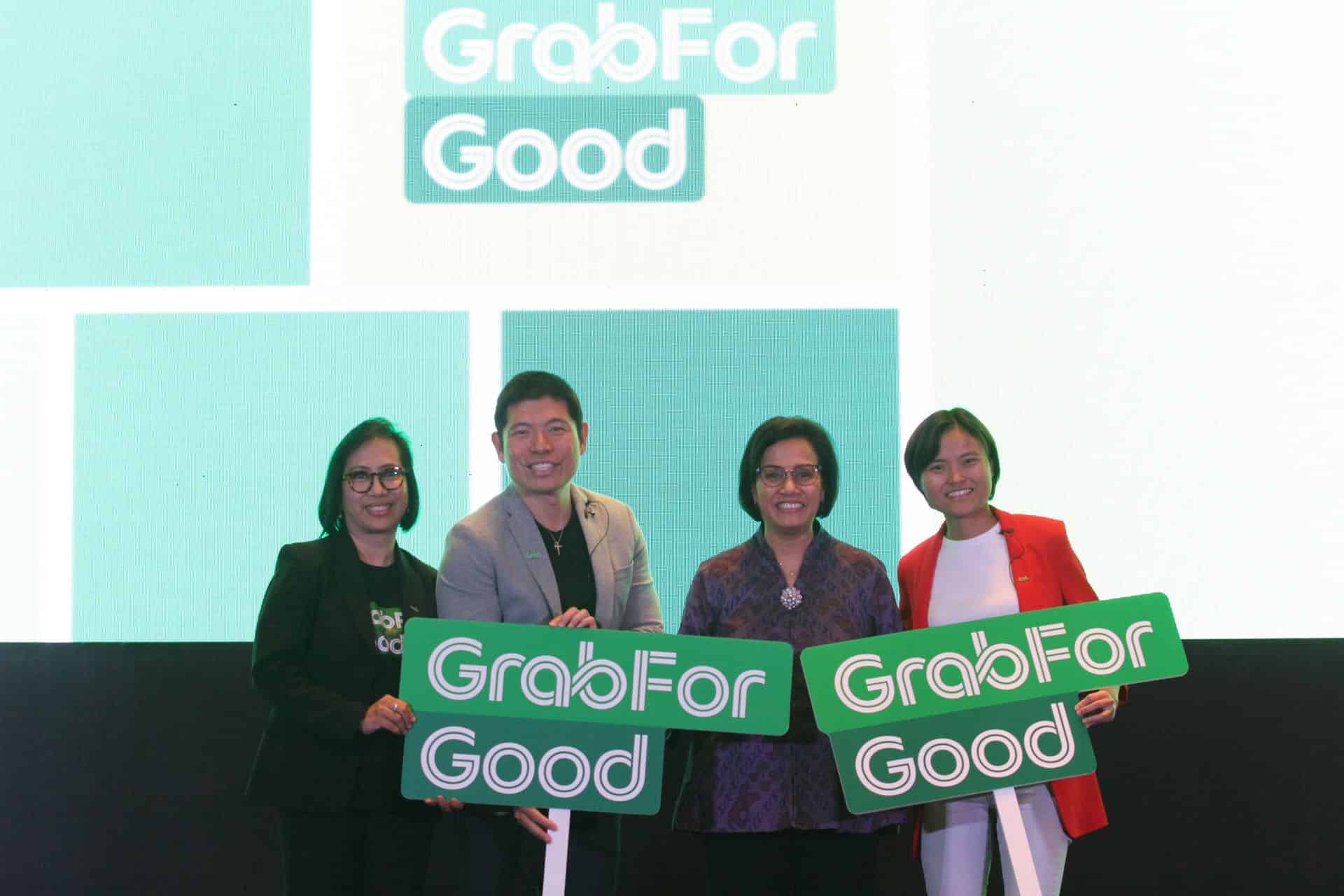 [L – R]

Neneng Goenadi, Managing Director, Grab Indonesia; Anthony Tan, CEO and Co-founder, Grab; Sri Mulyani, Minister of Finance of the Republic of Indonesia; Hooi Ling Tan, Co-founder, Grab
JAKARTA, Indonesia  – 24 September, 2019 – Grab, Southeast Asia's leading everyday super app, today announced its 'Grab for Good' social impact programme that aims to empower people in Southeast Asia to gain critical access – some for the first time – to technology, upskilling and digital services. This will allow them to be part of the fast-growing digital economy and have more choices and opportunities to improve their livelihoods.
By leveraging its technology, platform, and partnerships, Grab has set ambitious goals for its "Grab for Good" programme to be achieved by 2025:
Improve digital inclusion and digital literacy in Southeast Asia: To ensure that everyone, regardless of background or ability, is able to benefit from the rise of the digital economy, Grab aims to bring digital literacy and greater inclusion to 3 million Southeast Asians by 2025 through partnerships with governments, private companies and non-profit organisations.
Empowering micro-entrepreneurs and small businesses: Micro-entrepreneurs are at the core of Grab's business model while small businesses are the lifeblood of Southeast Asia's economies. To enable them to tap the cost-savings and increased productivity brought on by technology, Grab aims to help over 5 million more traditional businesses, and small merchants digitize their workflows and processes.

Building future-ready workforces: 16% of ASEAN youth want to work in the technology sector in the future[1]. Grab aims to train 20,000 students through its tech talent initiatives in partnership with educational institutions, non-profits and leading technology companies.
To achieve these goals, Grab announced two flagship initiatives under its "Grab for Good" programme; a skills training and digital literacy partnership between Microsoft and Grab, and regional "Break the Silence" initiative, that enables the deaf and hearing-impaired to better participate in the digital economy through the Grab ecosystem.
These two initiatives are the start of a multi-year plan to equip individuals and small businesses with the necessary technology skills and tools to thrive in the new digital economy. More initiatives will be announced later this year (see Appendix A).
"Southeast Asia is poised to become the world's fourth largest economy by 2030, yet the hard truth is that not everyone has equal access to opportunity – and the equal chance to succeed with the region's growth. If the private sector actively creates programmes for local communities, technology can be within reach for many, and the learning of new skills can immediately improve the livelihoods for many more people in Southeast Asia," said Anthony Tan, Group CEO & Co-founder, Grab.
Anthony Tan added, "'Grab for Good' is about building an inclusive platform, and is our commitment to deliver positive, sustainable impact in every country that Grab operates in."
Airlangga Hartarto, Indonesia Minister of Industry said, "Industry 4.0 is a big endeavour that can boost the real economy of Indonesia by 1-2 percent. This economic growth must be inclusive and shared by all segments of Indonesians, from small businesses to the ordinary man. The only way we can succeed is for all stakeholders to play their part, and the Grab for Good programme is a strong commitment from a private sector company to provide the technology and tools for micro-entrepreneurs and small businesses."
Grab for Good: Social Impact Report 2018 – 2019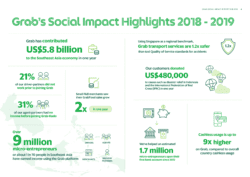 The "Grab for Good" social impact programme builds on Grab's focus on improving the livelihoods of all Southeast Asians over the past seven years of its existence. In its inaugural social impact report, released today, Grab is estimated to have contributed US$ 5.8 billion to Southeast Asia's economy in the 12 months to March 2019. This social economic calculation was independently verified by KPMG based on agreed upon procedures.
Over 9 million micro-entrepreneurs, or approximately 1 in 70 people in Southeast Asia, have earned an income through the Grab platform, whether as a driver-partner, delivery-partner, merchant, or agent-partner. 21% of Grab driver-partners did not work prior to joining Grab, while 31% of agent-partners had no income prior to joining Grab-Kudo. Beyond creating economic opportunities, the report also outlines how Grab has helped improved access to financial services and digital payments. Since Grab's founding in 2012, Grab has helped over 1.7 million micro-entrepreneurs open their first bank accounts. Grab is also helping to move the region into a cashless future. Cashless usage is up to 9x higher on Grab, compared to overall country cashless usage.
Grab and Microsoft join hands to open new upskilling paths for millions of Southeast Asians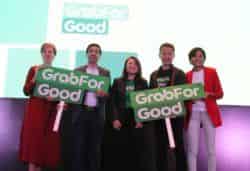 (L-R)

Daiana Beitler, Philanthropies Lead, Microsoft Asia; Ricky Kapur, Vice President of Sales, Marketing and Operations, Microsoft Asia Pacific; Cheryl Goh, Group Vice President, Marketing, Grab; Lionel Yeo, Grab CEO Advisor; Hooi Ling Tan, Co-founder, Grab
As part of 'Grab for Good', Grab announced a regional partnership with Microsoft that will empower workers with the necessary technology skills for them to thrive in the new digital economy. 6.6 million workers across the six major ASEAN economies[2] will require reskilling by 2028. About 41% of them lack relevant IT skills that new jobs will demand[3].
Grab and Microsoft aim to plug the digital skills gap by committing their combined resources, expertise and capabilities, and are partnering to fulfill a shared vision to make the economic opportunities in technology and the digital economy accessible to all across Southeast Asia.
"One of the challenges we see in Asia Pacific is the democratisation of education. We believe education should be accessible to everyone, specifically, tech and digital literacy.  This encourages ingenuity, computational thinking and problem-solving skills, all of which are key to the future. We're excited to launch a pathway to develop a digitally inclusive workforce across Asia Pacific with Grab, which will improve the trajectory of generations to come. Our mission to empower every person and every organization on the planet to achieve more, it's something we care deeply about. Together with Grab, we are building a skilled workforce that will transform families, communities and countries, to create the world of tomorrow," said Andrea Della Mattea, President, Microsoft in Asia Pacific.
"As Southeast Asia grows, we hope everyone can rise with it and benefit from the growing digital economy. I'm especially excited that Grab driver-partners and their families will be able to learn new skills from Microsoft courses and work towards certifications," said Hooi Ling Tan, co-founder, Grab.
The partnership will cater to varying levels of digital literacy, and Grab and Microsoft will collaborate in three ways:
Building technical talent among young people in universities across Southeast Asia, to ensure they are ready to join the workforce of today, and tomorrow

Grab and Microsoft will work with select universities across Southeast Asia to train students with real-world, technical skills that are in demand by industry.
Microsoft will provide access to industry-recognised content, curriculum, a learning platform and certifications, in addition to comprehensive technology tools such as Azure for Education. Grab will support applied learning through industry-relevant challenges and data, facilitate learning experiences such as hackathons, and offer internships.
Grab and Microsoft have partnered with University of Indonesia (UI) and Bandung Institute of Technology (ITB) to offer the Microsoft certification programme, with more universities across Southeast Asia expected to come on board in the next six months.
Empowering driver partners and their families to thrive in the digital economy through the development of digital skills

Grab driver-partners will have access to Microsoft's Digital Literacy certification programme via the Grab driver app. They can complete basic courses, covering topics such as computer basics, using the Internet and productivity software. Upon completion of the course, driver-partners will be awarded a Microsoft certification for free.
The course will be available first in English in GrabAcademy, an online training platform within the Grab driver app, and in local languages next year.
Grab and Microsoft will also join forces with the ASEAN Foundation and Empire Code to provide individuals, particularly children and spouses of Grab's partners, with access to inclusive computer science education through the FutureReadyASEAN
Creating a pathway for driver partners to pursue tech-enabled careers, with support from global non-profit Generation: You Employed

Grab and Microsoft will create a pathway for interested driver-partners to pursue technology careers, with support from Generation: You Employed, a global 'skilling-to-employment' non-profit organisation. The programme will include a practicum-based curriculum, developed by Generation, and offer the opportunity to receive certification in Microsoft proprietary courses. Graduates of the programme would be matched for interviews with Grab and Microsoft partner companies for specific technology roles.
The first pilot programme in Singapore aims to upskill approximately 100 driver-partners, with the first batch trained by June 2020. The programme will also plug into SkillsFuture Singapore's initiatives in workforce development and lifelong learning where relevant, to provide comprehensive support for Singaporean Grab driver-partners. This will be rolled out in other countries after evaluation of the pilot programme.
Serving people with disabilities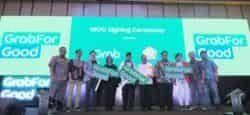 Grab, Minister of Industry, GERKATIN & Deaf Driver Partners

[L – R]

Fajar Shiddiq; Ivan Octa Putra; Anthony Tan, CEO and Co-founder, Grab; Neneng Goenadi, Managing Director, Grab Indonesia; Budi Karya Sumadi, Minister of Transport of the Republic of Indonesia; Bambang Prasetyo,

Chairman of the Movement for Indonesian Deaf People Welfare (GERKATIN); Airlangga Hartarto, Minister of Industry of the Republic of Indonesia; Hooi Ling Tan, Co-founder, Grab; Al Kautsar Wirawan; Bonar Bangun Simanjuntak
Core to the 'Grab for Good' programme is ensuring that everyone, regardless of background or ability, is able to benefit from the rise of the digital economy.
Starting today, Grab will expand the 'Break the Silence' initiative to Indonesia and Singapore, and further enhance the programme in Malaysia and Thailand where it is already running. Grab has over 500 deaf driver-partners on the platform and plans to double this number over the course of the coming year.
During this year's International Week of the Deaf (23 -30 September), Grab will announce partnerships with Gerkatin in Indonesia, Malaysia Federation of the Deaf, Singapore Association of the Deaf, and the National Association of the Deaf Thailand to better implement and advocate for inclusive practices to support the deaf and hearing-impaired in the region.
Bambang Prasetyo, Indonesia Association for the Welfare of the Deaf (IAWD/Gerkatin) National Committee Chairperson said, "Finding suitable earning opportunities is a perennial challenge for deaf people in Indonesia. Oftentimes the lack of available non-verbal communication alternatives hinder deaf people from getting work opportunities. We are grateful for companies like Grab Indonesia who have embraced and welcomed us onto their platform as driver, merchant or delivery-partners. Our partnership with them has helped empower members of our community to be confident in their abilities and become financially independent, able to provide for their family's needs. We believe this partnership is monumental for Indonesia as a step forward to be a more inclusive nation."
Process improvements and new features will be added to the Grab app to make it easier for Grab driver-partners to communicate with their passengers, and get customer support via a dedicated live chat feature (see Appendix B). In Malaysia, Grab will also be creating The Sign Dictionary to teach people how to communicate with the deaf community through a Grab app widget, as well as conduct monthly trainings to equip driver-partners to better assist passengers with disabilities.
Al Kautsar Wirawan, a deaf Grab driver-partner from Bandung, said, "I was terminated from my last job because of my hearing disability. Finding new income opportunities was difficult until I came across Grab. Now, I've been a driver (partner) for over a year and haven't looked back since. I am grateful to Grab for this opportunity and am happy that they are continually finding ways to improve our driving experience on the platform."
Hooi Ling Tan said, "Nearly 800 people with disabilities including deafness, cerebral palsy or motor impairments, have access to income opportunities through our Grab platform today. They serve our consumers as driver or delivery-partners, and in the course of doing so, bring inspiration to everyone that they come across. It is their tenacity that has helped them achieve financial independence. But inclusive platforms like Grab that don't discriminate, can help open the door further."
To further support the needs of people with disabilities, Grab is launching GrabGerak, a transport service dedicated to passengers with disabilities, in two more cities in Indonesia. GrabGerak will be available in Medan and Semarang in December 2019.
This dedicated transport service for passengers with different accessibility needs is also available in Singapore and Thailand. Called GrabAssist in these countries, driver-partners undergo a special training programme that covers the handling of wheelchairs, walkers, collapsible scooters and other mobility devices, transfer assistance between the wheelchair and the vehicle, basic sign language to communicate with deaf passengers on directions and destinations, and sensitivity training – knowing what to say and what not to say.
[1] World Economic Forum, ASEAN Youth: Technology, Skills and the Future of Work, August 2019
[2] Indonesia, Malaysia, the Philippines, Singapore, Thailand, Vietnam
[3] Cisco: Technology and the future of ASEAN jobs, September 2018
APPENDIX A:
Other 'Grab for Good' initiatives to be launched before the end of 2019:
Digital literacy and inclusion for senior citizens in Singapore
Grab is also extending its digital literacy goal beyond its network of partners. Grab is supporting the running of 100 digital clinics for senior citizens in Singapore, in partnership with Infocomm Media Development Authority, to teach and empower them to be able to use online services. These clinics, supported by Grab volunteers, will be held over a 1-year period and is estimated to reach 10,000 senior citizens.
Supercharging traditional Jollijeeps through digital solutions
Small and medium enterprises (SMEs) are the lifeblood of Southeast Asia, making up the large majority of all businesses in the region. The Grab platform can help small businesses and micro-entrepreneurs, often running mom-and-pop shops, digitalise their businesses to stay competitive. This includes using technology to run more efficient businesses, and expand their businesses into the online space. For example, small F&B merchants saw their GrabFood sales grow 2x in one year.
In the Philippines, Grab will equip traditional Jollijeeps (mobile food stalls) with modern tools and platforms, including access to GrabFood food delivery and GrabPay cashless payments, to help them grow and better compete with newer restaurants. The Jollijeep pilot project will kick off from Q4 2019, and will be expanded to other traditional businesses.
APPENDIX B:
Break the Silence: Features created for deaf driver-partners
First piloted in Malaysia in 2018, Grab's 'Break the Silence' is an initiative dedicated to opening up more income opportunities for the deaf and hearing-impaired. Based on feedback from our deaf driver-partners, Grab has implemented the following to better support their needs:
Message prompts to alert passengers and customers that they have been paired with a deaf partner, advising them to use the GrabChat feature to communicate.
A dedicated live chat feature for deaf partners to get support from Customer Experience agents whenever they need it.
In-car or on-bike communication flip cards to facilitate better non-verbal communication between partners and passengers, covering typical requests such as directions, aircon temperature, or toll fee exclusion in fare.
Enhanced training and onboarding materials with local subtitles and sign language to ensure smoother registration for deaf partners.
A public education campaign to promote better communication and empathy between partners and passengers, address misperceptions and raise confidence in the deaf drivers' abilities to do their job.
Grab plans to roll out additional enhancements in the coming year, including:
In-transit app information that will indicate that the driver-partner is deaf. Currently passengers are notified through the GrabChat feature.
Turning off the call function for deaf and hearing-impaired impaired. This is to prevent passengers from attempting to call their driver-partner.
In-app communication guides on how to interact with deaf driver-partners