Grab, COMELEC launches #OneDestination calling for Filipinos to vote
In tandem with the Commission on Election, Grab Philippines launches #OneDestiNation campaign to help curb voter disenfranchisement and misinformation in preparation for the May 13 National Midterm Elections.
MANILA PHILIPPINES, May 3, 2019 – On the last 10 days leading to the May 13 midterm polls, Grab Philippines together with the Commission on Elections embark on a voter's education campaign to encourage Filipinos to come out and vote.
Having launched programs through the years that educated both drivers and passengers, and introducing features and functionalities that have made every Grab experience #BetterEveryday, Grab continues its active movement in serving the Filipino people through its #OneDestination initiative.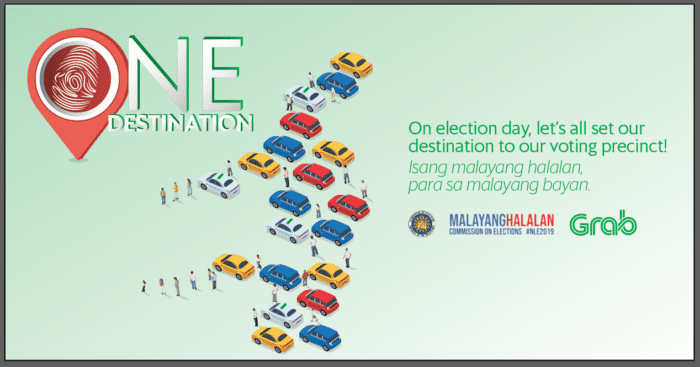 Throughout this initiative, Grab Philippines will have two main goals that will serve the voting public:
Re-introduce the need to take part in the midterm elections.

True to its O2O brand DNA, Grab harnesses the efficient use of both offline and online media in helping curb disenfranchisement among voters. As a market leader and Philippines' everyday superapp, Grab acknowledges its unique ability in creating meaningful discussions to debunk voting myths, thus inspiring higher poll turn-out. Select GrabCar units will have car stickers and flyers, and at the same time Grab, its pool of influencers, and its media partners will create social discussions via new media format.

Provide socially efficient access to the polls come election day.

Grab's strength is in providing access – whether through transport, on-demand delivery, or payment technology. And in the same spirit, Grab provides transportation access to the Filipino voters without causing traffic congestion around the precincts. This May 13, voters in Metro Manila and Metro Cebu enjoy PhP 50 discount when they go to the polls using the GrabShare discount code

ONEDESTINATION

.
This campaign adds to Grab's long partnership history with the government and non-government organizations, having already taken part in joint efforts with Philippine National Police – Highway Patrol Group (PNP-HPG) , Metropolitan Manila Development Authority (MMDA), the Land Transportation Office (LTO), the Land Transportation Franchising and Regulatory Board (LTFRB), the Philippine Drug Enforcement Agency (PDEA), and NGO's like Philippine Red Cross (PRC) in the past.
"Misinformed and disenfranchised voters are one of our top challenges in the Philippines during the election. As Grab, our role goes beyond providing safe, seamless, and reliable services to our consumers; but to also cultivate a sense of community and unity among our fellow Filipinos. Starting todayt, select GrabCar units will be more than mere vehicles of transportation, but vehicles for educating our voters on how to be better informed and guided come election day. We will also engage our social media influencers and partners to help disseminate these vital information to the voters and help create an atmosphere of discussion, vigilance, and awareness. Now more than ever, we should work together as one solid unit in ensuring that the flames of democracy remains ablaze. Through our #OneDestination campaign – in tandem with the Commission on Elections, we aim to inspire every voter's confidence and trust in our election process, and move the Philippines together, forward towards one vibrant destination," says Brian Cu Grab Philippines President.