Grab Philippines, SSS, PhilHealth, Pag-IBIG launches social protection program for driver- and delivery-partners
Grab is the first platform in the Philippines to roll out a robust, multi-agency social protection program for driver and delivery-partner welfare. SSS, PhilHealth, and Pag-IBIG services will be available onsite in the Grab Partner Center in Marikina. Grab is subsidizing the first month's contribution of the first 2,000 Grab partners. This program was piloted in Metro Manila and will be scaled to different Grab cities and communities across the Philippines
15 November 2022, MANILA, Philippines— In celebration of the Buwan ng Tagapaghatid, and to recognize the invaluable trust and support of its driver-partners, Grab Philippines–together with the Philippine Health Insurance Corporation (PhilHealth), Social Security System (SSS), and Pag-IBIG Fund–announces its Social Protection Program which aims to help create a stronger social safety net for Grab driver- and delivery-partners in the Philippines, by supporting, educating, and connecting Grab partners to various social welfare services of the government.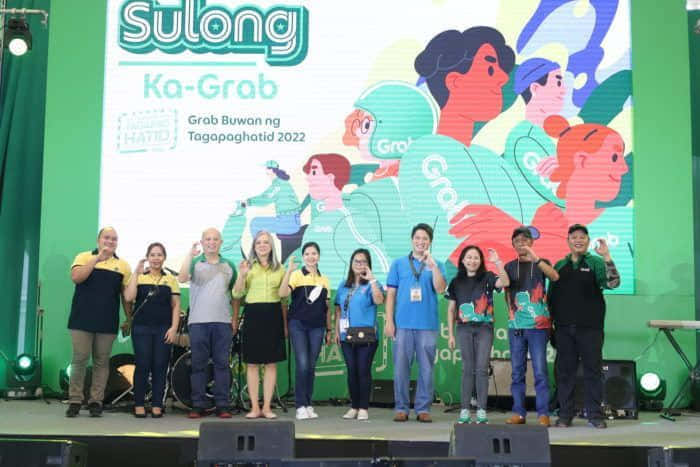 From left to right: representatives from Pag-IBIG, headed by Geraldine V. Pauig; representatives from PhilHealth, headed by Dr. Shirley Domingo; representatives from SSS, headed by Carlo Villacorta; and driver-partner leaders Allan Carrillo and Saturnino Mopas, together with CJ Lacsican, Head of Operations of Grab Philippines.
Grab is the first platform in the Philippines to roll out a robust, multi-agency social protection program for driver and delivery-partner welfare. This program is a result of months-long dialogue and discussion with various government agencies, which aims to educate and connect its driver partners on the government's various social welfare services, including but not limited to:
Affordable social insurance for retirement, disability, death, funeral, sickness, maternity, and work-related contingencies for self-employed SSS members. Availment of salary loans for active and contributing self-employed SSS members and pension loans for retirement pensioners.

Accessible healthcare services such as assistance with hospital bills, room and board subsidies, medication, and professional services are exclusively offered to PhilHealth members. 

National savings program and affordable housing financing for qualified PAG-IBIG members.
Grab and its government agency partners launched the initiative during Grab's Buwan ng Tagapaghatid Family Day Celebration at the Quezon City Memorial Circle. SSS, Pag-IBIG, and PhilHealth–along with its corporate partners–educated Grab partners on the advantages of existing social protection systems, and their various benefits to the partners and their families. To better support more Grab partners, SSS, PhilHealth, and Pag-IBIG services will be available onsite in the Grab Partner Center in Marikina.
Grab will also subsidize the first-month contribution of the first 1,000 Grab partners who signed up for the program, and an additional 1,000 more will benefit from the initiative on the 20th of November during the 2nd Grab Family Day in Manila. This program was piloted in Metro Manila and will be scaled to different Grab cities and communities across the Philippines.
"Platform work has presented various benefits to many industries, and has been a valued source of livelihood for many Filipinos. We have built a community of partners founded on trust, hard work, and a shared mission – to drive the Philippines forward, and we will continue doing right by our partners by creating stronger safety nets that they can rely on. Amidst a very tough economy, our Social Protection Program is a clear expression of our deep and long-standing commitment to the welfare and well-being of our partners, and we will continue to scale this program nationwide to help support more partners and their loved ones," said Grab Philippines Country Head Grace Vera Cruz.
"This partnership with Grab is towards SSS' goal to reach as many self-employed workers as possible, encouraging them to register as self-employed SSS members, pay the corresponding contributions, and of course, apply for benefits/loans when the need arises. May this initiative by Grab inspire other companies to step up and encourage their gig workers to become self-employed SSS members to avail of the government's social protection programs," said Carlo Villacorta, Department Manager of the Professional Sector Department and Acting Head of the Cooperatives and Informal Sector Department of SSS," said Carlo Villacorta, Department Manager of the  Cooperatives and Informal Sector Department & Professional Sector Department of SSS.
Geraldine V. Pauig, Head of PAG-IBIG Makati Jupiter Branch, emphasized the importance of ensuring that the earnings of driver-partners are funneled into practical investments. "It is undeniable that the driver-partners are one of the most hardworking members of the informal sector. It is just and right that the fruits of their labor can be directed towards tangible investments, and that is a house of their own, especially for their family.." she added.
"Through PhilHealth, Grab drivers can get a wide range of benefits, such as help with hospital bills, room and board subsidies, medication, and professional services. This service can also be extended to their beneficiaries, thus also protecting their families and loved ones," said Rey R. Sulit, PhilHealth Chief Social Insurance Officer (CSIO) assigned at Local Health Insurance Office (LHIO) MAKATI.
As part of Buwan ng Tagapaghatid, a month-long celebration honoring driver-partners for their contributions to Grab Philippines, thousands of partners and their loved ones enjoyed Grab's Family Day Celebration at the QC Memorial Circle. The full-day event provided driver-partners with a day of relaxation, complete with complimentary food booths, haircuts, manicures, massages, and other services. Grab has also set up a Go-Kart track where driver-partners may bring their children to create memorable experiences, in addition to other activities such as band performances and raffles where some driver-partners won amazing prizes.
In addition to its social protection initiatives, Grab also provides its own assistance program exclusive to all active driver-partners. The GrabCare Package is designed to offer driver partners additional support, which includes calamity assistance, insurance, emergency top-up, hospital assistance, educational assistance, and burial assistance.