GrabFood Celebrates Official Launch in Metro Manila with Crave City
Philippines, November 7, 2018 – Grab, the leading online-to-offline (O2O) mobile platform in Southeast Asia, officially launched GrabFood in Metro Manila today. With food delivery as a natural extension of its transport offerings, Grab solidifies its move to become the […]
Philippines, November 7, 2018 – Grab, the leading online-to-offline (O2O) mobile platform in Southeast Asia, officially launched GrabFood in Metro Manila today. With food delivery as a natural extension of its transport offerings, Grab solidifies its move to become the everyday app that serves the daily needs of Filipinos and Southeast Asians.
GrabFood is the fastest-growing food delivery service with the largest geographic presence in Southeast Asia. Within a short span of five months, GrabFood has expanded into 10 cities in Metro Manila – BGC, Makati, Ortigas, San Juan, Mandaluyong, Quezon City, Manila, Taguig, and Pasay – and is currently being beta-tested in Cebu City and Mandaue. GrabFood's user growth increased 10x over the past three months.
GrabFood now has the widest restaurant selection in the Philippines with 4,000 locally-based restaurants onboard. GrabFood continues to satisfy more cravings as it brings greater convenience to its consumers.
"We know Filipino consumers love a variety of food choices so we've worked really hard over the past months to bring onboard their local favourite merchants onto GrabFood. Today, we've the widest selection of restaurants on GrabFood. Food remains a top household expenditure in the Philippines and we believe our on-demand food delivery service can really add convenience to consumers' lives, while opening up more income streams for merchant- and delivery-partners. It's a win for all," commented Demi Yu, Head of GrabFood Philippines, Thailand, Malaysia & Vietnam.
As an everyday app, Grab continues to empower its interconnected ecosystem of consumers, merchants, and delivery partners. GrabFood is accelerating their ability to leverage the opportunities of a shared digital economy.
Consumers are able to connect with thousands of restaurants that delight them with their local favorites right at their doorstep.

They can also enjoy GrabFood service with no minimum orders required.

Merchant-partners instantly get an online storefront,

opening up a new source of incremental orders and revenue on top of their usual in-store visits. They also gain access

to

GrabFood's marketing channels and promotional schemes, boosting their business further.

As GrabFood expands its reach, it opens up to a bigger pool of delivery partners who will enjoy better earning opportunities. Best performing delivery partners earn up to 2x more in average minimum national wage.
A Digital Dining Experience at GrabFood's Crave City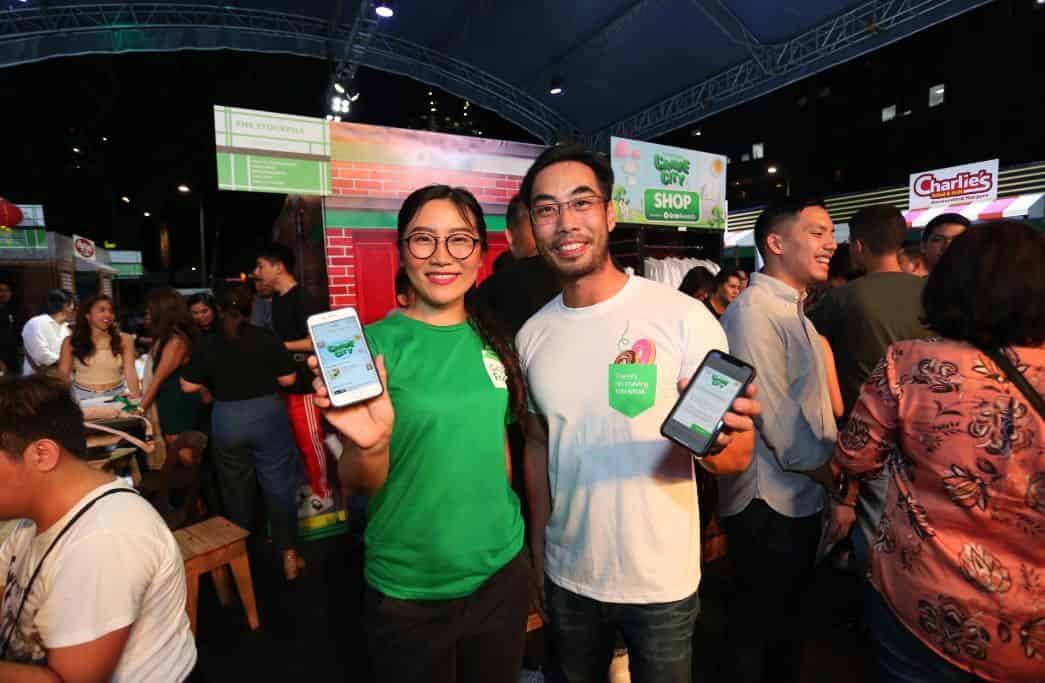 Demi Yu, Regional Head of GrabFood in Philippines, Malaysia, Thailand and Vietnam, and Brian Cu, Country Head, Grab Philippines 
GrabFood continuously brings new food experiences that delight consumers. To mark its official launch in Metro Manila, Crave City, a 4-Day digital dining experience, kicks off today until November 10 at the BGC Amphitheater.
Crave City aims to give guests a showcase of GrabFood's localized and hassle-free service. They no longer need to queue to order their food. This unique dining experience allows them to sit comfortably, choose from a digital menu and order using GrabFood's system, and just wait for their orders to be delivered to them. Crave City offers free admission and is open to the public.  
Guests will be treated to a variety of local homegrown talents who dish up international flavors like Mom & Tina's, El Chupacabra, Senor Pollo, Bawai Vietnamese Kitchen, Charlie's Grind and Grill, Gong Cha, Ersao, Aysee, Sunrise Buckets, Manila Creamery, and Stockpile to fit every palate and wallet.
"As an everyday app, we want their GrabFood experience to be convenient and more rewarding," says Cindy Toh, Grab Philippines Country Marketing Head. "Food is such a basic necessity but is also very personal to every consumer. GrabFood's Crave City is our way of creating a unique food experience that our consumers will enjoy," added Toh.
-END-