GrabFood boosts food delivery service with 24/7 operations in Metro Manila and Cebu
Manila, Philippines, 01 August 2019, — GrabFood, the number one online food delivery platform in the Philippines for the super app Grab, announced its 24/7 operations today, an upgrade to its leading food delivery service powered by over 1000 quick […]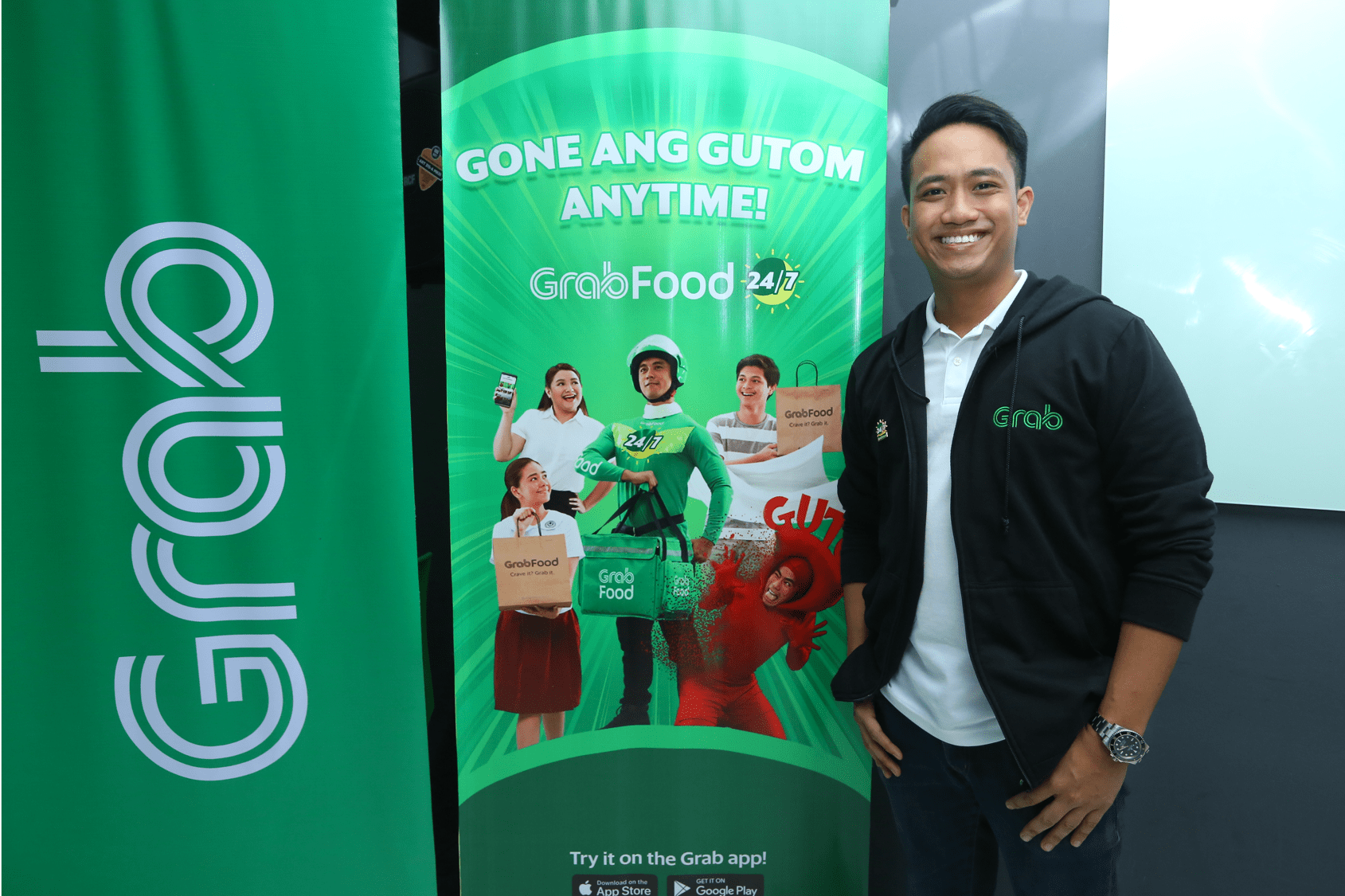 Manila, Philippines, 01 August 2019, — GrabFood, the number one online food delivery platform in the Philippines for the super app Grab, announced its 24/7 operations today, an upgrade to its leading food delivery service powered by over 1000 quick service restaurant-partners operating around the clock in Metro Manila and Cebu. 
Hunger is closely associated with scholarly articles* and research with lower productivity and irritability, leading to people coining the term "hangry," which pertains to the feeling of anger due to hunger. 
With the busy and agile lifestyle of Filipinos, today, more than ever, they demand better and more convenient ways to ease their hunger. At any time of the day — whether it's early in the morning, mid-afternoon, or at the unholy hours of the night — hunger may strike anyone, anywhere. Hunger can happen to parents juggling work and childcare, to an office employee stuck in an early morning traffic madness, to a teacher running overtime to finish a lesson, to students pulling an all-nighter to finish their thesis, or to a call center agent fulfilling an overnight shift. 
Satisfying hunger, especially during the wee hours, can be a problem due to the lack of options and the hassle of dining out. GrabFood's data reported a growing demand for late-night food deliveries with 13x increase in orders occurring in the wee hours of the night/morning from March 2019 to present.    
Recognizing the need to beat hunger that slows down productivity of Filipinos at any given time, GrabFood has teamed up with over 1000 restaurant-partners in Metro Manila and Cebu to allow 24/7 delivery service in at least 20 locations including Manila, Makati, Quezon City, Pasig, Pasay, Paranaque, Las Pinas, Marikina, Muntinlupa, San Juan, Caloocan, Valenzuela, Mandaluyong, Malabon, Pateros, Navotas, Taguig, Cebu City, Lapu-Lapu, Mandaue. 
"With the rapidly growing hectic lifestyle, Filipinos now demand more convenient ways of addressing their daily needs.. We at GrabFood recognize the need to empower Filipinos to beat hunger anytime. Today, students stuck working on a project at school, professionals slugging it through a working lunch, even parents tending to their children can now satisfy their hunger 24/7 via GrabFood," GrabFood Head EJ dela Vega said. 
With the upgraded food delivery service, Filipinos can now enjoy their favorite chicken from McDonald's, KFC, BonChon, and Bully Buffalo Wing Bar; milk tea and beverage fix from Chatime,  Jamba Juice, and Happy Lemon; top meals from Burger King, Pizza Hut, Mister Kabab and Ersao; and many others via GrabFood 24/7!
More rewarding GrabFood experience 
GrabFood is also rewarding users with #GoneAngGutom Deals such as free food and drinks from quick service restaurant-partners, food bundles, as well as buy-one-get-one offers that will bring greater value to their leveled-up ordering experience. These promotions include the following: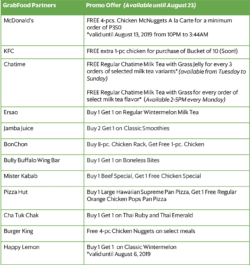 Apart from these, consumers also get free delivery for their orders worth P400 and above using the promo code: GUTOMGONE valid until August 23 on participating restaurants.
GrabFood is also holding a special digital stamp card promo that will reward users with a P50 voucher for their GrabFood orders. From August 1 to 31, users simply have to collect a pair of electronic stamp card stickers with no minimum purchase requirement from the following merchants: McDonald's, Chatime, BonChon, Bully Buffalo Wing Bar, Chatime, Cha Tuk Chak, Ersao, Happy Lemon, Mister Kabab, and Pizza Hut.
Each order from a merchant will automatically reward the consumer with an e-sticker. Consumers need only to complete two stamps from the same merchant during the promo period to get their unique P50 voucher. They can earn as much as 10 vouchers when they complete the stamp cards for each merchant. 
The voucher will be automatically pushed out into the members' "My Rewards" wallet once a GrabFood user completes the required number of stamps per merchant. 
L-R: Andrea Roxas – KFC's Sr. Marketing Officer,  Chris Cua – Cha Time's Chief Finance Officer, Gabrielle Marquez – McDonald's Brand Manager, EJ dela Vega – GrabFood Philippines' Head, Marnie Teves – Pizza Hut's Digital Marketing Manager  
"With our expanded operations, GrabFood has become a more reliable partner for hungry eaters in the Philippines, catering to a wide variety of palates through its extensive restaurant choices that cater to different markets," dela Vega said. 
"As the leading super app with a strong food delivery arm, Grab is in a unique position to empower Filipinos to make the most of their everyday lives. This starts with the most basic yet important task of satisfying their daily cravings and beating hunger at any time," Grab President Brian Cu said. 
To know more about the terms and conditions of the promos, visit https://grb.to/2KdxuZ2