Grab brings more commuters home, offers free bus and jeepney rides this Christmas
Recognizing traffic and limited transportation options that steal commuters' time away from home during Christmas, Grab offers Christmas Express, a temporary transportation solution in Metro Manila. From Dec 13-24, commuters can enjoy  bus and jeepney rides in key locations […]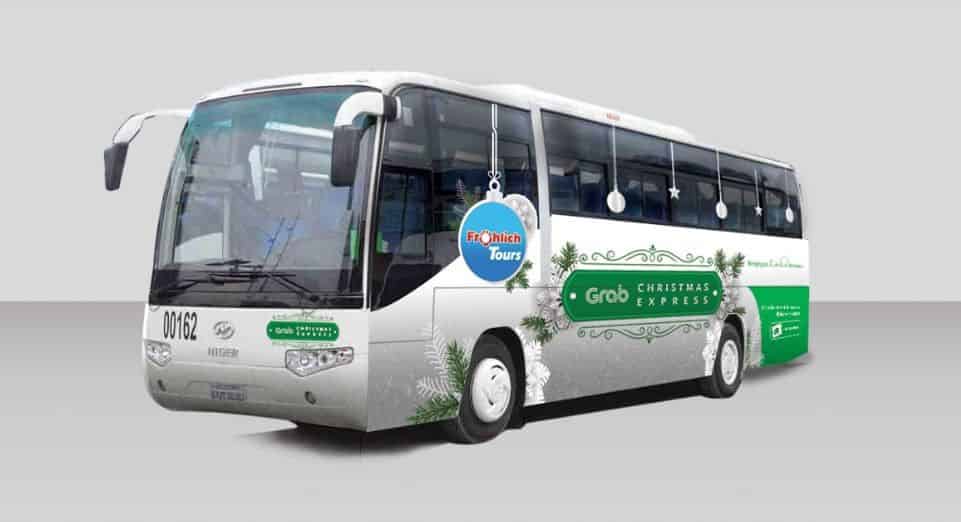 Recognizing traffic and limited transportation options that steal commuters' time away from home during Christmas, Grab offers Christmas Express, a temporary transportation solution in Metro Manila.
From Dec 13-24, commuters can enjoy  bus and jeepney rides in key locations in Metro Manila.
As part of the Grab Christmas Express campaign, other services such as GrabFood, GrabPay, GrabExpress and GrabRewards are joining with additional treats that will make consumers feel closer to home
Manila, Philippines – December 14, 2018 — Grab, the leading online-to-offline (020) platform in Southeast Asia, today announced Grab Christmas Express, a campaign that aims to bring more consumers in Metro Manila closer to home this yuletide season through additional transport solutions and more Grab offerings.  
For most Filipinos, the essence of Christmas is coming home to their loved ones and friends, and being able to do the things that matter to them the most. Home may mean different things to everyone but the yearning for it is universal. Grab understands that home is so much more than a place, but a feeling that brings joy and inspiration. Recognizing traffic and limited transportation options that steal their time away from home during Christmas, Grab is offering free bus and jeepney rides from December 13 to Dec 24 in selected high-demand locations in Metro Manila.
Anchored on transport solutions that aim to address the limited number of available TNVS units vs. high demand during holidays, Grab has found a way to provide an additional commuting option through buses and jeepneys services.
Grab users can easily avail of the Grab Christmas Express Bus and Jeepneys by claiming their Christmas Express Unlimited Pass from the in-app GrabRewards catalogue. The ticket can be used multiple times, but is equivalent to one seat only.  The Grab buses are operating from 5:00pm -11:00pm covering SM Megamall to SM North in partnership with Froehlich Tours Inc., and Mckinley Hill to San Lorenzo Place route from 5:00pm – 10:00pm, in partnership with Citylink Coach Services.
To bring even more joy to commuters of the Grab Christmas Express Buses, every trip will feature the Christmas Power Hour. This will be a fun mix of games for passengers with freebies to be given away as prizes.
Grab Christmas Express Jeepneys can also be availed using the same Christmas Express Unlimited Pass. Grab jeepney units will operate on busy and high-demand locations covering the following routes and schedules:
Ayala-Market-Market – 11am – 11pm

EDSA-Pasig – 11am – 8:00pm

EDSA Crossing-Kalentong – 8:00am – 4:00pm

PRC-Mantrade-Kayamanan C – 8:00am – 4:00pm

Guadalupe-Gate 3 (Modern Jeep) – 11am – 11pm
* Seating is on a first-come-first-serve basis.
The Grab Christmas Express allows consumers to get around easily and serves as a solution to their commuting woes.
"There were many challenges that Grab faced this year. 2018 is indeed a big learning opportunity for us. We are thankful for our consumers who opened up and shared their concerns, pushing us to do better and continue improving. As we end this year, we want our consumers to take away the feeling of home, the joy of being with the people and things that matter to them. We are privileged to be the conduit of this feeling this Christmas " said Cindy Toh, Grab Philippines Country Marketing Head.
"The Grab Christmas Express campaign comes together in Grab's Better Everyday credo, which, among its services, only has one goal—to improve your everyday experience. We are mindful that going home can be more challenging this season and we are happy to provide support for our commuting public," added Toh.

More Grab Christmas Express Services
Home is more than just a destination. It can be about connecting, sending out your love, or even just reaching out to show you care. As part of Christmas Express campaign, GrabPay now allows users to buy or send prepaid load and connect to their loved ones. What's more is that every prepaid load purchase using GrabPay Credits will entitle them to a raffle entry for a chance to win a Siargao trip for four (4).
GrabRewards will also be stocking offers for the 12 Days of  Christmas Raffle Promo. Each day within the duration of the promo, GrabRewards will offer a "mystery gift box" in the catalogue from 9:00am to 11:59 pm. To get the surprise gift, user must purchase the featured "mystery gift box" for only 100 GrabRewards points.
For GrabExpress, users will also get a surprise gift when they use GrabExpress for the duration of the campaign. 
Finally, GrabFood will kick off outreach program for children in underprivileged areas, making sure that will be less hungry Filipino bellies.
"As an everyday app, we want our consumers to have a full Christmas Express experience. On top of our transport offers, we are happy to bring in other services that will allow our consumers to discover their own feeling of home. It can be about staying in touch with a faraway friend through GrabPay, getting delighted and rewarded through GrabRewards, giving back and satisfying the cravings of those who need it through GrabFood,  or just as simple as showing care by sending gifts using GrabExpress. We are glad to provide everyday services that will ignite their own feeling of home," said Toh.
More information about the Christmas Express campaign will be announced on our social pages and through in-app announcements. For more information, visit www.facebook.com.GrabPH
###