Grab brings #KiligForEveryone this Valentine's season; offers GrabBae and kilig treats from its everyday services
- This year, 70 GrabBaes will go around Metro Manila and Cebu City to spread #KiligforEveryone - Grab has deployed Kilig Cars that will offer free GrabCar rides on Valentine's Day - GrabFood riders dressed as modern-day cupids are out to satisfy cravings and give away free Valentine's treats to consumers - GrabExpress riders to hold a kilig raid in transport stations, malls, universities and offices, and giveaway roses and Php 14 delivery vouchers - For only 1,430 GrabRewards points, cinema vouchers and sweet treats can be redeemed on GrabRewards
MANILA, FEBRUARY 7, 2019 —  To spread kilig for everyone this love month, Grab, the leading Online-to-Offline (O2O) mobile platform, expands GrabBae in Metro Manila and Cebu and brings together its everyday services GrabShare, GrabFood, GrabExpress and GrabRewards to offer kilig surprises to its consumers.
Filipinos celebrate love in all forms during Valentine's Day, which is considered as the second most celebrated season in the Philippines after Christmas. With the whole country now geared up to celebrate the season of love, Grab is joining the celebration by bringing its own brand of kilig to Filipinos this month.
More GrabBaes on the road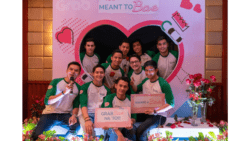 Every February since 2017, charming and talented kilig ambassadors GrabBaes go around Metro Manila to spread the spirit of love by serenading Grab users and their loved ones. This year, Grab is amping up its kilig game by doubling the number of GrabBaes in Metro Manila and expanding in Metro Cebu.
This year, Fifty (50) GrabBaes will spread kilig for everyone from February 12-14. In Metro Cebu, twenty (20) charming GrabBaes will capture the hearts of Cebuanos with their kilig-inducing personality and talent.   
Sending someone a GrabBae surprise is easy. Grab consumers simply need to redeem GrabBae promo codes worth 143 points on the GrabReward's catalog from February 4 to February 14.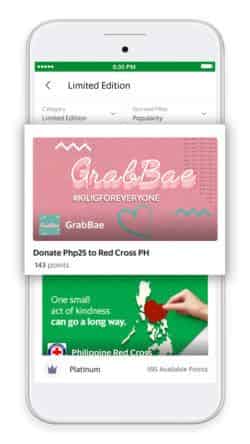 The redeemed GrabBae codes can then used to book for a GrabBae from February 12 to 14 by simply following these steps:
In the

pick-up tab,

input the address you'd like to send your GrabBae to.

Key in

GrabBae Manila

(for Manila) or

GrabBae Cebu

(for  Metro Cebu) as your drop off pin.

Input the

GrabBae code

you redeemed in the promo tab.

In the notes part, write the name and details of your

GrabBae recipient

On the services menu, choose GrabBae, and click book. The app will notify once you successfully booked a GrabBae.
After that, a GrabBae will be on his way to you or your loved ones, with free chocolates from Kitkat and a gift from Grab.
Grab consumers can redeem as many GrabBae codes on GrabRewards as possible. However, booking allocation is depending on the demand and proximity and valid only within Makati, BGC, Ortigas and Cebu City.  
"As we celebrate the month of love, we are mindful that kilig is for everyone. This is why we decided to bring back our successful seasonal campaign, GrabBae to bring kilig delights to you, your friends, family, and loved ones. This year, we're making it even better with more GrabBaes on the road in Metro Manila and now in Cebu," Grab President Brian Cu said.
Aside from this exciting activity, Grab, Filipino's everyday app, is also integrating its #KiligForEveryone campaign into its daily services such as GrabShare, GrabFood, GrabExpress, and GrabRewards.
Kilig Cars offering free rides on Valentine's Day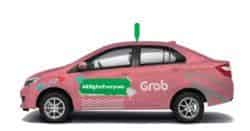 Thirty (30) Kilig cars, GrabCars that are specially designed with colorful and charming skin, are out to bring their own brand of kilig to their passengers in Metro Manila. On February 14, random yet lucky passengers who will match with the drivers of the Kilig cars will be treated to a free ride and P200 worth of GrabCar, GrabFood and GrabExpress promo codes.  
Kilig rides
From February 6 to 8, commuting will be more bearable as several GrabBaes will be deployed in select GrabShare vehicles to serenade and surprise passengers with gifts and Grab vouchers.
To bring more kilig to passengers, GrabCar drivers-partners were also encouraged to join the special Ka-Grab In-Car Valentine's Design Contest that challenged them to decorate the interiors of their vehicles. The mechanics of the contest is simple — dress up the interiors of their cars in relation to the love month. From February 1 to 15, they have to take a photo of their in-car design, post it as a comment on the official contest post published on Brian Cu's official FB page, and then like and share their post.
Grab is giving away a total of P60,000 worth of gift certificates to the top five drivers who creatively designed their GrabCars. The top prize for the contest wins P35,000 worth of gift certificates. Cu and his team will personally check the design of the vehicles and the winners will be invited to Grab's headquarters in Makati City for the awarding ceremony.
Cupid GrabFood Riders delivering Valentine treats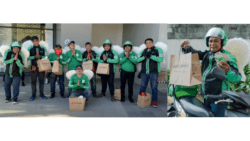 From February 12 to 14, those who book orders via GrabFood may get a surprise from delivery riders. Dressed up as modern-day cupids, GrabFood riders will surprise hungry consumers with free sweet treats and discount vouchers.
GrabExpress' Kilig Raid and P14 Delivery Gift
From February 6 to 8, GrabExpress team will be spreading kilig by raiding malls, schools, train stations, and offices to give away flowers and P14 GrabExpress voucher to the general public.
The GrabExpress kilig raid team will visit Gateway Mall in Cubao, MRT North Ave. and Ayala Stations on February 6 to give out Valentine's surprises to the mall goers and train riders. On February 7, GrabExpress will send kilig to students and teachers of Ateneo de Manila, De La Salle University, University of Santo Tomas, and the University of the Philippines. Finally, on February 8, they will be bringing kilig to offices in Makati, Bonifacio Global City, and Ortigas.
Kilig Treats from GrabRewards
GrabRewards is also joining Valentine's party with discounts coupons and freebies from SM Cinema, Mrs. Fields Cookies, and Toblerone. For only 1,430 GrabRewards points, Grab consumers can redeem a P250-discount coupon for SM Cinemas from February 8 to 10, a free
Mrs. Fields cookie from February 8 to 14, and free Toblerone 100mg at any 7-Eleven store from February 8 to 14.  
"As the Filipinos' everyday app, we are dedicated to bring more delightful and rewarding experiences to our consumers and improve their overall Grab experience. This is why we decided to up our kilig game and bring onboard other daily services — such as GrabShare, GrabFood, GrabExpress, and GrabRewards — to complement this year's ultimate GrabBae experience," said Brian Cu, Grab Philippines' President.
From its transport roots, Grab has transitioned to become an everyday app that serves the everyday needs of its users. The #KiligforEveryone campaign is a reflection of how it constantly seeks ways to improve consumers' overall Grab experience, with daily services that work together to build a digital ecosystem for a better everyday.
###