GrabPay, SM join hands to bring more convenience to Filipino consumers
GrabPay and SM partner to rapidly expand the GrabPay mobile wallet in the Philippines and drive more financial inclusion for Filipinos. (L-R: Grab Philippines Head Brian Cu, GrabPay Managing Director for Singapore, Malaysia, and the Philippines Ooi Huey Tyng, SM […]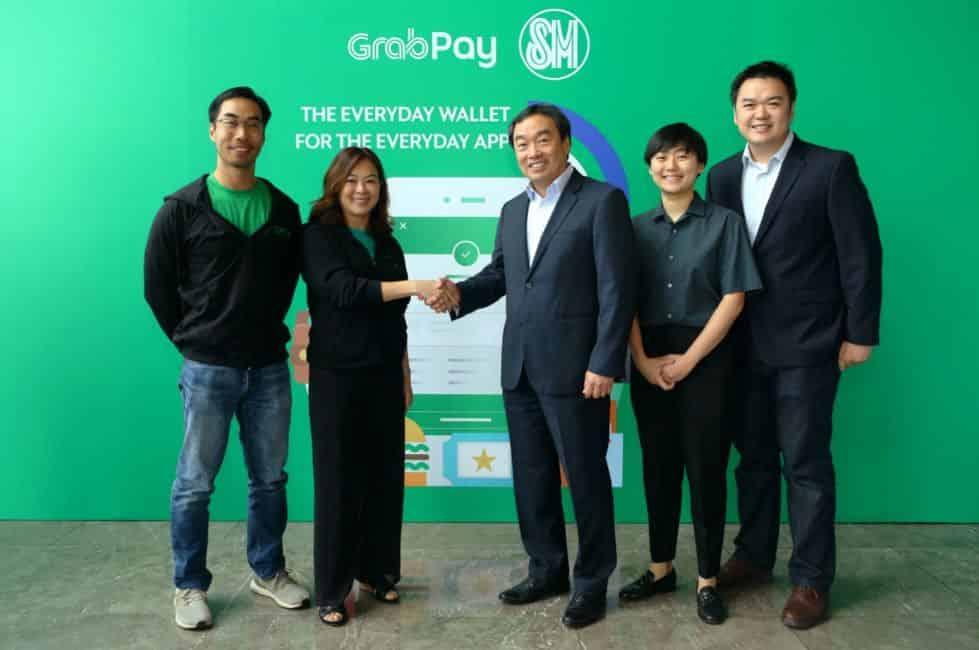 GrabPay and SM partner to rapidly expand the GrabPay mobile wallet in the Philippines and drive more financial inclusion for Filipinos. (L-R: Grab Philippines Head Brian Cu, GrabPay Managing Director for Singapore, Malaysia, and the Philippines Ooi Huey Tyng, SM Investments Corporation President and CEO Frederic DyBuncio, SM Retail Assistant Vice President Mara Sy Coson, and SM Engineering Design and Development Corp. President Hans "Chico" Sy Jr.)
Starting 2019, consumers can use GrabPay to pay for goods and services, and load their mobile wallet from SM group's market-leading merchant and banking network
Partnership strengthens GrabPay's position as the Everyday Wallet for the Everyday App
SM pushes for digital innovation in retail and joins GrabPay in supporting BSP's vision of transitioning 20% of all transactions into cashless by 2020
Philippines, 5 December 2018 — Grab, one of Southeast Asia's leading online-to-offline (O2O) platforms, and SM Investments Corporation (SM), one of the leading conglomerates in the retail, banking, and property industries in the Philippines, announced today a partnership that will rapidly expand the GrabPay mobile wallet in the Philippines and drive more financial inclusion for Filipinos.
The strategic partnership combines the strengths of Grab's large user base and tech platform with SM's broad portfolio of flagship shopping malls, banks and merchant-partners nationwide. SM is present nationwide with over 70 malls and more than 2,200 stores with an extensive merchant network. BDO is one of the country's largest banks with over 1,200 branches and more than 4,200 ATMs nationwide. Grab has quickly become an 'everyday app' with over 125 million downloads region-wide and a presence in 1 in 2 smartphones in the Philippines, and with partnerships with over 60 of the world's leading financial institutions. Going into 2019, Grab Financial is the first mobile payments platform to launch regulated e-money payments services in all ASEAN-6 countries (Singapore, Malaysia, Indonesia, Vietnam, Philippines, and Thailand) and has one of the most number of Monthly Active Users (MAU) and Total Payments Volume (TPV) in the mobile payments market in Southeast Asia.
The partners will collaborate in three broad areas:
Universal acceptance of the GrabPay wallet: The partnership will expand usage of the GrabPay mobile wallet in the Philippines — currently used for transport and delivery services — immediately beyond the Grab ecosystem. Soon, Grab users can use their GrabPay wallet to pay for shopping items, grocery supplies, cinema tickets and other goods and services from offline stores such as The SM STORE, SM Supermarket, SM Cinema and other partners that are part of SM's and BDO's extensive merchant network.
SM and GrabPay will offer greater convenience to their consumers. Grab users can soon load their GrabPay mobile wallet directly from BDO bank accounts, BDO ATMs, SM Business Centers and 2GO's retail network. Consumers can soon top-up their GrabPay wallet all across the Philippines, with these new top-up channels adding to a rapidly growing network that includes banks, convenience stores, cards and wallets, and driver-partners.
Greater benefits to both customer bases: Dedicated Green Lanes will also be set-up for GrabPay users in SM establishments. These are express checkout counters that will allow GrabPay users to skip the regular payment queues.
"Our vision as the everyday wallet for the everyday app is to expand cashless opportunities to more Filipinos and Southeast Asians. This partnership calls to attention the size of the opportunity Grab's ASEAN-wide user base offers, even to leading conglomerates and financial institutions like SM and BDO. We are confident that by combining the strengths of Grab's fintech platform with SM's extensive network of merchant partners and establishments, we can drive financial inclusion for millions of unbanked Filipinos," said Ooi Huey Tyng, Managing Director of GrabPay Malaysia, Singapore and the Philippines.
"SM is committed to applying digital innovations in its businesses. We are mindful of the evolving online-to-offline landscape especially in retail and continue to branch into new solutions that will unlock more benefits to our consumers. We are delighted to partner with GrabPay as they share the vision of using technology to offer more convenience to customers," SMIC President and CEO Frederic C. DyBuncio added.
GrabPay and SM support the goal of Bangko Sentral ng Pilipinas in transitioning 20% of all transactions into cashless by 2020.  [1]According to the Bangko Sentral ng Pilipinas (BSP), e-payment transactions account for only one percent, the wider base is cash-based.
GrabPay, following the approval by BSP of its application to become an e-money issuer in the Philippines in August, is now on its way to rapidly expand its cashless services in the Philippines. GrabPay earlier announced its mobile prepaid top-up feature in partnership with local telco companies.
###