Grab, AutoItalia Philippines partner to roll out GrabTrike Premium service
(L-R) Gines Barot, Grab PH City Operations and Expansion Lead, Brian Cu, Grab PH Country Head, Willy Tee Ten, Autohub President and Miguelito Jose, Motohub General Manager  Grab and AutoItalia Philippines partnership to improve short-distance commute in more cities in […]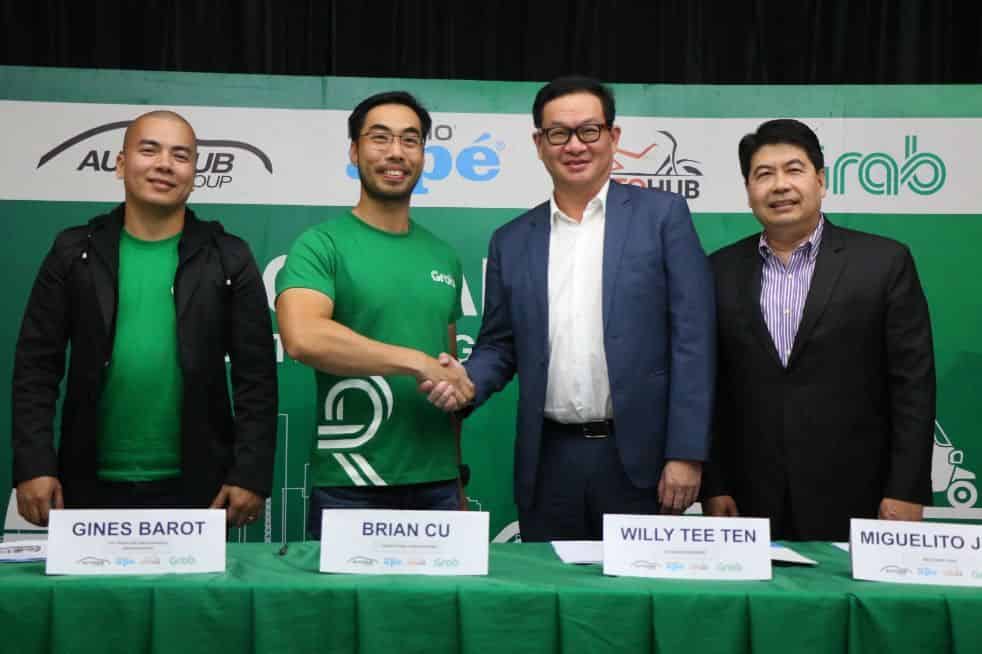 (L-R) Gines Barot, Grab PH City Operations and Expansion Lead, Brian Cu, Grab PH Country Head, Willy Tee Ten, Autohub President and Miguelito Jose, Motohub General Manager 
Grab and AutoItalia Philippines partnership to improve short-distance commute in more cities in the Philippines

2000 Piaggio Ape City FI Units with GrabTrike Premium services to be offered to more local government units

The Municipality of Binalonan is Grab's 12th city and the first local government in the country to roll-out GrabTrike Premium service
Philippines, November 5, 2018 — Grab, Southeast Asia's leading O2O mobile platform, and AutoItalia Philippines, the exclusive local distributor of Piaggio Apé vehicles, partnered to offer GrabTrike Premium service in more cities in the Philippines.
As an upgrade to GrabTrike and as an additional short-distance commuting option, GrabTrike Premium service will use Piaggio Apé City Fi units, a highly successful, three-wheeled light commercial vehicle based on the Vespa-brand scooter. Produced since 1948 by Pontadera, the Italy-headquartered Piaggio offers a maximum load capacity of 300 kilograms, and boasts increased capacity in terms of passengers and cargo over traditional three-wheelers or tricycles. Powered by either a frugal gas or diesel engine, the Apé can log up to 38 kilometers on a single liter of gas.
Aligned with Grab's continuous efforts to push for transport modernization, the GrabTrike Premium service will use Euro-IV compliant Piaggio Apé units. It also promises a safer commute with better mileage, transmission with reverse and maximum climb of 20.5% gradient performance.
 Grab and AutoItalia Philippines continue to engage more LGUs, that hold the jurisdiction over tricycles, to adopt the use of Piaggio Apé units either by increasing the number of franchises or by using them as a replacement option for older tricycles.  Because of its low acquisition cost, the Piaggio Apé is envisioned to help quickly facilitate the modernization of the country's transportation sector – particularly in marginalized areas without access to bigger modes of transport.
"We believe that this is a timely service that provides a lot of benefits to the riding public," said AutoItalia general manager Miguelito Jose. "It's more economical than booking a car – particularly for short trips. For driver-partners, the low acquisition cost has been made even more affordable through our special financing plans," added Jose.
Driver-partners can count on the Grab-AutoItalia Philippines partnership to help improve their livelihood and welfare. The brand-new customizable Apé vehicles will have easy ownership access with little to no equity, making it a practical investment. The design also ensures increased protection from heat, rain, and major accidents. The high-quality make is low cost and comes with full technical support and a nationwide accredited service center. Driver-partners will  also receive smartphones pre-loaded with the Grab app, free Grab merchandise, and additional income from booking fees.
Passengers can also look forward to the GrabTrike Premium powered Apé vehicles as it provides comfort and safety with its bigger and sturdier build, plus convenience with its integration into the Grab app.
"Transport modernization has always been in Grab's core. Our goal is to provide a full spectrum of transportation solutions with localized and modernized services for everyday needs, no matter what vehicle they prefer or how short their journey is," shared Brian Cu, Grab Philippines' Country Head. "Through our combined efforts with AutoItalia Philippines, we hope to work with LGUs to improve short-distance commute in more cities in the Philippines while improving driver welfare and passenger experience," added Cu.
The Municipality of Binalonan is the first local government in the country to adopt GrabTrike Premium services, currently using twenty four (24) active Piaggio Apé vehicles. Binalonan is Grab's 12th city in the Philippines. This expansion was made possible through the support of Municipal Mayor Ramon Guico III.
Grab will work with the LGUs to identify covered locations and operations of the GrabTrike Premium service. 
###