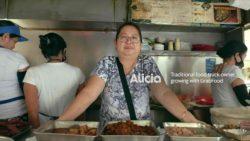 Makati City, one of the Philippines' business districts, is home to many upscale restaurants, bars and cafes that cater to the city's residents and office workers. But what is more appealing to the majority of its working class every time lunch hour hits, are jollijeeps, or traditional food trucks. These tin-enclosed food trucks are widely popular because of their affordable homecooked Filipino favorites.
Many of these jollijeeps are run by enterprising women and one of them is Alicia Laqi. Alicia has been managing her jollijeep since 2018 and if you've explored the streets of Makati, you'll know that the best sisig can be found at her food truck at Rada Street–now known as Sisig sa Rada.
Through the years, word spread about the must-try sisig. Office workers and locals alike would flood the food truck to snag what has become staple Makati comfort food. However, since the jollijeep is only available in Makati, customers from all over the metro tend to miss out on the Sisig sa Rada craze. And for Alicia, that meant expanding her business was challenging since her customers were limited to her "sukis" or the usual office workers who frequent her stand.
All of these changed when jollijeeps began to partner up with GrabFood. With the availability of these homemade favorites on the app, you can now have them delivered straight to your doorstep! No need to wait in line or travel anymore – definitely a big win for the consumers!
But besides fans of jollijeeps, owners definitely benefit from going digital as well. Alicia's sisig sales increased by over Php 2M ever since joining GrabFood – a move towards empowering small business entrepreneurs through technology by leveling the playing field.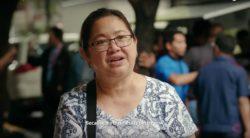 "Because of Grab's technology, we can reach out to so many people, not just in Makati but everywhere. Now,  I have new sets of regular customers that I have never seen. And because business is better now, I can take care of my family, especially now that I have my grandchildren."
As part of our Grab for Good commitment in the Philippines to ensure that everyone is able to benefit from the rise of the digital economy, GrabFood plans to support more traditional businesses like Alicia's jollijeep. Currently, we have helped food trucks like Pork Chop sa Nieva and Nieva and Liempo sa Salcedo expand their customer reach on the app and we intend to reach out to more Alicia's in the Philippines.
Watch more here.