"အားလုံးနှင့်အတူတကွ အနာဂတ်ဟာ စိတ်ချရ" – AIA Myanmar, AYA SOMPO နှင့် AYA ဘဏ်တို့မှ Grab Myanmar နှင့် ပူးပေါင်း၍ COVID-19 ကာလအတွင်း ရန်ကုန်အငှားယာဉ် ၁,၀၀၀ ကို ပိုးသတ်သန့်စင်မည်
၂၀၂၀ ခုနှစ်၊ မေလ၊ (၂၇) ရက် ။ ။"အားလုံးနှင့်အတူတကွ အနာဂတ်ဟာ စိတ်ချရ" ဟူသော ကတိစကား၏ တစ်စိတ်တစ်ပိုင်းအနေဖြင့် ရန်ကုန်မြို့တွင်းမှ အငှားယာဉ်မောင်းများနှင့် ခရီးသည်များကို ကာကွယ်ရန် အတွက် AYA SOMPO, AYA ဘဏ် နှင့် AIA Myanmar တို့မှ Grab Myanmar နှင့် ပူးပေါင်း၍ အငှားယာဉ် အစီးရေ ၁,၀၀၀ အား ပိုးသတ်သန့်စင်ပေးသွားမည်ဖြစ်သည်။ ပြည်သူအများ စိုးရိမ်သောက ကင်းရှင်းပြီး ဘေးကင်းလုံခြုံစွာ ခရီးသွားလာနိုင်ရေးကို ရည်ရွယ်၍ ၂၀၂၀ ခုနှစ် မေလ (၂၄) ရက်မှ စတင်၍ တစ်လအတွင်း တာမွေ၊ ရန်ကင်း၊ လှိုင် နှင့် တောင်ဥက္ကလာပမြို့နယ်များများရှိ ICAR Auto Service Center (၆) ခုတွင် အထူး သန့်စင်ပစ္စည်းများ၊ ကိရိယာများ၊ ကောင်းမွန်စွာ […]
"In This Together for A Safer Tomorrow" - AIA Myanmar, AYA SOMPO and AYA Bank team up with Grab Myanmar to disinfect 1,000 Yangon taxis during COVID-19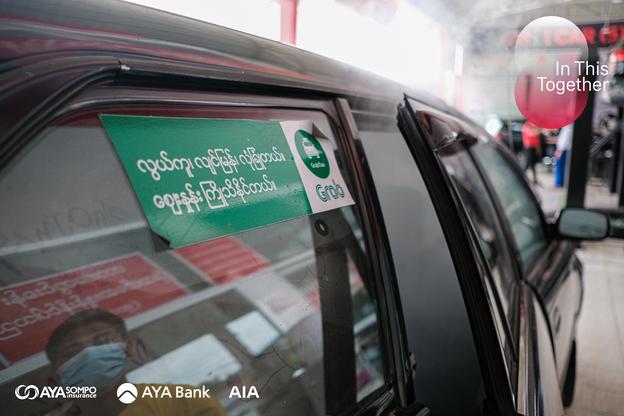 Yangon, Myanmar, 27 May, 2020] –As part of their promise of "In This Together for A Safer Tomorrow, AYA SOMPO, AYA Bank and AIA Myanmar are teaming up with Grab Myanmar to disinfect 1000 taxi with the effort to help protect taxi riders and drivers in Yangon.
With the aim of bringing peace of mind and making commuting safer around the city, Grab taxis here will be disinfected over a period of up to one month starting from 24 May, 2020, at six stations of ICAR Auto Service Centers in different locations including Tamwe, Yankin, Hlaing and South Okkalapa townships with special sanitizing materials, equipment and trained cleaning personnel. For this partnership initiative, AIA Myanmar will contribute to disinfect 500 taxis while AYA SOMPO and AYA Bank will support another 500 taxis in Yangon. 
Despite the lifestyle changes and stay-at-home policy in place to deal with the virus outbreak, many still have to commute for essential activities or work, with healthcare and essential service workers in particular still needing to travel daily. Disinfecting efforts will support these people, the drivers and other members of the public by mitigating virus transmissions and enhancing levels of hygiene within the vehicles.
"Together with AYA SOMPO, AYA Bank and Grab Myanmar, we want to take meaningful action to help our communities stay safe during COVID-19. It is important that people remain safe even as they travel in taxis to conduct their activities. The peace of mind brought by this enhanced measure will not only be for the benefit of commuters but also for the drivers, who crucially support the city's residents every day. In line with our promise of Healthier, Longer, Better, Lives for all, we are committed to helping Myanmar through this period and are pleased to have the opportunity to do our part, " said Mr. Luc Ly, the CEO of AIA Myanmar.
Ms. Cindy Toh, Country Head of GRAB Myanmar said, "We would like to thank AIA Myanmar, AYA Bank and AYA SOMPO for collaborating on this joint initiative to ensure that Grab App driver-partners, daily passengers, and the city's communities at-large, remain better protected through the disinfection efforts of more than 1,000 Grab Taxis. Apart from this program, Grab driver-partners also take personal responsibility in cleaning & sanitizing commonly touched surfaces in their vehicles consistently as part of our service guidelines. It is crucial that we support these drivers who are still serving the city's residents and we also hope that this activity instills public confidence in Grab Taxis as an important mode of transport for their everyday use."
AIA has been an active supporter of community and health efforts through its CSR programs in Myanmar.  AIA organized its AIA KICK and AIA GOAL events in Yangon, which saw Tottenham Hotspur development coaches visit Myanmar to train hundreds of budding youth footballers. AIA also celebrated its 100-year anniversary last year, marking this Centennial in Myanmar with the AIA GO! FOR LIGHT charity 5K run in support of providing solar panels to 100 rural homes in 100 households in Bagan. To find out more about the current CSR activity and other information, please check out the official Facebook Page of AIA Myanmar at https://www.facebook.com/AIA.Myanmar.MM/