From 24/02/2021 to 02/03/2021, Discover the variety of deals in the GrabRewards catalogue and get rewarded for redeeming your favourite treats.
Redeem 3 reward vouchers* from 3 different brands
Get 40% POINTS BACK as equally as 180 points (for Platinum members)
Get 30% POINTS BACK as equally as 135 points (for All other members)
* Each voucher must be worth a minimum value of 150 GrabRewards points. Grab vouchers are not included in this promotion.


Make sure it's 3 different brands!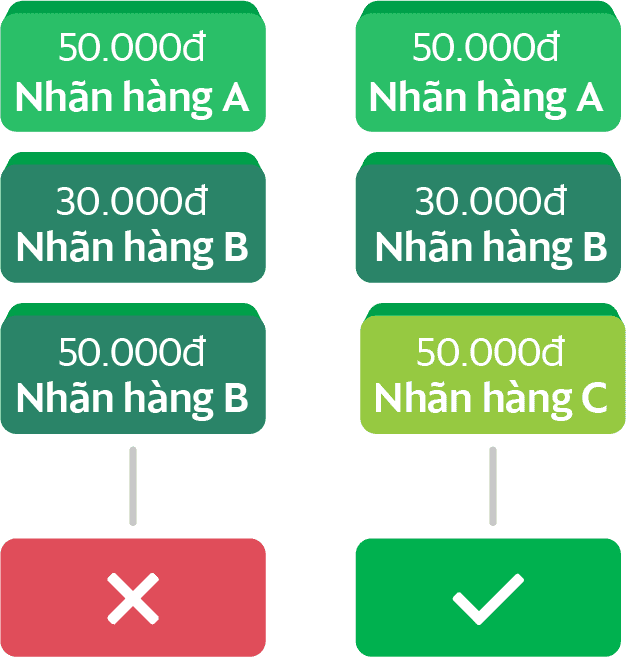 ❎ Ineligible: 50.000đ voucher from Brand A + 10.000đ Brand B + 10.000đ Brand B
✅ Eligible: 50.000đ Brand A + 10.000đ Brand B + 20.000đ Brand C
Terms & Conditions
To qualify for the bonus points, you need to have redemption records of 3 vouchers from 3 different Merchants.

Promotion is only applicable for vouchers redemptions with a minimum value of

150

points.

Bonus can only be redeemed once per GrabRewards user.

Limited redemptions available for the first 13.000

 pax who qualify. Winners will be rewarded on a first-come-first-served basis.

This campaign will run from

24 Feb – 02 Mar 2021.

Redemptions can be made on different days,

user will qualify for the bonus as long as redemptions are made within the campaign period.

Users will be informed of their success via push notification no later than 7 working days after campaign period has concluded. GrabRewards points will be pushed to their accounts, no action needed from user's end.

GrabRewards points received from this campaign do not count towards tier progression.

This promotion is applied for: Rewards from GrabRewards partners, Rewards for mobile top-up, data vouchers & telco cards in Rewards Catalogues
Does not apply for Grab voucher & Flexible redemption (Payment for Grab transactions by GrabRewards points)

Grab reserves the sole and absolute right to alter or end this promotion, without giving prior notice, or compensation in cash or in kind. In case of any disputes directly or indirectly arising from the promotion, the decision of Grab shall be final.

Grab reserves the sole and absolute right to disqualify or reject any participant deemed ineligible for the campaign, be it under these terms and conditions or having engaged in conduct that Grab considers inappropriate or unacceptable.