It's a toss up for Filipinos when it comes to their favourite destination in Southeast Asia, with Malaysia leading over Singapore in a neck-and-neck race. Based on our data from last year, Philippines Grab users booked almost 60% of their overseas rides in these two countries combined.
The findings are part of a broader trend that see Southeast Asians travelling more than ever, many of them within the region. According to the ASEAN Secretariat, intra-ASEAN travellers in 2015 already made up 42 per cent of the region's overall tourist numbers. The intra-Southeast Asian traveller segment today accounts for over 37 million trips, according to Grab market research data.
That's all of you – travelling for work and play. So, to cater to Southeast Asia's road warriors, frequent travellers and savvy trippers, Grab is launching a new suite of travel benefits for Grab Platinum, Gold and Silver users travelling across the region. The programme has signed up more than 150 partners in all of the major airports across Southeast Asia including Manila Airport. Benefits and deals include access to up to 70 lounges in the region, at rates of up to 55% off, and discounts of up to 20% at over 80 F&B partners.
In the Philippines, Grab users can relax at the Plaza Premium Lounge or Wings Transit Lounge in the Manila airport. They can also enjoy discounts at Bo's coffee (Manila and Cebu) as well as Via Mare (Manila).
We launched this based on insights gained from six years of serving travellers in the region, and learning about what you're like. What else did we learn? Read on:
When Filipinos go travelling
Of all the overseas rides taken by Philippines users, 31% were booked in Malaysia and 27% were booked in Singapore.
Shopping is certainly high on the agenda when Philippines Grab users travel. In Malaysia, top pick-up points included Berjaya Times Square and Pavilion in Kuala Lumpur, while in Singapore, Filipinos flocked to Lucky Plaza.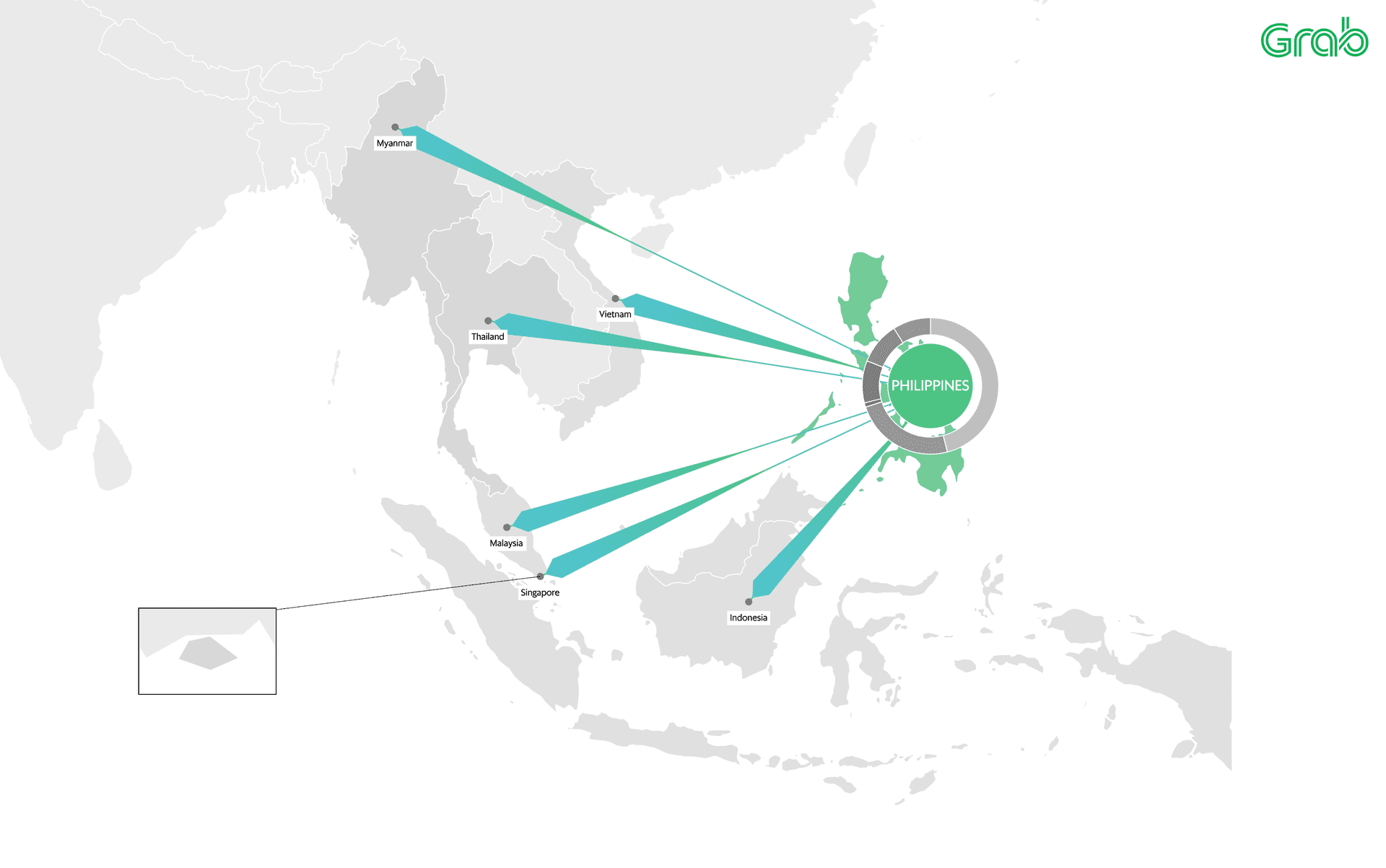 Where do Philippines Grab users visit when they travel? Which are the top pick-up points for tourists in the Philippines? Explore these and more in our interactive map.
When travellers come to the Philippines
In 2017, the Philippines welcomed 6.6 million tourists. Of the Grab bookings made by travellers in the Philippines, almost half were made by Singapore users and another quarter by Malaysia users.
For visitors to the Philippines, the national airport in Manila remained the top pick-up point for all the countries. Hotels and shopping malls were also popular places to get a Grab ride. Interestingly, travellers from Thailand were the only ones who had a favourite pick-up point outside of Manila – the airport in Cebu.
Now, with the infamous traffic in Manila, many travellers appreciate the fixed price of Grab rides. Ms Lim, who visits the Philippines from Malaysia has relied on the Grab app to make his travelling easier.
"In Manila, even if the traffic is bad, you pay a fixed rate with Grab," she said. "And at the airport, you can go to the Grab booth and they can make a booking for you, it's really easy."

Making it easy to travel in the region
Southeast Asia is indeed a melting pot of cultures. It's charming, colourful and diverse but it's not exactly easy navigating the different languages, currencies and infrastructure. And it hits you most when you first arrive in a foreign land.
Here's where Grab helps. For instance, the app localises automatically with the correct maps and rates in local currency, all in the local language. It even shows you what services are available in that city. For example, you can try GrabRemorque in Cambodia, GrabBike in Jakarta, Grab Roddaeng in Thailand or GrabThoneBane in Myanmar.
Grab is now available in more than 336 cities across Cambodia, Indonesia, Malaysia, Myanmar, Philippines, Singapore, Thailand and Vietnam.