One of the best treats of working from home is that you can stay-in and enjoy coziness that comes during rainy season! We hear you! Here are the many ways you can reward yourself with GrabFood's Rainy Day selections. Don't forget to support our local restaurants, our #HomegrownHeroes!
However you're feeling this rainy season, we got something for you!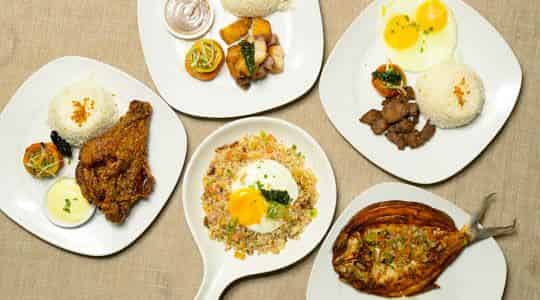 Imagine staying in bed late on a weekend, and grabbing your phone to order your favorite brunch from Kanto Freestyle Breakfast.
Enjoy the comfort of American breakfast Pancakes with Bacon and Eggs, and pair it with Croque Monsieur, Kanto Freestyle's take on the popular French toasted ham and cheese sandwich.
And if it's a real rainy day? They have Filipino comfort food champorado and danggit to add to your feast.
Vegans and vegetarians on the other hand, know that comfort food can be really healthy, too. Try Planted by The Pantree's Vegan Chorizo rice bowl, breakfast wraps, or choose from any of their combo snacks, like Corned Beet Burger + Sweet Potato Fries.
Now, you can totally go snacking guilt-free.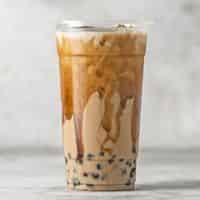 Recent studies have shown that working from home has increased employee productivity.
Don't forget to balance all that hard work with regular exercise and healthy meals, so you can maintain your good health in these uncertain times.
 If you want to give in to your cravings, there's HighTea – Vito Cruz and SweetTea – Santa Ana for your milk tea favorites. Go for their Classic Milk Tea flavors, or try SweetTea's Matcha and Salted Caramel Milkteas with free pearls.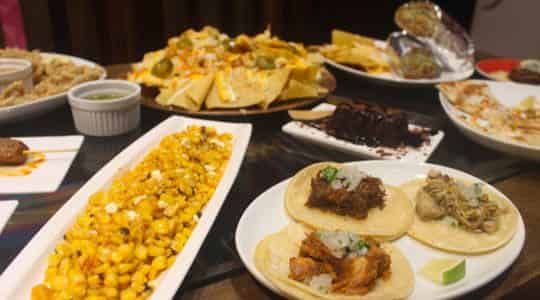 If you're a real foodie, I'm sure you already miss going places and trying the best meals you can find. 
But even at this time, we can still do a bit of traveling by way of our palates, and try some favorite foreign dishes served by local restaurants.
A'Toda Madre is best known for its huge selection of tequilas, and their yummy tacos. Get a taste of their Tacos with Barbacoa, Burrito Grande with Carnitas, and Quesadillas. Pair these with their Margarita flavors, or have a go at any of their Cocteles Traditional or Moderno. 
Flavours Authentic Indian Cuisine – Mascardo delivers authentic Indian food. Get their appetizers from the usual Samosa, to Paneer Pakoda. Order their healthy, flavorful and filling Tikkas and Dals. If you're new to Indian food, you can never go wrong with a satisfying Chicken Tikka Masala, a Garlic Naan, and Chicken Samosas with chutney.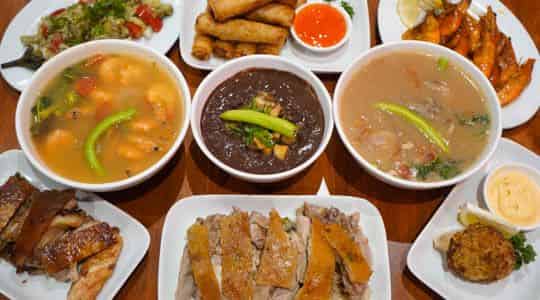 Simplehan naman natin! Stay at home on a rainy day with your Pinoy favorite comfort foods!
Ready?
There's always Zubuchon, Goto Panalo, Best Friends – Pares, Sinigang, Bulalo, and Pat-Pat's Kansi to keep you company. No need to tell you their specialties as these are just some of the metro go-to for Filipino favorites.
And how about a feast at home with the family? Boodle fight servings are ready for delivery with Yumboss Putok Batok's Barkada Fiesta Booble choices! There's Hipon, Crab, Pusit (squid), Kare-Kare, and Liempo among others! You'll be able to really pig out in the comforts of your home!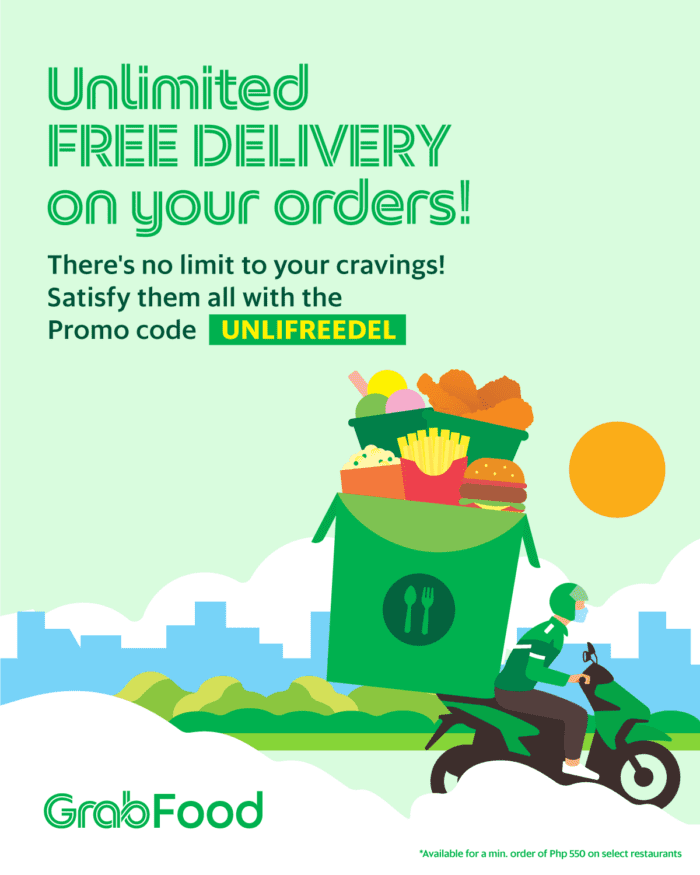 And as always, be on the lookout for the newest GrabFood promos! Use code UNLIFREEDEL for minimum orders of P550 on selected merchants.
Until the next #GrabContactless Delivery!