Enjoy the flexibility of having a dedicated driver to take you wherever you need to go, when you need it. Perfect for days to when you need to make multiple trips in town.

Transparent, fixed fares upfront Know the exact fare before you book your ride. 

No pre-booking required Get a GrabTaxi with a dedicated driver on-demand for a duration of your choice. 

Variety of rental packagesChoose your destinations and durations – and flex your travels around you.

Competitive market rates All packages are priced comparable to market rates.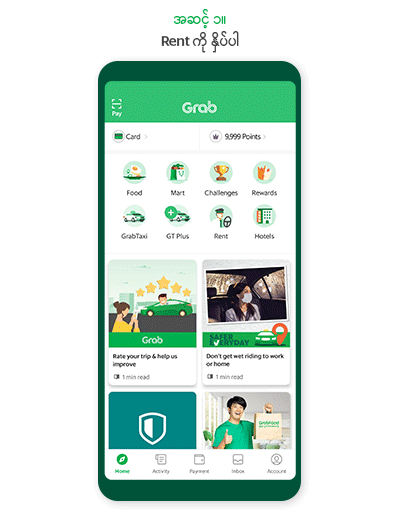 Package and fares (MMK)
Yangon area only (2 Hrs) – 12,000
Yangon area only (4 Hrs) – 22,000
Yangon area only (6 Hrs) – 30,000
Overtime fare: MMK 400 per 5 mins after booking duration.
Frequently Asked Questions
Rent is a new transportation offering by Grab that allows you to Rent a GrabTaxi for a selected duration of time for travels in-town. The driver will stay dedicated to you throughout your booking period and will make as many stopovers as needed.
Tap 'Rent' icon in Grab App Homepage and choose your preferred booking package to rent a ride.
To ensure the safety during this time, there is a limitation of 3 passengers per GrabTaxi.  For parties having more passengers allowed, an additional Rent vehicle is needed.