When you need a package to be delivered from one location to another directly, you'll require a fast, reliable and safe delivery service. Try GrabFlash [beta]: our on-demand delivery service.
Enjoy these benefits of GrabFlash [beta]:

Instant: Book your biker only when you need it. There are no pre-committed fees.

Affordable: The fare of your delivery is shown upfront, and is based on the distance the delivery partner has to travel. The basic fare starts from MMK 2,500 only.

Multiple deliveries: Allow up to 10 recipients in 1 delivery.

Real time location tracking: Share your ride with your recipients and track your parcel in real time together.
Our delivery fleet has hundreds of bikers in Yangon and Mandalay and are well-trained to handle your items with care. 
The maximum size of the package is up  to 35 cm high x 35cm long x 35 cm wide, and 10 kg in weight in total. 
GrabFlash [beta] is an extended service from Grab with the same independent delivery-partners for our GrabFood service. GrabFlash [beta] allows our delivery-partners to improve their earning opportunities by allowing them to assist customers and small businesses with their needs for deliveries within Yangon.
How to book GrabFlash [beta]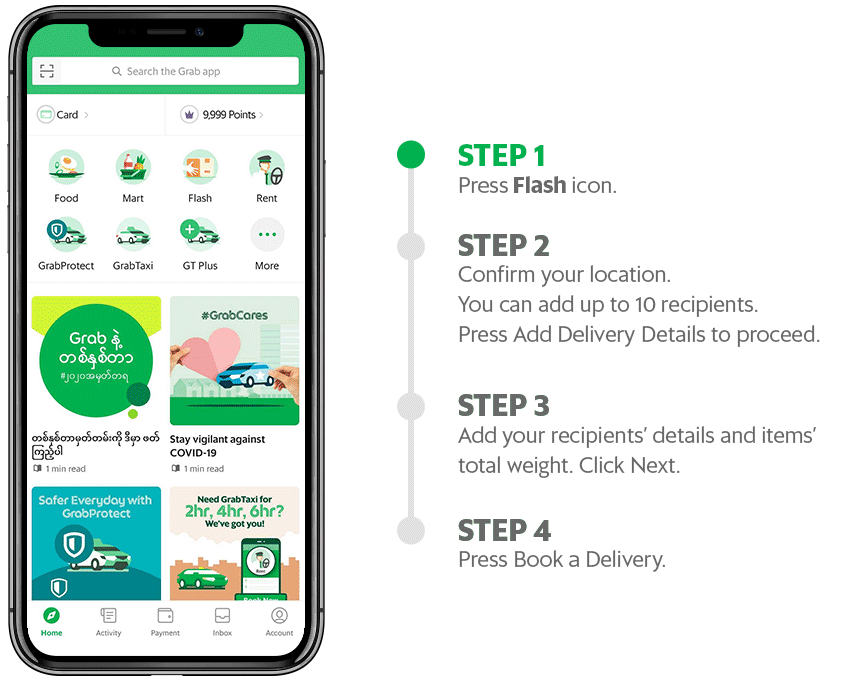 Frequently Asked Questions