Dear GrabFood Merchant-Partner,
As we continue to operate during the Enhanced Community Quarantine, we hope you and your staff continue to be healthy and safe. We are truly humbled by your continued service during this trying period.
To help everyone go through this trying time, we are extending the following support measures for the payment of your invoiced Service Fee:
1) Deferred Payment of 100% of March 2020 Service Fees if you upgrade to our Preferred Merchant Model ASAP
If you are able to upgrade to our Preferred Merchant Model before May 13, 2020, we will institute a payment holiday by deferring 100% of March 1-31, 2020 payables until June 1, 2020 (subject to change depending on ECQ status). Partner merchants who have upgraded already benefit from:
Higher Sales due to better fulfilment. On average, merchants on the Preferred Merchant model see more reliability in the completion of their orders. This potentially means an increase in sales of as much as 30-50% simply by upgrading, due to better reliability.
Takeout/Pick-Up Enabled. When on the Preferred Merchant model, this feature can be enabled to help increase sales.
Guaranteed Daily Pay-outs. GrabFood will pay out daily sales minus your Service Fee every day. Unlike other platforms that pay monthly/weekly, you will receive direct pay-outs

DAILY

.
Payments/Accounting Simplified. No more monthly invoices as payouts are automatically credited daily, (2 banking days for clearing for non-BDO accounts) for the previous day's sales, direct to your registered bank account, with your Service Fee automatically deducted.
Requirements to upgrade have been SIMPLIFIED to the simple submission of:
Bank statement
Valid ID
Signed Preferred Merchant contract
For the purpose of expediting conversion, we have identified the bare minimum documents that need to be submitted, but complete document requirements must be submitted by the end of June 30, 2020, If not, cash outs will be paused until complete documents are submitted. You may also choose to submit complete documentation now to avoid this in the future.
---
FOR MORE DETAILS: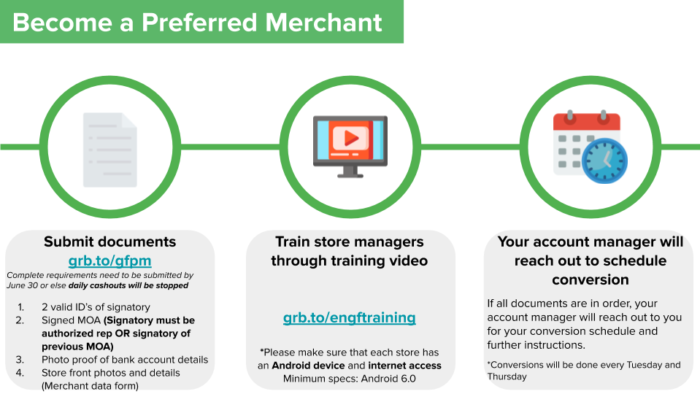 ****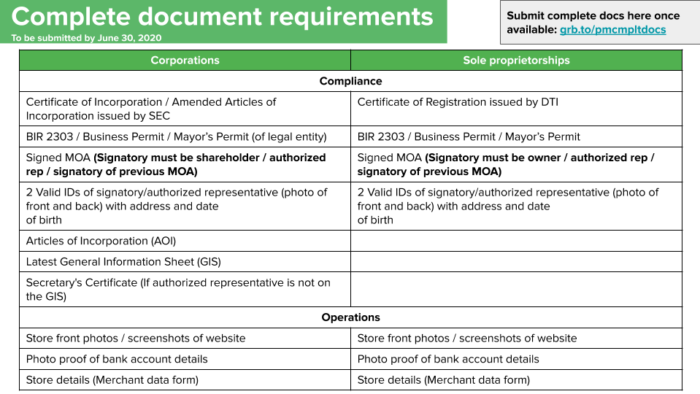 ****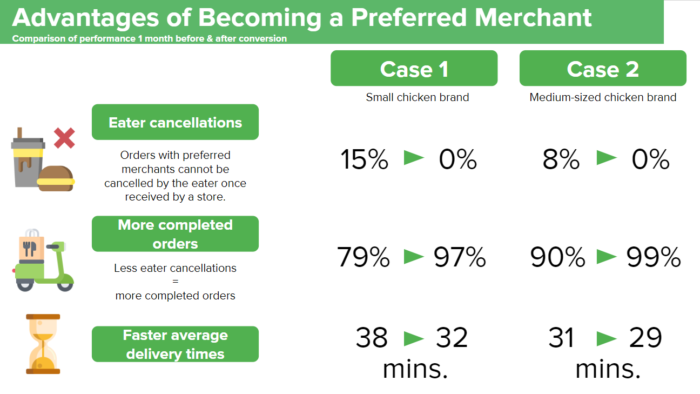 2) Deferred Payment for 25% of your Service Fee to remain on the Concierge Model:
Please fill out this form if you prefer Pay Now option: Grb.to/paynow
For payables invoiced for the service period of March 1-31, 2020, we are offering deferred payment of up to 25% of the amount owed. This 25% will be collected at a later date, after ECQ is lifted. [Payment Instructions here]
General Reminder: For your outstanding Service Fees for services rendered before March 1, 2020 (for all months), please contact gf.ph.collection@grab.com.
*Merchant Partners who are unable to select either of the two options presented may be subject to temporary suspension starting on May 13, 2020.
Please know that the team continues to work around-the-clock to ensure that our service, despite current operational constraints, operates as reliably and efficiently as possible, with the goal of continuing to support the livelihoods of as many of our merchant and delivery-partners as much as we can.
We thank you for your kind understanding and continued support. Stay safe, everyone!