Free delivery every day with GrabUnlimited
Subscribe to GrabUnlimited to enjoy free delivery every day, exclusive promos, and more!
Always on the hunt for promos, vouchers, and other ways to save on food delivery? Look no further! Discover the best ways to save on GrabFood with the GrabUnlimited subscription plan.
With GrabUnlimited, you'll get FREE delivery every day on your GrabFood orders (from any restaurant) with a minimum spend of ₱600. Whether it's a discounted item on the menu or a promo code you enter at checkout, you can also stack other GrabFood vouchers on top of the GrabUnlimited free delivery to save even more on your orders! As a GrabUnlimited subscriber, you can save up to ₱1,800 every month!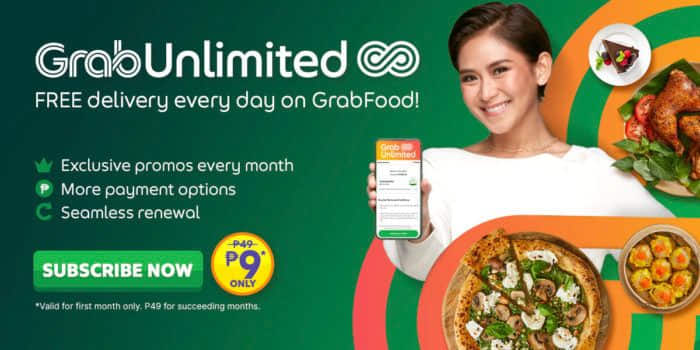 But wait, there's more! In case you need more reasons to subscribe, with GrabUnlimited you can: 
Enjoy exclusive promos:

This includes better deals on GrabFood, GrabMart, GrabCar, and GrabExpress, only for GrabUnlimited subscribers!

Use your preferred payment option:

You can purchase the GrabUnlimited plan using either your GrabPay wallet, or by linking your debit/credit card. 

Experience seamless, hassle-free renewal:

Your GrabUnlimited plan will auto-renew at the end of every month as long as you have sufficient balance in your wallet. 
Try out GrabUnlimited and take advantage of all these benefits for only ₱9! That's right, new subscribers can get their first month of GrabUnlimited at a discounted price of ₱9. After the first month, you can renew your subscription monthly for ₱49. 
How to subscribe in three easy steps:
Step 1: On the Grab app home screen, scroll through the icons until you find "Offers".
Step 2: On the "Offers" page, select the "Subscriptions" icon. 
Step 3: Click on the "GrabUnlimited" card and purchase the plan.
What are you waiting for? Subscribe to GrabUnlimited today and enjoy all the 
new ways you can save!