12 June 2019, 12:01am to 11:59pm
Promocode GP10XREWARDS
We are currently facing high traffic on our partner's website, Sharetreats.ph. If the page does not load successfully, please try again at a later time. We are working to make it better, and we apologise for the inconvenience caused.
How does it work?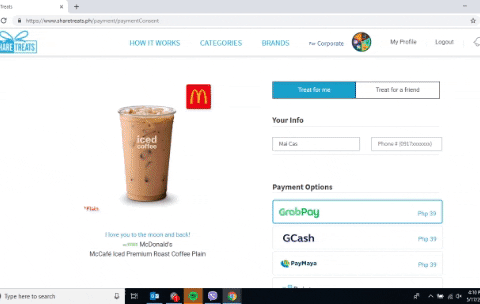 1. Select a product up to P400 on Sharetreats.ph
2. Choose to check out with GrabPay and enter promocode GP10XREWARDS.
3. Enter your Grab-registered mobile number.
4. Enter the 6-digit code you'll receive in your Grab notification.
5. Confirm transaction.
6. You or your recipient will receive an sms with the voucher code
to redeem the treat in merchant stores.
Learn more about GrabPay
here
.
---
Terms and Conditions:
P77 site wide sale will be available on www.sharetreats.ph on 12 June 2019 from 0001h to 2359h.

Each user and mobile number is limited to one P77 promo purchase.

User must check out using GrabPay and apply Promocode "GP10XREWARDS".

Only applicable for treats up to and including P400.

Terms and conditions of Sharetreats apply.

This terms and conditions shall be governed by the laws of the Philippines and any dispute arising out of or in connection with promotion shall be referred to the exclusive jurisdiction of courts of the Philippines.

This promotion is not valid with other GrabPay promotions.
Other T&Cs apply.

Per DTI FTEB Permit No. 11099 Series of 2019.