The Grab Petron Value Card allows you to earn points for every purchase made at participating Petron establishments. Accumulated points may be redeemed at provisionally 600 Petron service stations nationwide.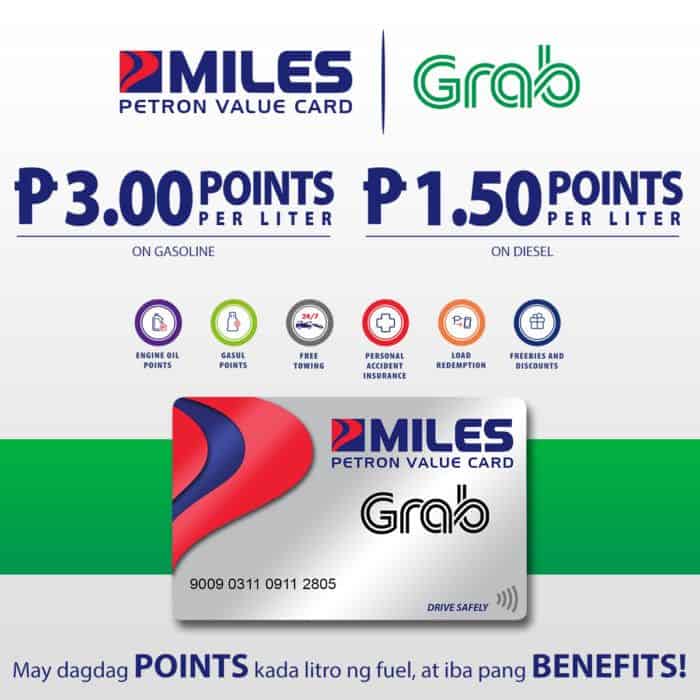 What does the Grab Petron Value Card give me?
Points you can use like cash. Each time you buy Petron products using cash or credit card, you can use the Grab Petron Value Card to get points.
Cash Back for Grab Drivers. Apart from points, Grab drivers get an additional "cash back" discount whenever buying fuel.
Frequent Visit Bonus Points. On every 5th visit (5th, 10th, 15th, etc.,) you get additional points, depending on your total accumulated purchase for the past 5 days.
Bonus Points on Your Birthday! Gas up within five days from your birthday, and get bonus points!
Many more extra benefits:
Free 24/7 Towing and Roadside Assistance (limited to four-wheel cars only)
Free Personal Accident Insurance Coverage
₱ 10,000 for Accidental Death, and
₱ 1,000 Medical Reimbursement
Privileges at Partner Establishments​ — just show your card!
View points and transaction history on the Petron Value Card Mobile App