Running a business is not always a bed of roses. While it can be argued that it's a little easier nowadays due to the wealth of resources available to starting entrepreneurs, there are still plenty of struggles that nascent businesses face every day.
For example, plenty of couriers offer discounted business rates—but only under certain requirements that small-time entrepreneurs might find difficult to fulfill. With the high cost of shipping, online sellers might be compelled to increase the cost of their products and therefore lose out on potential customers.
Packaging can also be a concern, especially if the product is food or similar items that need special handling. Not all delivery companies are equipped to handle these jobs, and those that are may, again, only do the job in exchange for higher service prices.
Thankfully, there are now modern solutions for this exact seller problem. With companies like Grab stepping up with business-oriented, enterprise-class innovations, micro, small, and medium-sized enterprises (MSMEs) now have access to the right diskarte that they can use not only to provide affordable and reliable delivery services to their customers, but also to help them save money, especially now when the country is facing huge economic challenges due to the ongoing pandemic.
Grab started out as a taxi booking service in the Philippines, but it has since branched out to become a more comprehensive transport network vehicle service (TNVS). In 2018, Grab introduced their courier on-demand service, GrabExpress. It was initially launched in Singapore for testing, but it didn't take long for the service to make its way to the Philippines. It also used to be a customer-to-customer solution (e.g., when a person sends a gift or a package to a loved one), but its potential as a business tool wasn't lost on both Grab and its partner entrepreneurs.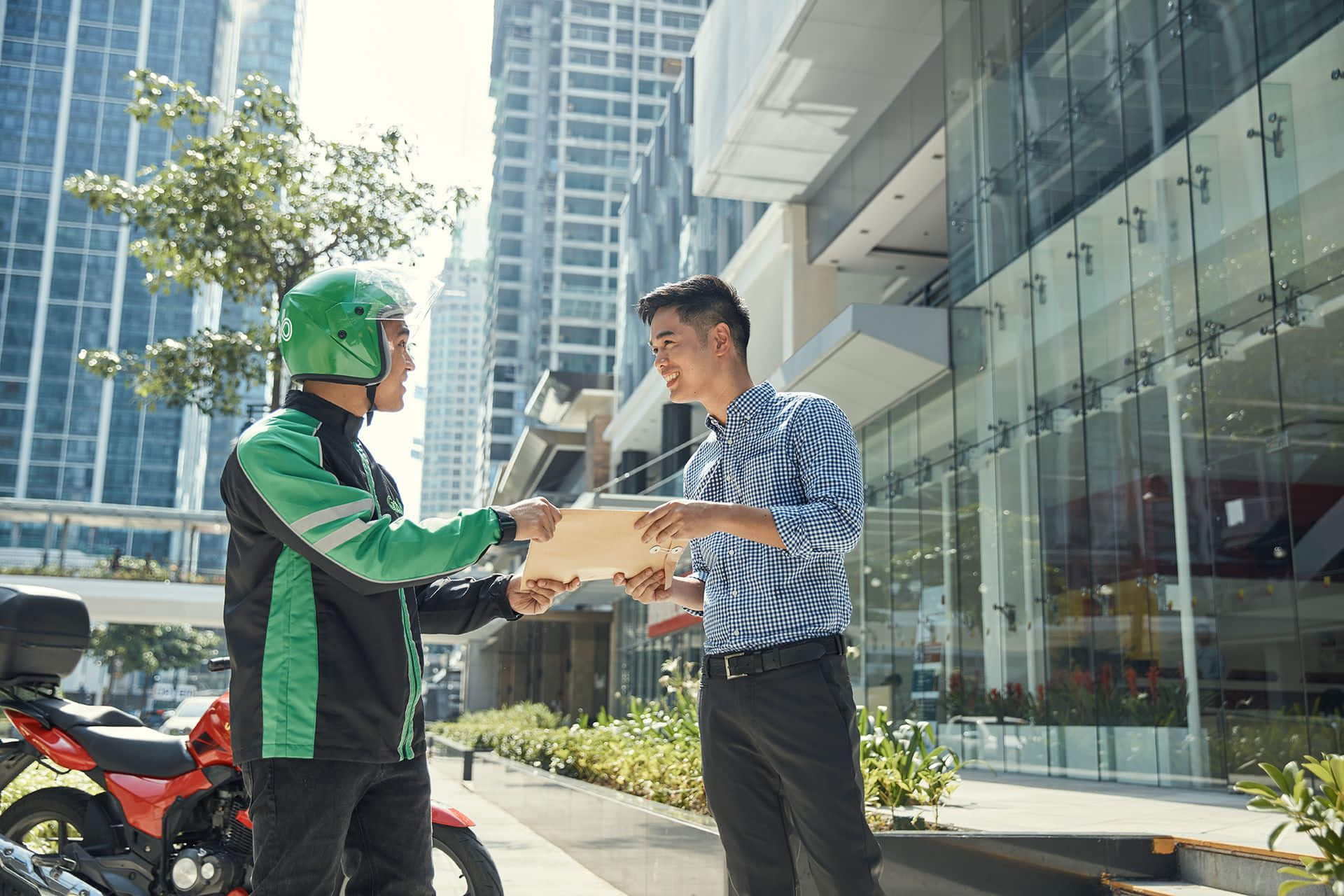 Not All Delivery Service Providers Are Created Equal
Indeed, the introduction of GrabExpress has made life easier for many independent online sellers. GrabExpress is the obvious choice if you're looking to avoid the long delivery times of traditional couriers, and the fact that it has expanded to many places around the Philippines has been a boon to many business owners. Currently, GrabExpress operates in the following areas:
Metro Manila
The provinces of Rizal, Bulacan, Cavite, Laguna, Pampanga, Tarlac, and Albay
The cities of Baguio, Olongapo, Lipa, Metro Cebu, Iloilo, Bacolod, Tacloban, Dumaguete, Davao, Cagayan de Oro, Metro Zamboanga, General Santos, and Butuan.
Grab drivers pick up parcels directly, and they deliver it within the same day—often within an hour.
Not only is GrabExpress fast and convenient, it's also safe and secure. This is thanks to Grab Padala Protection, which provides all customers with insurance of up to Php 10,000 for as low as Php 59 per delivery. Other couriers simply don't offer this level of protection at this price point.
GrabExpress also utilizes Grab's real-time tracking tool, which means both sellers and buyers can monitor the package's current location. Moreover, the Grab ecosystem also requires drivers to show proof of pick-up and drop-off, which serves as documentation that the parcel is in good shape and is being transported as arranged. Of course, Grab also provides their delivery partners with best-in-class training so customers can count on excellent services with every booking.
Grab Madiskarteng Boss Cub
More recently, Grab Philippines also introduced Grab Madiskarteng Boss Club or MBC, one of the fastest-growing rewards and loyalty programs for online entrepreneurs in the country. Through GrabExpress, small business owners who are members of MBC can enjoy numerous benefits that they can use as diskarte in order to transform their business, to keep it growing, and to keep providing exemplary delivery services to their customers.
If you're a business owner—and especially a madiskarteng online seller who's looking for a reliable partner in growth, GrabExpress is definitely one that you can count on. Here are just some of the exclusive perks that might just convince you to make the switch today:
1.) Unlike Most Other Delivery Service Providers, GrabExpress Offers Cashbacks and Other Rewards
Using GrabExpress entitles business owners to cashback rewards worth up to PHP 700 weekly, depending on the type of services they use. It might not seem a lot at first glance, but when you have multiple deliveries every day, you'll realize how much you'll be able to save with these rewards. Besides, as a business owner, every single peso counts. These savings can then be allocated for other business expenses.
The cashback is awarded through GrabRewards, where you can also avail yourself of even more promos that can help you save even more money—all while providing the excellent delivery services your loyal customers deserve.
Other couriers offer rewards as well, but these are often given only to their drivers. Another thing that sets GrabExpress apart is the simplicity of the program. There are no complicated requirements to fulfill—just book a delivery and you'll get cashbacks instantly. Best of all, membership to Grab Madiskarteng Boss Club is completely free!
2.) GrabExpress Has Referral Rewards, Which Aren't Offered by Most Other Service Providers
Speaking of rewards, MBC has a referral program called Refer a Boss where you can earn discounts for up to four GrabExpress rides. These are apart from the PHP 15 cashback that you'll receive for every delivery booked during your first month of membership. You can sign up here to be an MBC member. You'll then receive a referral code, which you can then share with other madiskarteng bosses.
To earn your Refer a Boss rewards, all you have to do is to book one GrabExpress ride before the second Monday after receiving the MBC Welcome SMS. Every successful referral will net you PHP 50 off for four GrabExpress bookings. You will receive these rewards every Wednesday. Meanwhile, your invitees will receive PHP 50 off vouchers for two GrabExpress rides upon signing up with MBC with your referral code. In short, everybody wins!
3.) GrabExpress Has 48-Hour Cash on Delivery Settlement—No Other Service Provider Remits This Quickly
Despite the increasing popularity of cashless and digital payments in the Philippines, a huge chunk of Filipino customers still prefers cash transactions. As such, sellers who offer cash on delivery or COD as a mode of payment have a bigger potential to attract more customers.
With GrabExpress, you'll have access to COD as a member of MBC. Just sign up via this registration page and complete at least 10 GrabExpress bookings to qualify. Once your application is approved, you can start offering COD to your customers. When booking, just toggle the Cash on Delivery button on the recipient page and then input your desired COD amount (the maximum is PHP 5,000). Then, choose GrabExpress Instant COD.
What's great about GrabExpress COD is that compared to other couriers, it has the fastest remittance or settlement time in the market. After you book the service and the delivery is completed, the amount will be transferred to your preferred bank account within just 2 working days! With earlier access to your money, it's also easier to plan your business expenses.
4.) Unlike Traditional Couriers, GrabExpress Offers Instant and Same-Day Delivery Services
These days, when it comes to online selling, instant gratification is the name of the game. The sooner you can deliver a customer's order, the better. Some traditional couriers can offer next-day delivery in Metro Manila and adjacent provinces. But what if the customer really needs (or wants) to receive the purchase right now? For that, you'll need an instant delivery service.
Good thing GrabExpress has a variety of delivery solutions that are immediately available to members of Grab MBC! Here are some of them:

GrabExpress Instant – Motorbike
If you're looking for a reliable door-to-door delivery solution for delivering orders to nearby customers within 1 hour, this is likely the best choice for you. This service uses motorbikes and takes advantage of GrabExpress's modern logistics technologies so you'll always know where your package is and when it is arriving.

GrabExpress Instant – Motorbike (Bagged)
You can also take advantage of the MBC-exclusive GrabExpress Instant – Motorbike (Bagged) service for door-to-door deliveries that require extra protection. If, for example, you're delivering fragile products, perishable food that you need to keep out of the sun, or delicate items that you don't want to get wet in the rain, this service is the one you should choose. The insulated bag is a definite upgrade from the standard motorbike service.

GrabExpress Instant – Bike
This service is perfect for when you need to deliver small items and within short distances only. GrabExpress driver-partners use bicycles, too, which means less carbon footprint for your deliveries.

GrabExpress Instant – Multi-Stop Delivery
Booking two or more GrabExpress rides can be time-consuming and cost-inefficient. That's why GrabExpress introduced MSD or Multi-Stop Delivery. With this feature, you have the option to add multiple drop-off points with just one order. Even better, you can arrange the delivery sequence to optimize routes and delivery times.

With GrabExpress, you can offer not just COD but also same-day deliveries at much more affordable price points. The system will determine the orders that can be delivered in one batch based on their locations. These will be assigned to just one driver, and the delivery time window is 4 hours. Best of all, this  service is much more affordable than GrabExpress instant delivery services—perfect for when you have customers who desire a cheaper alternative.

This new service from GrabExpress allows you to book a sedan to deliver bulky items or parcels that can't be carried by motorcycles or bicycles.

If you need an even bigger vehicle than a sedan for your deliveries, you should choose this service, which uses multi-purpose vehicles.
On top of these, you can also opt for the NinjaOnGrab service for nationwide deliveries. Don't worry because your packages are still insured up to Php 2,000!
5.) You Can Receive Insights and Tips from the Pros and from Your Fellow Entrepreneurs Because MBC Is a Community.
As an online seller, it's important to always be learning so you can also continue to improve your business. With GrabExpress and Madiskarteng Boss Club, you'll be part of an exclusive community of entrepreneurs who can inspire you with their stories of success. As they say, when you're surrounded by like-minded individuals, you can be influenced by their good habits while also inspiring you to become more creative and to feel more confident in what you do.
GrabExpress and MBC also regularly conduct exclusive events such as webinars and learning sessions where you can get to know other entrepreneurs and industry experts. These can help you stay updated with the latest trends, best practices, and technological innovations, which can then help you build and grow your business further. You can also attend mixers and other similar events so you can expand your network and find new partners.
In short, with GrabExpress, you're not just getting the usual courier services. You're also getting educational and self-development opportunities that will make you a better entrepreneur.
6.) GrabExpress Lets You Book Deliveries via a Dedicated Web Portal
Smartphones are incredible pieces of technology. Indeed, with the right apps, you can run your business exclusively through a phone. This, among many other reasons, is why Grab makes every effort to ensure that the app is easy to use and looks great on smartphone screens.
Still, there are business owners who prefer to use desktops or laptops to conduct their business transactions. With bigger screens, faster internet connections via LAN, not to mention larger keyboards, certain quality-of-life aspects can definitely be better on these devices.
If you're the desktop/laptop-user type, don't worry—you can still use GrabExpress and use all of its services through the web booking portal. The same can't be said about other couriers, who only provide mobile-exclusive apps or only have physical stores where you have to drop off your deliveries.
The GrabExpress Web Portal has all the features of the mobile app, with the above-mentioned comforts as a bonus. This is also ideal for MSME owners whose smartphones may not be compatible with the latest OS and software versions. You can also pin your store location on the GrabExpress map, making your business easier to find for our Grab riders.
7.) With GrabExpress, You Can Capitalize on User Trust and Familiarity—Something You Can't Do with Fly-By-Night Courier Companies
GrabExpress might be a young company when compared to other more established couriers and instant delivery service providers, but that doesn't equate to the level and quality of experience you can expect from this provider, especially because it is part of the Grab family. 
In fact, as of 2019, Grab has traveled more than 300 billion kilometers in the Philippines. Meanwhile, GrabFood has sold 1.8 million cups of milk tea, 600,000 orders of chicken, and millions upon millions of burgers. GrabPay also continues to enjoy a growing user base every year. These are just a few significant statistics that show the growth of Grab through the years.
In short, Grab has entrenched itself to become one of the most well-known and most trusted brands in the digital service space in the Philippines. Filipinos know about Grab and are more than willing to use it for deliveries, food orders, and more. More importantly, based on these numbers, customers already trust the brand to provide a high level of service every time. As such, if your business also uses Grab to fulfill their orders, then the same level of trust and confidence can be reflected onto your own business. This is particularly important, especially if you're only starting and working on building your credibility.
On your end, it's also likely that you've already used Grab as a consumer. This means that there's little to no adjustments when you shift to using the GrabExpress ecosystem for your business.
Running a business and being your own boss is definitely fulfilling but it can also be challenging. Without the right tools and diskarte, you might have a harder time than most to succeed. Luckily, you have GrabExpress that's not just a delivery partner but also a growth partner for your online business.
Good luck and more power to your business endeavors!