We understand how frustrating cancellations are for everyone — whether for a passenger whose time was wasted or for a driver who already spent fuel and effort to get to the pick-up point.
As part of our #BetterEveryday commitment, Grab continues to intensify its efforts to further reduce cancellations by promoting responsible use of its services. Here are the following updates on our Cancellation Policy that may affect you.:
Passenger Timeout
After excessive cancellations, your  account may temporarily be suspended for 24 hours.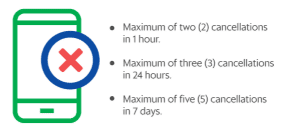 No charges for the long wait
If your driver is taking too long to arrive (expected travel time + 15 minutes), or isn't making much progress to your pickup location, you will not be charged for cancelling the ride.
There are of course corrective actions for our driver-partners to encourage better service for passengers..
Driver's Star Rating (Completion Rate)

Just like passengers, Grab drivers are also tiered as either Platinum, Gold, Silver or Member. Drivers are penalized if they go below the required completion rate. If a driver cancels on you, it reduces their Star Rating which also heavily affects their incentives. Completion rate is computed Driver's on their completed bookings, cancellation rates and ignored jobs.

Driver Timeout

If a driver excessively ignores or cancels booking requests, they are locked out of the platform for a temporary period of time.

Ratings and Complaints Analysis

Drivers with passenger complaints and low star ratings are also flagged. Grab gives out warnings, and suspends or eventually bans drivers over repeat offenses.
At the same time, to further protect you, we have also considered the following situations where cancellation fees are waived:
1. No fee if passenger cancels within 5 minutes of getting assigned a driver.
2. No fee if the driver isn't moving towards the pick-up point (or going the wrong direction)
3. No fee if the driver takes 15 minutes longer than the first estimated time of arrival (for example, if the passenger gets a driver who is 3 minutes away, but he or she has waited more than 18 minutes for the driver to arrive, the cancellation is free)
4. No fee if the driver indicates that he has arrived when he or she has not
5. Grab may refund any fees that were charged wrongly within 48 hours when reported via the Help Centre.
A community of responsible passengers and drivers will help reduce unreasonable cancellations as everyone gets to enjoy a #BetterEveryday Grab experience.
For urgent concerns or issues on cancellation, you may reach out via Grab Help Center.