Your food cravings – near or far – can now be satisfied with GrabFood Long Distance!
Are you from Makati missing the yummy wings of Frankie's or the savory burgers of MOS Burger? Or maybe you're from the northern part of Metro Manila and unsure of how to get a hold of your favorites from Wildflour or Angrydobo? No matter where you are, we know the struggles of being in a long distance relationship with your cravings. That's why we're bringing them closer to you via GrabFood's new Long Distance Feature!
Head over to your Grab app and check out the Long Distance Delivery tile under the GrabFood home page to access your favorites! Consumers can easily track the arrival of their orders through the indicated estimate time of delivery based on distance.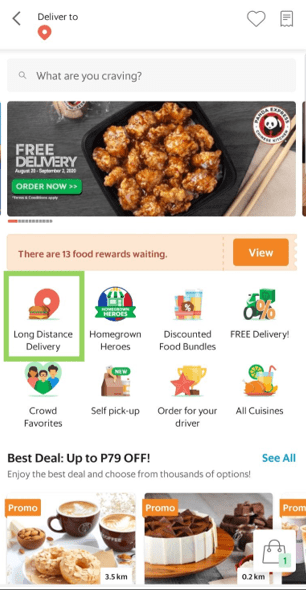 Not only does the platform allow accessibility and service to more consumers, our merchant-partners are also given the opportunity to improve their livelihood and increase revenue. On the other hand, to further aid our delivery partners, an increase in delivery free for Long Distance orders will also be implemented.
"We are doubling down on our promise to give Filipinos the food they love by going beyond the distance. Through GrabFood's Long Distance feature, we open more delicious possibilities for consumers to enjoy, and at the same time support our merchant partners and delivery-rider partners in the process," said GrabFood Philippines Head EJ Dela Vega.
What are you waiting for? Satisfy your cravings, from near or far, with GrabFood Long Distance!
---
Frequently Asked Questions:
1. Why is my delivery fee more expensive?
The increased delivery is for longer distance trips. Since the restaurant that you are ordering from is located much farther, you will need to pay for a higher delivery fee to properly compensate our partner-riders.
2. How is my delivery fee computed?
The delivery fee is computed using a system generated engine that estimates the distance between your delivery location and the restaurant that you are ordering from.
3. Are all restaurants available for long distance delivery?
Not all restaurants are available for long distance delivery, but we continue to update our platform to enable more restaurants for long distance delivery. Please check GrabFood from time to time to get updated on new options.
4. How far can I order from a long distance-enabled restaurant?
Currently you can order up to 10KM radius for long-distance orders.
5. How can I be ensured of the quality of my orders?
Our partner riders will do our best to delivery it properly to you, but due to longer distance the quality of the food might not be the same as the one in-store.
6. Will this affect the delivery time?
Given the longer distance, expect delivery time to increase. But rest assured that the food prep time will remain the same.