GrabExpress is now present in Pampanga, Bacolod, Davao, and Iloilo with GrabExpress Instant (on-demand delivery service) and GrabExpress Pabili (on-demand pabili service). GrabExpress aims to assist Grab users and essential businesses with their delivery needs amid the COVID situation in the Philippines.
To use, just open the Grab app and select the Delivery option. Key in your sender details and recipient details. Choose between GrabExpress Instant or GrabExpress Pabili and then confirm your booking to get allocated a Grab rider.
For online sellers, sign-up your business to our GrabExpress Madiskarteng Boss Club to get exclusive rewards, rebates, and promos. For business partnerships, you may e-mail corpsales.ph@grab.com.
GrabExpress Instant
GrabExpress is an on-demand delivery service that provides users with the convenience of booking deliveries with a few quick clicks. Send essential items such as food, medical supplies, and essential documents instantly and track your delivery in real-time. The service starts at P49.00 pesos per delivery.
For small businesses that require delivery of multiple orders,  GrabExpress Instant has a Multi-Stop Booking Feature that lets them add up to 7 destinations under 1 GrabExpress booking, and a Multi Concurrent Booking Feature that allows up to 10 GrabExpress bookings at the same time.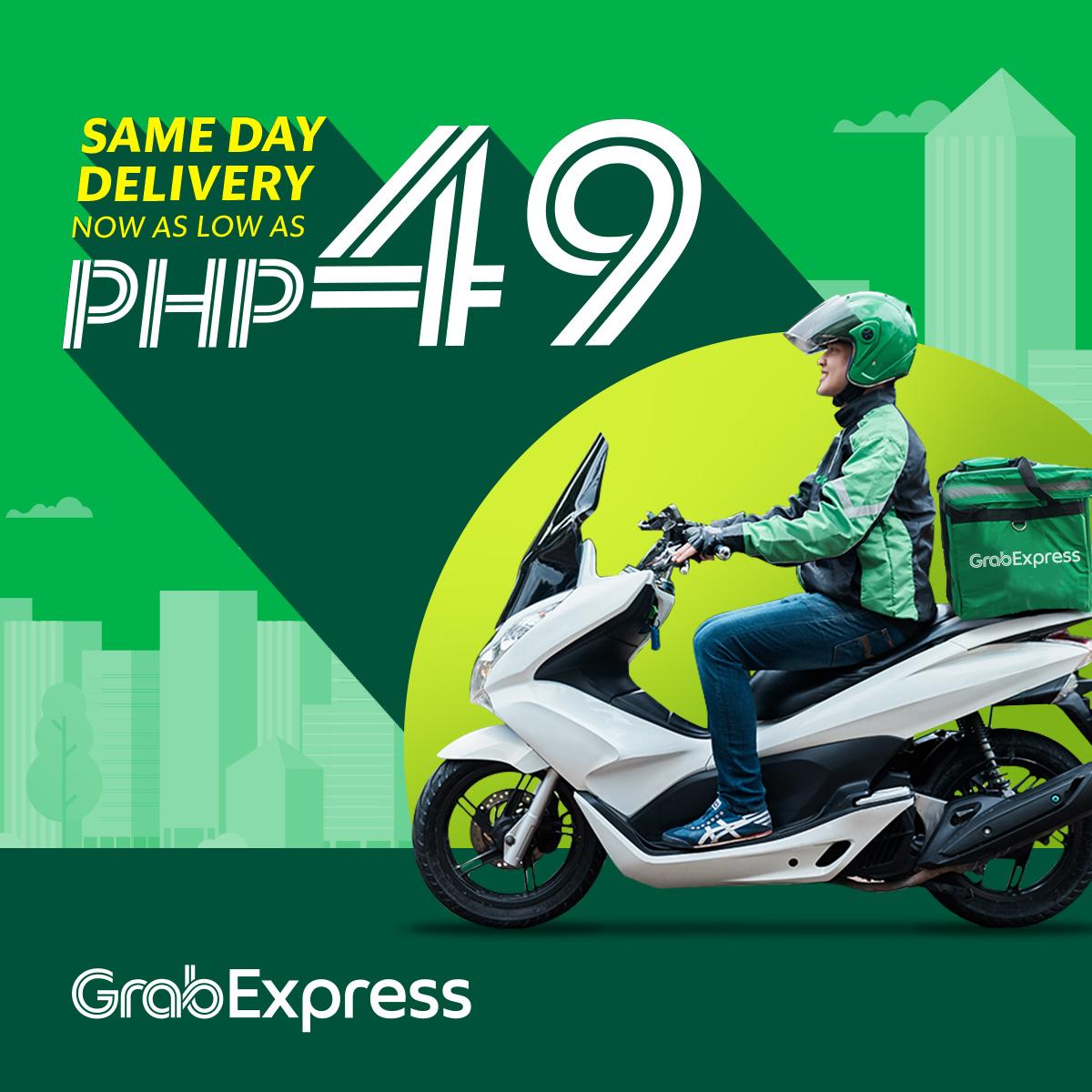 GrabExpress Pabili
GrabExpress Pabili is an on-demand pabili service where the rider will buy your items for you from a store of your choosing. Maximum amount allowed is P2,000 per transaction. To book: 1) Input store details on the Sender Details Page 2) Input your details on the Recipient Details Page 3) Input estimated amount on COD Value field 4) Choose GrabExpress Pabili and add items to buy on the Notes To Driver

Reminders
For GrabExpress Instant, please allow our riders to inspect the item before pick-up. Up to 20kg with dimension of 25cm x 32cm x 12cm.
Make sure that your sender and recipient details are accurate before booking.
Coordinate with your rider via GrabChat should there be change in instructions.
Our Grab riders will only wait up to 10 minutes upon arrival. They have the right to cancel if waiting time is exceeded.
To keep both you and our rider safe, please practice contactless delivery. You may request for your item to be dropped at your lobby or doorstep. Also wash your hands before and after receiving your item.
FAQs
Can I schedule my order?

No. Every GrabExpress request will be processed immediately after a booking confirmation.

Is parking fee included in the fare?

No. Parking fee is not included in the fare. Our Grab rider will ask for additional payment should there be parking fees.

Will my package be safe?

All GrabExpress riders qualify for Grab's standards and have submitted NBI clearance forms upon application. Should anything happen to your package, rest assured that you are covered by insurance up to a maximum of ₱10,000 while any pharmaceutical products, fashion jewelry, bottled beverages, perishable goods, cash and cash-equivalent items for Cash-On-Delivery transactions are insured up to a maximum of ₱5,000.

What requirements do I need to claim insurance?

Photo of the item
Official Receipt of the item
Official GrabExpress Waybill (old or new)
Name of the Payee
Copies of two (2) valid IDs and 3 specimen signatures
Police Report (optional)
Screenshot/s of conversation between the rider and the consumer (optional)

What are the modes of payment

You may pay for your GrabExpress bookings through GrabPay, credit/debit card, or Cash.

For more questions, you may refer to this link: https://help.grab.com/passenger/en-ph/360000020627-Delivery